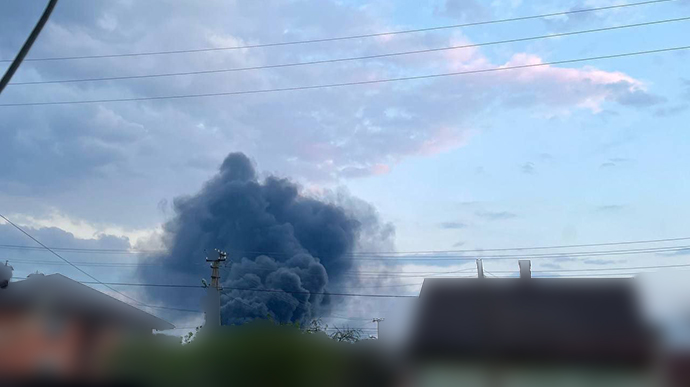 russian military launched missile strikes on 6 regions of Ukraine
The Russian military launched missile strikes on six regions of Ukraine.
Several explosions were reported by Lviv's Mayor Andriy Sadovy. According to him, two power substations damaged part of the city and were left without electricity. The rocket attack was confirmed by the head of the Lviv regional VCA Maksym Kozytskyi.
Sadovy said that two pumping stations were without electricity.
Also read
russian occupiers stolen more than 2,000 museum exhibits from Mariupol and transferred to occupied Donetsk
russian occupiers destroyed 154 Ukrainian factories and 1508 educational institutions only in 2 months
russian troops are operating at least 6 filtration camps in the temporarily occupied Donetsk region
Water supply through alternative sources of electricity is currently being restored.
The mayor of Dolyna, Kirovohrad region, Yevhen Zvizdovsky, also announced a rocket attack.
«We have a rocket arrival on the territory of the community! Do not exhibit photos!" He wrote.
Explosions in Vinnytsia region are also reported.
Adviser to the Minister of Internal Affairs Anton Gerashchenko stated that two cruise missiles were shot down in the region.
The company Ukrzaliznytsia has said that due to enemy shelling of railway substations, a number of trains will be delayed. In particular, trains were detained at the entrance to Lviv. Passengers are asked to follow official announcements and not to leave the shelters during the alarm.
The head of the Zakarpattia Regional State Administration, Viktor Mykita, announced the arrival of a missile at an infrastructure facility in the mountainous region of Zakarpattia. Services are working on site, information on injuries and possible victims is being clarified.
Operational Command «South» reported that two missiles fired from the Caspian direction, hit the railway infrastructure of Kirovograd region, were killed and wounded.
Three more missiles aimed at Odesa region were shot down by air defense forces.
At least 10 people were killed and 15 others were injured in the shelling of the Avdiivka Coke Plant by the Russian occupiers.