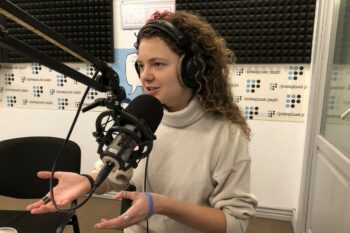 It is a mistake to think that vaccination is not a priority or that it is less important to get sick with COVID-19 during a war — an epidemiologist
It is a mistake to think that vaccination is not a priority or that it is less important to get sick with COVID-19 during a war — an epidemiologist
Has COVID-19 retreated from Ukraine?
The epidemiological situation in Ukraine and the need to continue vaccination were discussed with Oleksandra Karkishchenko, epidemiologist and analyst of information and statistical reporting on the course of the vaccination campaign against COVID-19 at the Ministry of Health of Ukraine.
Oleksandra Karkishchenko: The number of people conducting tests for the coronavirus has significantly decreased. People are increasingly less likely to seek diagnosis and medical care, even if they have some symptoms. The «Omicron» strain is still widespread in our territories.
The coronavirus did not disappear. The pandemic continues across the world. A record number of new cases of COVID-19 was recorded in Italy yesterday. This is more than 100 thousand and they conduct a fairly high number of tests. The same can be seen in many other European countries. Over the past few weeks, there has been an increase in the number of new cases. By the end of the summer, we will see high levels of COVID-19 in Europe.
Compliance with anti-epidemiological restrictions is taken very seriously in Italy. In Poland, they were recently eased. They are adjusted in different countries according to the epidemiological situation.
New cases of the coronavirus diseases continue to register in Ukraine
Oleksandra Karkishchenko: In Ukraine, too, morbidity has not disappeared. New cases continue to be registered, but in smaller numbers, because fewer tests are being conducted. Collecting data from temporarily occupied territories and in territories where fighting continues is difficult. The medical system is now working on challenges that arise from combat. We must still be vigilant, maintain social distance, and pay attention to our own well-being.
Vaccination in Ukraine continues. All Ukrainian men and women can get the required first, second or booster dose free of charge at their place of residence. The addresses of points and centers for vaccination against COVID-19 in the regions of Ukraine can be found HERE.
Currently, almost 16 million people in Ukraine have received at least one dose of the vaccine. And almost 1.5 million received a booster dose. Many believe that vaccination is not relevant now. In fact, it is less relevant to be sick with COVID-19 at such a difficult time for the country. It is better to protect yourself, your loved ones, and the health care system by helping to prevent it from being overburdened.
Our soldiers are now also getting vaccinated, and receiving their protection, but we also must take care of them and not expose them to unnecessary danger. In the Luhansk region, some medical institutions in the temporarily occupied territories also continue to vaccinate Ukrainian men and women.
ALSO READ
The day after the evacuation, "Kadyrovites" broke into our institution — the story of the Mykhailo Horodetsky Children's Home in Vorzel, near Kyiv
«We don't want to go to russia!»: real life in a village near occupied Lysychansk, Luhansk region (PHOTOS)
«They didn't need them, I took them myself»: russian occupier told his brother about the loot in the Ukrainian house