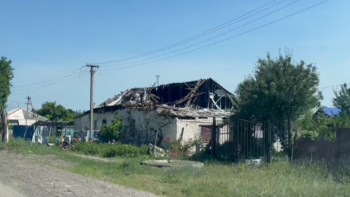 There is no district in Lysychansk which has not been hit by a shell — journalist
Hromadske Radio correspondent Yanina Lvutina on the current situation in the Luhansk and Donetsk regions.
Yanina Lvutina: Lysychansk is closed for entry. For several days now, volunteers and journalists have not been allowed in. There are reasons for this. The day before, a group of journalists from "Hromadske" came under fire. They were evacuated by our military, but even their evacuation also came under attack. It was very dangerous for everyone: for both the journalists and for the military. In addition, there has been a lot of foreign media here lately. Even though they are being instructed, they do not always cover events correctly. Their presence can influence enemy fire and other things. Evidently, this resulted in restrictions being imposed on the work of the media in Lysychansk.
Lysychansk
Yanina Lvutina: Now the situation in Lysychansk is very aggravated. You cannot compare it to what it was a month ago. Currently, they are firing everywhere, in all districts of the city. There is no area in which the shells of the occupiers did not fall. Police and rescuers drive through the streets and ask everyone to evacuate. People, understanding the complexity of the situation, agree more actively. The State Emergency Service of Ukraine has an armored car, which can safely take people from Luhansk to Kramatorsk, and then to the calmer Dnipro.
The Donetsk region
Yanina Lvutina: The occupiers are already very close to Bakhmut. The situation is also deteriorating. Those who wanted to evacuate have already done so. There are those who do not plan to leave their home. Bakhmut is constantly shelled by the occupiers, about several times a day. They also hit residential buildings. It is a bit quieter in Slovyansk. There is fighting, but there are almost no hits in the housing sector. From the population of 100 thousand, 80 thousand have left. There are significant problems with water in the city, as people get it from wells. There is also no light or gas. As for the rest of the region, in general, the situation is more or less normalized. The Russians say Slovyansk is almost captured but that is not true. The Bakhmut-Lysychansk route is very «hot». Fierce battles continue there. It is hell there.
Severodonetsk
Yanina Lvutina: About 15,000 people remained in Severodonetsk. Of the population of 130,000, this is all that was left. Now there is only 7-8 thousand people. Some have already been deported to the occupied settlements and cities of the Luhansk region. First, they are taken to filtration camps, then to the territory of Russia. Those who do not pass the filtering camps are labelled missing.
Also Read
Why does russia fear the Azov Regiment?
«They didn't need them, I took them myself»: russian occupier told his brother about the loot in the Ukrainian house
SBU: russian invaders trying to find any way to escape the war with Ukraine – even apply for marriage registration