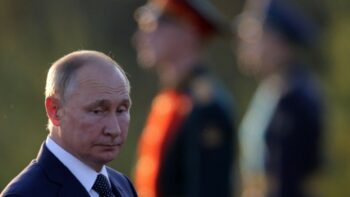 Changing putin to «mutin» will solve nothing for Ukraine – ex-minister of foreign affairs
Changing putin to «mutin» will solve nothing for Ukraine – ex-minister of foreign affairs
Why will membership in the EU and NATO only give Ukraine security? Volodymyr Ohryzko, a diplomat and ex-minister of foreign affairs of Ukraine, explained.
Volodymyr Ohryzko: June is a defining month for us. Things are very important and at stake for Ukraine. This month will determine everything that will happen in our country in the coming years. We don't have decades before going down that route. We have only a few years to finish that which will finally determine our place under the "sun of global security". Over these next few years, we will transition from a candidate state to a full member state in the European Union. This also applies to full membership in NATO.
I am convinced other forms of security and economic decisions for Ukraine are unacceptable because they transfer our state to the category of a second-grade country.
I think Macron and Scholz will promote this, but we must pose these questions firmly. We have every moral right to do so because we are the ones protecting their safety with our blood. Therefore, we should be discussing the possibility of becoming part of their security and not part of something that can't protect us.
The European Council's decision on Ukraine's candidacy to join the EU will send a strong signal
Fatigue from Ukraine
Volodymyr Ohryzko: We must not repeat the Russian narrative of Ukraine's fatigue. This is launched from Moscow's «mouthpieces», of which there are quite a lot in the West. This narrative is constantly tossed around. The Russians aim to create the impression that Ukraine is outdated. We don't have to broadcast these things at all. Instead, we need to do everything to ensure that Russia suffers economic and political losses and ceases to be a global threat. I have an appeal to our diplomats – we need to strengthen the information about what Russia is. It is not a European country, but a state with a population that holds a "savage-like" mindset.
Will Russia change when Putin dies?
Vladimir Ohryzko: It's not about Putin at all. One Russian columnist state that Putin doesn't express his own opinions, but because of Putin, the Russian people are able to do so. The people of Russia were the ones who brought him into power. It is the people who support 80% of all the atrocities that the Russian military commits on the territory of Ukraine. Therefore, changing Putin to "mutin" will not solve anything for Ukraine. The system and society will remain the same. Even if Putin leaves, Russia will not change.
The sooner we stop Russia, the sooner the global threat disappears from the face of the earth, and the world will breathe a sigh of relief.
Also Read
Why does russia fear the Azov Regiment?
«They didn't need them, I took them myself»: russian occupier told his brother about the loot in the Ukrainian house
SBU: russian invaders trying to find any way to escape the war with Ukraine – even apply for marriage registration