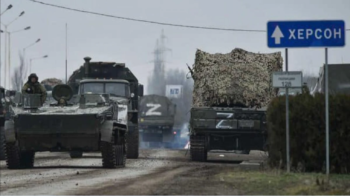 It is very difficult to enter the Kherson region, cars have been in line for 7-10 days — Kulihin
About the Kherson region: the humanitarian situation, the difficulties of volunteering and the possibility of leaving. We spoke with volunteer and media coach Olena Kulihina.
Olena Kulihina: I am from the Kherson region. My family did not want to leave. I have an old grandmother. It is very difficult to endure the road and there are no guarantees in assuring security. So, we decided to stay and wait for the release from the occupation. This is when my volunteering began.
«I help with medicine»
Olena Kulihina: I have many friends and acquaintances in Nova Kakhovka. I grew up there. So, at one point, I started receiving questions from them about medicine. My friends, L'viv volunteers who have been dealing with military issues for a long time, responded. After the first box we handed over, the «sarafan radio» started. With each passing day, the demand increased.
The situation with medicine in the Kherson region is critical. It is not possible to officially import medicines from Ukraine. This has been the situation here since the beginning of the occupation. Currently, medicine is brought only from occupied Crimea. These are Russian analogs, not ours, of course. In addition, the price of these drugs is several times higher than the Ukrainian ones. However, the humanitarian situation in which the Kherson region is right now is not subject to moral or material standards. That's why we do our best to help.
Now everything is very difficult. You can enter the Kherson region only through the Zaporizhzhia region. The queue of cars there now is such that you can stand for a week or even two. Despite this, we do not stop, we continue our activities. We find volunteers on the ground. They help us pass on the necessary medicines.
Information isolation in the Kherson region
Olena Kulihina: This is a big problem and a big threat. In the last few weeks, since the Ukrainian operators' mobile communication was cut off, residents of the Kherson region have been completely isolated from access to information. I communicate with my family 2-3 times a week when they manage to get to a point with free Wi-Fi. Some entrepreneurs have opened access to their networks so that people can use them. Citizens gather in certain locations to talk to relatives. Of course, this cannot be done very often, as crowds of people in one place arouse suspicion.
Last week there was a counteroffensive by the Armed Forces. They began firing missiles at the location of enemy vehicles. People heard explosions, saw rockets, and understood that it was the Ukrainian military, but they knew nothing more about it. When they got on the Internet, they wrote, «We are alive. Survived. Our army got them. Glory to Ukraine. We are waiting for the approach of our army. » It's like a telegram in the mail and that's how we communicate now.
The possibility of leaving the Kherson region
Olena Kulihina: It is very difficult to leave the Kherson region. There are a few possibilities:
Free travel through small volunteer groups. There is a list. You need to register in the queue. But as of now, this queue is already 3 months long. The number of people who submitted such requests exceeds 9,000 people.
Paid carriers. They offer the possibility of leaving for 4-8 thousand hryvnia. It's easy to take people to Zaporizhzhia, Odesa or Mykolaiv. Many do not have that kind of money. People have lost their jobs, they have no income. But that doesn't stop some people from making money.
Departure through the occupied Crimea to Georgia or Europe. This is very dangerous, because it is possible that you do not reach the final destination. In Crimea, they can detain you.
There are no guarantees in each of these options so I would not advise you to leave now. Yes, it's difficult there but we, the volunteers, will not leave anyone and we will try to help as much as we can.
Also Read
Why does russia fear the Azov Regiment?
«They didn't need them, I took them myself»: russian occupier told his brother about the loot in the Ukrainian house
SBU: russian invaders trying to find any way to escape the war with Ukraine – even apply for marriage registration