NKVD Squads, Disguised as Ukrainian Insurgent Army Soldiers, Invaded Villages of Western Ukraine and Raped Women — Author of Textbooks on Ukrainian History
9 May, 2019, 16:52 Stanislav Kulchytsky, author of textbooks on Ukrainian history, expert from the National Academy of Sciences of Ukraine's Institute of History, recounts which facts about the Second World War time has kept hidden. Host: Viktoria Yermolayeva Guest: Stanislav Kulchytsky "What facts are hidden from the public?" "The tactics of Scorched Earth were…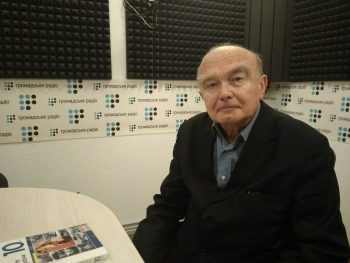 9 May, 2019, 16:52
Stanislav Kulchytsky, author of textbooks on Ukrainian history, expert from the National Academy of Sciences of Ukraine's Institute of History, recounts which facts about the Second World War time has kept hidden.
Host:
Viktoria Yermolayeva
Guest:
Stanislav Kulchytsky
"What facts are hidden from the public?"
"The tactics of Scorched Earth were adapted. When the Soviet army was compelled to retreat, a fact which cannot be denied, everything was destroyed, including sow-crops, so that they would not reach the enemy, forgetting about the people who stayed behind.
"In fact, nobody knew that Soviet saboteurs blew up Khreshchatyk. This happened in September 1941 with the help of remote-controlled explosives. Usually, many Germans who were already settled in offices and cabinets died on Khreshchatyk street, but more importantly more peaceful citizens died.
"Soviet saboteurs destroyed the Dnieper Hydroelectric Dam. The waves were 9 metres high and went out to Dnipro, killing tens of thousands of people. Perhaps a few Germans perished, but they still didn't manage to reach this space. It was our people who perished."
"Our Audience asks about the repressive mechanisms that came from the East, which returned in 1944 to Western Ukraine with cadres disguised as Ukrainian Insurgent Army (UPA) soldiers."
"This was done in Western Ukraine when the UPA operated there. It was special NKVD squads that engaged in provocation. These squads were but a few companies. Disguised as UPA soldiers, these people invaded villages, burnt them, and raped women. This continued for several months, until the NKVD itself was convinced that the local population could perfectly separate themselves from others.
"In the West today much work has been done that shows the occupation policy of the Kremlin leadership, when the Soviet army entered German territory. There is one Marshal Chernyakhovsky, they now blame him for all the excesses which were done by the Soviet army in German territory, where hundreds of thousands of women raped, and tens of thousands of people were executed. All this was done for them to expel every German from Eastern Prussia, which would be separated. Stalin simply needed to destroy the local population, expelling them."
Listen to the full interview in the attached audio file.
The present article has been translated, and its original can be found in the following link:
https://hromadske.radio/podcasts/radioranok/zagony-nkvs-maskuyuchys-pid-voyakiv-upa-vdyralysya-v-sela-na-zahidniy-ukrayini-ta-gvaltuvaly-zhinok-avtor-pidruchnykiv-z-istoriyi-ukrayiny
Translated by Logan J. Borges
Comments