Defending Ukraine: With Arms, Dialogue or Systems Change?
October 14th is a state recognized holiday called Defender of Ukraine Day. Marko Suprun interviews Oleh Rybachuk of Centre UA, a united actions centre founded in 2009 to promote European reforms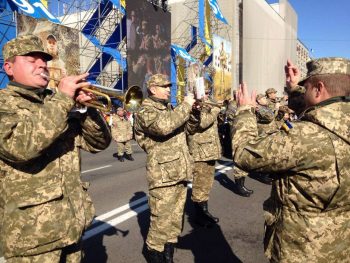 Defending Ukraine: With Arms, Dialogue or Systems Change?
This is Ukraine Calling. A weekly roundup of what's been happening in Ukraine with a focus on a main story. I'm Marko Suprun for Hromadkse Radio in Kyiv and here's an overview of what's been happening Ukraine.
Defender of Ukraine Day
October 14th is a state recognized holiday called День Захисника України or Defender of Ukraine Day. On October 14, 2014 President Poroshenko signed a decree marking the date as an official state holiday and was ratified by Parliament on March 5, 2015. He said that Ukraine should not be celebrating the holidays of "the military-historical calendar of Russia". Since the Maidan Revolution, Ukraine has started to nurture its own culture and that includes state holidays which is part of a larger process of decommunizing or de-sovietizatizing its future. Traditionally, October 14 is the day of the Intercession of the Theotokos, in Ukrainian known as Pokrovy, and has its origins in the Byzantine Catholic Churches. The word pokrov refers to the act of cloaking or covering in a shroud, in the sense that it affords a certain kind of protection. Ukrainian churches often display icons of the Mother Mary spreading her cloak to cover and protect disciples or followers. Ukrainian Cossacks in the 17th century celebrated this holiday and they believed that the Mother of God was their protector. During World War two, the Ukrainian Insurgent Army, a guerilla army that fought to establish an independent Ukraine chose this day as THE day they were officially established. The Ukrainian Crisis Media Center earlier this week launched a media campaign to remind Ukrainians about the daily heroism of servicemen and women on the front lines today. Andriy Demchuk, Paralympic champion in fencing said that the courage and resistance in the face of overwhelming odds displayed by the combined Ukrainian armed forces, was an inspiration for Ukrainian Paralympians in Rio. Meanwhile, the Russian backed administration of occupied Crimea as well as the occupied territories of eastern Ukraine, refuse to acknowledge the new state holiday. Instead, the old Soviet holiday of Defender of the Fatherland Day is celebrated on February 23rd.
International Relations
International pressure is rising to bring about a political solution to end Russia's war against Ukraine. German Chancellor Angela Merkel invited French President Francois Hollande, Ukrainian President Petro Poroshenko and Russian president Vladimir Putin to a dinner in Berlin scheduled for October 19th to implement the "political process" of the Minsk Agreements. The Ukrainian Presidential Administration issued a statement, reiterating that the need to meet with all parties to establish a road map to peace is necessary, but the statement also said: "Ukraine supports the initiative to hold a meeting between the leaders of Ukraine, Germany, France and Russia that can finalize the road map. However, meeting only to resolve the so-called political component of Minsk is unacceptable." They underscored that any political solution can only be made following progress in security. French President Hollande for his part has been quoated as saying that elections in the occupied territories "must be held and are necessary to ensure this process" and only "at the end of the process the government, the Ukrainian government could restore control over its borders." The political component of Minsk holds that elections should be held in those territories currently occupied by the Russian military and their proxies. However, Ukraine maintains that elections in the occupied territories can only be held after Russia withdraws its army, the proxy forces disarm and Ukraine reestablishes control over the border. Vice President of the United States Joe Biden had a telephone conversation with President Poroshenko in which they spoke about the elements of the "road map" to implement the Minsk Agreement to deoccupy the Donbas. Both leaders agreed that economic sanctions against Russia should remain in place. Finally, President Poroshenko also called French President Hollande in which he spoke about the deteriorating security situation, an increase in the number of shelling and cease fire violations by the Russian backed proxies and stressed the absence of permanent OSCE observation points in the areas where troops are being held. Apparently, both leaders agreed that the security considerations must make up the first component of the "road map" to implementing the Minsk agreements.
Terrorist Threats
Meanwhile, the Union of Volunteers of the Donbas held their second conference in the Russian city of Rostov-on-Don attended by about 200 people. Alexander Borodai hosted the conference, who was for a time the head of the Donetsk People's Republic prior to which he was a deputy director in charge of information policy and special projects of the FSB, Russia's agency for state security. The conference organizers pledged that the Donbas will accede to Russia by the end of October, and announced a new war, though the Russian Federation denied this.
The War
Colonel Lysenko, the spokesperson for the Anti Terrorist Operation announced this week that the implementation of the Framework Agreement on disengaging troops and equipment that was approved by the Trilateral contact group was continuing. However, in several areas of the occupied territories of Luhansk, the disengagement was halted especially around the town of Stanytsia Luhansk due to attacks by Russian proxies. Hostilities were also on the rise in the Donetsk sector and several fashpoints were noted in the Mariupol sector that involved heavy armour and mortar attacks. The OSCE has continued to monitor the implementation of the Framework agreement with drones. Ukrainian military intelligence noted that the death of a civilian was caused by a drunk Russian soldier from the 7th separate motorized brigade near Stakhanov. Almost 200 shells were fired at Ukrainian positions near Shyrokine in the Mariupol sector, two Ukrainian servicemen were killed in action and 11 wounded. The Ministry of Social Policy has officially announced that there are now 1, 696,326 Internally Displaced People or IDPs. These are people who were forced to move from Crimea and the occupied territories of Donetsk and Luhansk. Over a million have applied for financial assistance and 930,975 were granted such benefits.
Economics
President Poroshenko also had telephone conversation with Prime Minister of Canada, Justin Trudeau in which they agreed to synchronize the ratification of the free trade agreement that was signed early this year in July during Trudeau's first visit to Ukraine. The Canadian Parliament put the document up for approval on September 19. President Poroshenko also spoke about the situation in the occupied territories and expressed his hope that Canada would keep sanctions in place. The Ministry of Economic Development and Trade canceled a decision to take control of Ukrtransgaz, a public joint stock company. During a meeting of the cabinet, Prime Minister Groysman established a working group to take concrete steps to separate Naftogaz and transfer control over the state holding company from the Ministry of Economics. The working group will include representatives from other ministries, Naftogaz, Ukrtransgaz and international organizations. Meanwhile, the government of the Russian Federation has terminated an agreement with Ukraine on the operation of pipelines that signed back in July 1995. This will affect the pipleines "Samara –West" and "Grozny – Armavir –Trudova" that pass through Ukrainian territory and are operated by "Transneftprodukt" a wholly owned subsidiary of the Russian pipeline company "Transneft." The 13th International Exhibition "Arms and Security" opened this week. It is one of the largest military tradeshows whose aim is to showcase products and technologies developed by Ukrainian arms industry as well as foreign companies. The "Arms and Security" tradeshow has been held since 2004 and this year has put an emphasis on the process of implementing NATO standards in the production of military products.
Social Media
When web developers meet civil society in Ukraine, Russian trolls get exposed. The Ukrainian website Texty.org.ua revealed a network of Russian trolls on Facebook. Senior editor Roman Kulchynsky said "they are disguised as Ukrainian patriots, they post patriotic pictures and call for action against Ukrainian political leadership." The site has been researching the Russian trolls for over six months and has identified over 23 troll centers or Facebook groups with a high concentration of trolls. Most of the trolls are part of the pro-Russian "Mazura network" named after a Russian backed proxy fighter who was calling for a third Maidan. The aim of the Russian troll army is to spread fear, uncertainty and doubt about Ukraine's prospects for the future. During their investigation, they developed a program that simulated browsing behavior of a user with similar characteristics of a Russian troll. The program then downloaded data about users, their posts, comments, etc and after they processed the information they were able to recreate the Russian troll structure.
Suprun: Oleh Rybachuk is Chairman and co-founder of Centre UA, a united actions centre founded in 2009 to promote European reforms, advocate transparency and accountability in government. Their contributions have enhanced the quality of politics and forwarded the fight for the freedom of speech. Centre UA calls itself a platform of platforms netting actions through coalitions, movements and campaigns. Oleh serves the Chairman and cofounder of Centre UA following his initiative called New Citizen after his stint in public service in fact he served in several senior government posts including Vice Premier for European Integration and Chief of Staff to former Ukrainian President Victor Yushchenko. Before that he had a career in banking that took him from working for commercial banks all the way to the National Bank of Ukraine. Centre UA has several projects including Chesno, a movement founded by an NGO and journalists in 2011 to "filter parliament". Its claim is to hold the light of transparency on candidates in Parliament and thereby hold them accountable. It's something that we'll get into later. Another initiative founded recently is called Strong Communities, whose aim is to help people in the Donetsk region to control and influence government. They provide training and master classes for activists, information campaigns and direct action. One of the most successful results of the work of Centre UA was the campaign to adopt legislation on access to public information. They give citizens of Ukraine something similar to the Freedom of Information Act in the United States. Most recently they launched a series of policy dialogue events along with the think tank Collegium of Anna Yaroslavna whose goal is to bring above three reforms, equal access to politics, reforming the system of control over the use of public financing and democratizing the institute of the president. This is probably one of the most ambitious projects that Centre UA has adopted. In seven stages that include the policy agenda, consulting stakeholders and experts, the development of a green paper that is supposed to highlight the structural problems in Ukraine's government followed by a white paper that highlights a solution to the problems and develops a new policy for the government that will then be presented at parliamentary hearings at the relevant committee level followed by hearings at the general assembly level with the aim of adopting new laws to secure changes in policy. Oleh, thank you for joining us today.
Rybachuk: Thank you. I was intrigued by this introduction.
Suprun: I know a lot of this sounds very dry and turgid and sometimes I think the importance of what's happening is lost in government speak. I mean I can almost hear people turning of f their radios at this point, but if successful, I believe this could be the beginning of real system change. Why have you started the policy dialogue now?
Rybachuk: As it is only now after Euromaidan when Ukrainian people finally understood that if you don't take in your own hands Ukrainian political elites will not do it. Why should the old system, which flourishes in corruption change, if people don't care? I was inspired very much by this young kids at Euromaidan two years ago who actually went there to defend their future.
Ukrainian politicians do not produce policies. They produce drafts of the laws, populism, badly mixture of adventure populism, corruption and endless numbers of laws that are never implemented. This must be stopped. If not by people then by whom? Driving force for changes are now with the people and not elites like it used to be with our ex brothers and sisters of socialist camp.
We should act as if we are the ministers, as if we are the presidents. We should demonstrate how policies are created step by step. I'm much more inspired now, because when we started it, I couldn't dream that actual Ministers, Members of Cabinet would join.
This is how I see the ways for successful changes: working with some Ministers shoulder to shoulder. Having time and experience, civil society would help those reformers in the Cabinet to successfully move ahead.
Suprun: How is that possible given that political parties are weak institutions? I'd like to share with you that most recently Vasyl Hatsko, a leader of the party Democratic Alliance or Demalliance, has said that if in one electoral district there are two activists running for office and a bag of money, the bag of money will win. So how are politicians in Ukraine held accountable?
Rybachuk: Everyone knows Odessa, but few people know Mykolaiv. But what happened in the last elections in Mykolaiv? The mayor who was elected there had practically no money. But he was very creative. Yesterday during our discussion kids told that they would like to see the personality, not the product of TV advertisement or huge billboards. You should show your individuality. That guy who was elected on Samopomich list, he campaigned from door to door and he had hundreds of volunteers. He won and now is Mayor of the city. His budget was minimal from other competitors' point of view. We live in the world of online and electronic media but good old talks and debates are important. It's one of the issues Chesno is pressing on. We must change the election law, so that Ukrainians have a chance to see in front of cameras the body language of candidates.
To elect somebody is not enough. To keep somebody accountable you must be very persistent because the system has money and politicians would fight to the last drop to defend their right to be corrupted.
Suprun: One of the other topics that the policy dialogue presented was democratizing the institution of the presidency. Why is that necessary during a war for survival?
Rybachuk: I pick this point up because my personal experience of being in politics for a long time, knowing the culture of a few presidents as the banker, as the civic activist, and being Chief of Staff after Orange Revolution, I know that institute of presidency is missing a few things. There is no law at all. There are a few paragraphs in the Constitution which from time to time are appealed to. We have Constitutional Court which says "two plus one is two" like it happened with Constitutional Court under Kuchma. We also do not have law on impeachment. We do not have law about Presidential Administration. In reality my experience says that for Presidential Administration it takes some time before they start to act as they are the government. They have all the ways to influence and a lot of time zero responsibility. We have a situation where there will be some crises between President and Prime Minister regardless who the Prime Minister is. It's like Russia and Ukraine. Crisis is not because of Ukraine. Ukraine would be good for Russia if it ceases to be independent. Prime Minister will be good for President if he would do everything the President says. This is not what reality is. Reality is that we are parliamentary- presidential republic. The conflicts are endless unless we democratise institution of the President. Make it accountable financially and politically with a clear division of responsibilities. Our government system would be weak . In times of war it is much more important because we have unregulated institution of presidency, one function of which is a Commander-in-Chief. This makes it much more responsible. I had a very interesting discussion with stakeholders that the institute of the presidency is not up to the challenges of Ukraine in times of war. We see the chain of command is very complicated.
Suprun: You participated in several high level discussions with European leaders following the Russian occupation in Crimea and Eastern Ukraine. What were expectations for Ukraine in 2014?
Rybachuk: Next week I go again to Riga Security Summit. It was at the Baltic State Security Summit in Vilnus where I was on a panel "Night for Ukraine". It started 11 PM and ended at 4 AM. I was on the panel with six Ministers of Foreign Affairs and was the only non-Minister. The issue was Ukraine. The moderator was some BBC star. Everybody was producing scenario how Ukraine would disappear. He asked me, "Oleg, what do you think? Which of these six scenarios will kill Ukraine?" The audience was around 400 people there. A message of every Minister of Foreign Affairs was in one phrase " Putin will do what he wants to do". At that time Putin already annexed Crimea. It was beginning of May. We had two weeks before Presidential elections. The message was "Putin may not allow you to have any elections or he may not recognize a newly elected President". So the Ministers of Foreign Affairs with very analytical skills said we had zero chance to exist. I remember what I said. I asked them, "Please raise your hand who believed that students on Maidan made the most notorious of dictators resign." You've been there. Sikorsky was there. Build was there. Who of you could have predicted that? None. I will tell you what. We are going to fight. If necessarily there would be one million of us ready to fight. I saw sceptical smiles on their faces. They did not believe. They did not understand. I said, "Let's meet next year". And next year I saw a French diplomat who before that visit was one of the keynote speakers, saw Putin, spent two weeks in Kremlin. I saw how he tried not to recognize me because his forecast was "You are non-existing. Putin will do whatever he wants. We can't stop him. We will not fight for you, so please just go. Bye-bye".
Suprun: This is very interesting because it reminds me back in 2008 when Putin once said to George Bush that Ukraine is not a state.
Rybachuk: It is a piece of this and a piece of that…
Suprun: Clearly there are European leaders that agree with Putin?
Rybachuk: I speak French and when I speak to French (diplomats) I always remind them what makes the European Union the European Union. It is not coal and steel but the French Revolution. Founding ideas: fraternity, liberty, and freedoms. That is what we are dying for here now. In Europe they are trading costs for values. They talk about profits. This is a major challenge. Major threat. Putin is very much counting on that. Three German Ministers yesterday appealed that we need to drop sanctions. I think good old Europe is taking its security for granted. Number of countries are not paying their dues to NATO. Things have rapidly changed now. Putin is doing much more for re-emergence of these basic European principals and building Ukrainian nation than anybody else because what I see in Europe now is awakening. Putin supports ultra-right and ultra–left (parties). Brexit is to his credit as well as the referendum on Ukraine in Netherlands, Berlusconi, Le Pen, Orban in Hungary, number of right wing Austrian Parties, practically fascist parties, you name it. He is there. He plays it and counts. He knows he has survived two American presidents and there will be the third soon, he can survive and he can go on forever. But I know this is not going to happen…
Suprun: Do you think this is a real possibility that the occupied territories will be integrated into the Russian Federation? It seems that the political process we are going through is benefiting Putin's plan to reintegrate the former Soviet Union. There is a problem that some Ukrainian politicians agree with Putin.
Rybachuk: I think that could be the best way for Putin to commit suicide if he would make Donetsk and Luhansk regions part of (the Russian Federation). If he would take them on his balance sheet, it would be sheet spelled with an "i". The price for occupation of Crimea … you remember this joke-meme with Medvedev (meeting people in Crimea) "There is no money, but you hold on. I wish you all the best". So there is no money. What Putin tries to achieve by using division between different European leaders, using media and simple ignorance of many European voters, he tries to convince them that there must be changes in the Ukraine's Constitution and these absolutely ruined by him territories become (part of Ukraine). He was repeating it many times that he would like them to be part of Ukraine but with veto on our decisions. He would like to block our European integration plans by having kind of meddling on effect on EU countries where 500 million people ratified this decision and just 2 million Dutch did not, which blocked the whole system. He would like the separatists to be part of Ukrainian Parliament. I am pretty happy that Ukrainian president and politicians understand this and refuse to play by his rules.
Suprun: They are going to have dinner with Hollande and Merkel in the coming days.
Rybachuk: I briefly saw announcement today that if they would insist on political solution first, he is not going to attend, which I would applaud. I was talking to Roman Bezsmertny (old friend of mine ). He said, very strangely for our listeners in the free world, "It is clear that you cannot have free and fair elections on the occupied territories". I have a question to my country. Why don't we officially call the territory occupied? Why do we call it "anti-terrorist operation"? We are fighting with Russian regular army and its satellites. German and French clearly know that there is the Russian army's regular troops and that the border is not secure. What Putin is saying here is that you get your security after the elections. This is amazing. You can't imagine free and fair elections in accordance with Ukrainian legislation when there are dozens … when the army is bigger …. Someone seriously said, I think this is our Minister of Defence, that Luhansk and Donetsk have more tanks than the Wercmacht, the Deutche army. They are getting supplies. And Putin is saying, "First, you have election, then we probably come back to security". Ukrainian President, frankly, has no choice. He can promise nothing because this has to come to the Parliament. I know very well Ukrainian people, Ukrainian society, if they try to play this Putin's game, there would be early elections, new President , and new Parliament.
Suprun: Do you think there will be new presidential elections, not just elections of The Parliament?
Rybachuk: Yes. If President tries to push this through, his instincts tell him "Don't do it. Don't event think about it". He takes his position. What he promised in Minsk was, I would say, irresponsible. He explains that it was necessarily to take a force. But we are coming back to corruption and other things that must be done.
Suprun: The notion of Minsk agreement. If we recognize Ukrainian sovereignty why don't we recognize the sovereignty of the Parliament? Were Minsk agreements ratified by anybody?
Rybachuk: They are not binding legally. Piece of paper. There is no even real presence … Every time I hear rhetoric from my President saying there was no alternative, I am ready to use bad words. If Ukraine does not propose any alternative, why should Germany or France care? Putin would not. So we must be proactive.
Suprun: That brings us to a cultural phenomenon in Ukraine when everyone wants to be a fireman but nobody wants to be an architect.
Rybachuk: That is very much true. In order to be an architect, first you prepare, you plan, you discuss with the client, you must be an expert on the latest technologies. You do not experiment. You can use untested materials. Most importantly is that you know what you would like to construct. Answering your question, I do not know how my government is going to re-integrate Donetsk and Luhansk regions. I hate this term "to de-occupy". Why not "to free" Crimea.
Suprun: It is almost like they would like to turn the clock back rather than to move forward. Part of me also believes that culture is a big part of this conflict and probably the least spoken about. How do your initiatives help in maintaining Ukraine's cultural space and identity?
Rybachuk: Very good question. Actually I would not even call it "culture". It is like old Ukraine and new Ukraine. It is not about culture. It is about very different phenomena. What was on Euromaidan, it was new governance system of new Ukraine where there was no President, no Commander , no vertical of power, everyone was functioning very effectively. This new Ukraine was self organized and it managed to get rid off a very notorious dictator. What happens now in those territories … I went there a few months after they have been liberated and was very much curious to see the community and whether they are citizens or not.
Suprun: This is with the Stronger Community?
Rybachuk: Yes. It was Donetsk and Luhansk. But now we have requests from Kharkiv region, so we will go national. I personally believe that changes must and will happen from grassroots and not from the way we build parties from top to down. With these first cracks of independence that the communities are getting, you cannot expect that the government would lead the process but the government is not able to defend and keep old system functioning. Old system is like an iceberg in the hot sun. It is cracking and old pieces of it are flying away. It can stay sometime, but the new system, the new Ukraine, is appearing. It is like when you hit you nail, it becomes black and under it, you even cannot see it, appears a new one. It is fragile. It takes some time to harden it. If you had this experience as a boy. I had. The same is happening here. You do not see it on the surface. It looks like it is all black and wounded. The parallel is that the very new system of relationship, of values, even acting as an army, defence, security, self-governance at the local level, so many initiatives, so many changes after last local elections that I am absolutely sure that no one, Putin or not Putin, can win this war against people who decided to be free
Suprun: So the outlook is positive?
Rybachuk: Very much so. There are no chances…Tried to explain it to Russians. 21st century. Territory. You can move in with your tanks and never get out. You travel across Ukraine you see everywhere signs, "This is the alley in honour of guerrilla heroes". Ukrainians have always been famous for their guerrilla warfare. Not regular army also. But guerrilla operations… Stalin with all his might could not win us ten years after he won over Germany, so you better no play this game with Ukraine. You better do not move your army in because you will get in and you will never get out.
Suprun: Ladies and gentlemen, remember this name because you will be hearing a lot more of him in the coming years: Oleh Rybachuk. Thank you very much.
Rybachuk: Thank you.
Culture
Ukrainians will be treated to a traveling German film festival that will start in Kyiv and continue to the cities of Dnipro, Lviv, Odesa, Kharkiv and Chernivtsi and will highlight German films like "The State vs Fritz Bauer" and the tragic comedy "Death to Hippies! Long Live Punk!" Bob Dylan American singer, poet and composer was awarded the 2016 Nobel Prize in Literature this week. Well known for his songs that were written during the Vietnam war era he had a lasting impact on generations of songwriters. This week Mykola Baydyuk took to translating several of his songs into Ukrainian, including Masters of War, The Times They Are a Changin', With God on Our Side, and Blowin' in the Wind. The translations are available on the Hromadske.UA website.
Two Ukrainian films have made it to the Oscars in 2017. The film "Ukrainian Sherifs" by Ukrainian director Roman Bondarchuk has been nominated for the best foreign language film and "Almost Holy" by American director Steve Hoover part of a coproduction between Ukraine and the US and produced by Terence Malik known for such films as The Thin Red Line and The Tree of Life made it to the best documentary film section.
Being a Ukrainian cultural activist during the Soviet Union was very dangerous and in the best case could land you the gulag, exile and years of forced labour. This past week, a well known Ukrainian actress Oksana Batko-Nyshchuk passed away in her sleep. She leaves behind her son Oleksa and her husband, renown Ukrainian actor and Minister of Culture, Evhen Nyshchuk. This week, I'd like to leave you with a song called "Zhuravli" by Kvitka Tsitsyk. The song was often heard at the funerals of members of the Ukrainian Insurgent Army and well known Ukrainians who were influential in developing Ukraine's unique culture, unravelling its complicated history and nurturing its national identity.
We will continue to watch these and more stories in Ukraine. Tune in next week for a new episode of Ukraine Calling. If you have any suggestions or comments, feel free to write the show at: [email protected] I'm Marko Suprun in Kyiv. Thanks for listening.
Interview transcribed by Larysa Iarovenko.
Sound Engineer, Andriy Izdryk.