"Do Your Homework, Do Things Properly, And You'll Have A Deal." British Businessman Toms About Ukraine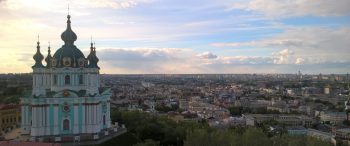 "Do Your Homework, Do Things Properly, And You'll Have A Deal." British Businessman Toms About Ukraine
Hello and welcome to this week's Ukraine Calling programme. I'm Oksana Smerechuk for Hromadske Radio in Kyiv. We'll have a roundup of the weekly news for you, some culture, and some music. We're bringing you a feature interview with President of the British Ukrainian Chamber of Commerce, Bate C. Toms. But first the news.
Feature Interview: British-Ukrainian Chamber of Commerce President, Bate C. Toms talks to Bohdan Nahaylo about 26 Years of Doing Business, and More, in Ukraine.
NEWS
CULTURE and MUSIC
LOOKING FORWARD
Hromadske Radio is independently funded. We are appealing for funds through a crowd funding initiative. Should you feel inclined to donate, you can do so here.
Feature Interview: British-Ukrainian Chamber of Commerce President, Bate C. Toms talks to Bohdan Nahaylo about 26 Years of Doing Business, and More, in Ukraine.
Nahaylo: Welcome to our in depth discussion. This week it's my pleasure and honour to have a friend and a colleague the long standing Chairman of British-Ukrainian Chamber of Commerce, Bate C. Toms, who's been here since donkey's years, as British would say. Welcome to the program, Bate!
Toms: Pleasure to be here.
Nahaylo: Now tell us, you have been here how many years?
Toms: 26. Starting in 1991.
Nahaylo: What did you do to deserve this reward, or punishment?
Toms: It was probably the one thing in my life that I actually did not plan. I was brought here by large multinational food processor for, which I had been working for in Moscow, and that began after I organized the Yale Law School alumni reunion in Moscow in 1989. That was a huge event. We had over 200 people including the past President of Germany, a former Secretary of State of the United States, the leader of the opposition in Germany.
Nahaylo: You are still involved with Yale alumni and we will return to that in a second. So you arrived here. You are a lawyer by professional background.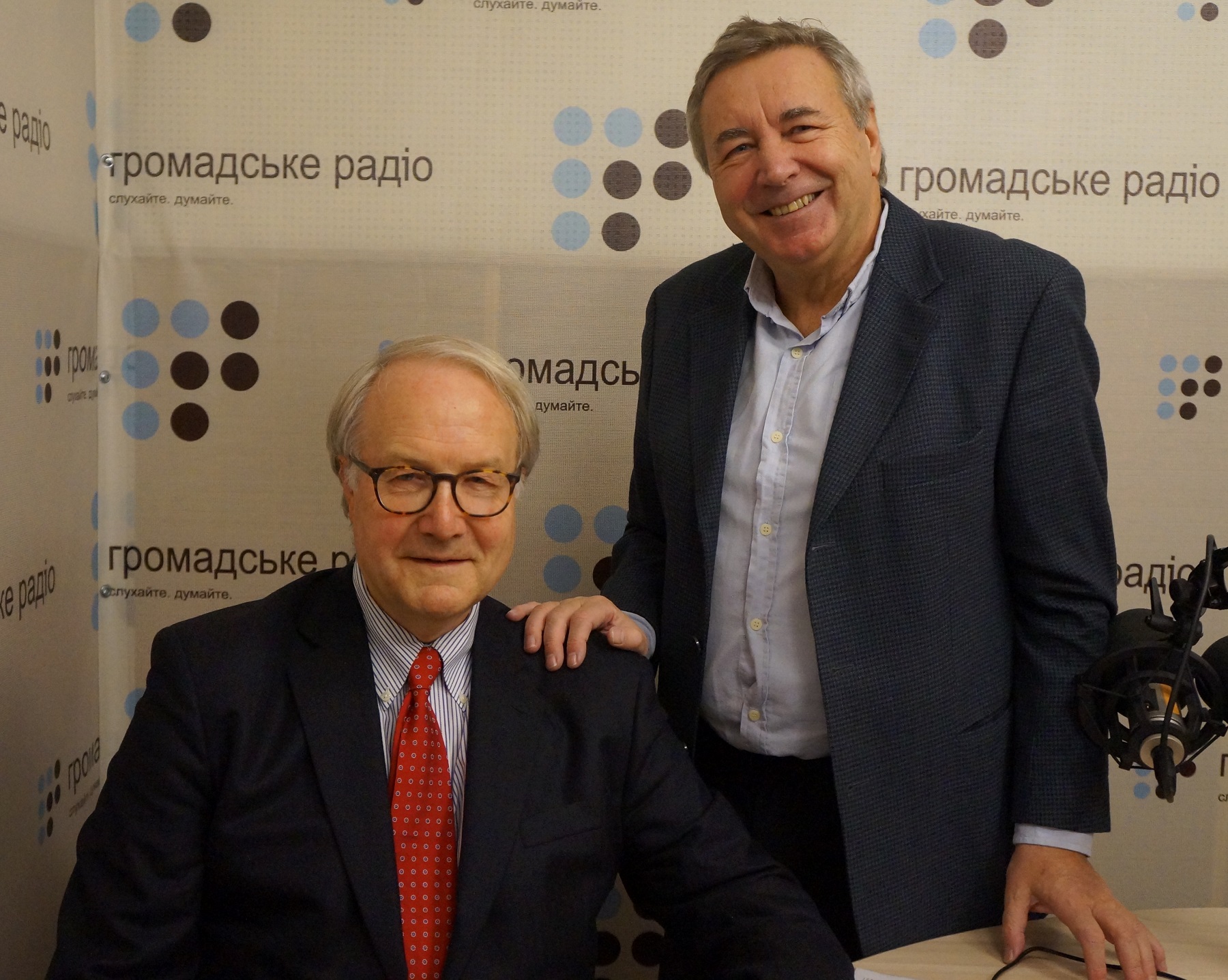 Toms: We had this big event in Moscow. Best foods afterwards. I had good working relationship with the head of lawyers in the Soviet Union. They asked me to help with their project in Moscow. After the coup in Moscow they were a little unsettled by what was going in Moscow. Some of you may remember, it got a little bit difficult. They thought Ukraine, which has the highest per capita consumption of mayonnaise in the world, would be a better location. My client was Hellmann's, the world's number one mayonnaise brand. That brought me here.
Nahaylo: That's very interesting. But as I said you are a lawyer, so initially you were giving legal advice, legal opinion?
Toms: Legal advice on how to set up businesses here [Ukraine], and how to deal with problems they were having importing products.
Nahaylo: And then you set up here your own company here.
Toms: I set up my business virtually at the same time.
Nahaylo: So you must have been successful, you have been here over 20 years.
Toms: Well, within two weeks of coming here I ended up representing of one of the world's largest multinational oil and gas companies, one of the first oil and gas start-ups, the principal real estate developer. In the early years I was the only Western lawyer here.
Nahaylo: So it suggests that you are not only qualified professionally, but you were here at the right time.
Toms: Yes, I would say, it was down to luck.
Nahaylo: OK, for our listeners, before we get to the British-Ukrainian Chamber of Commerce, what are the highlights of your professional carrier here? You and your company.
Toms: Sure. I did the first IPO, initial public offering, on the London Stock Exchange for an oil and gas company worth half a billion dollars. I did all the documentation and worked around the clock.
Nahaylo: Did you have a team?
Toms: I had a team put together, and then almost immediately we worked on the first financing project in the country, first major project of EBRD, which was also completely successful. It was very hard to get that first deal through EBRD. I more or less lived at EBRD headquarters in London.
Nahaylo: Can you break down the acronym? Not all of our listeners may know.
Toms: The European Bank for Reconstruction and Development, which has over the years has been the principal source of finance for projects in Ukraine. Excellent institution. And then I actually helped to initiate it. It was my idea. And then I did most of legal work the largest energy transaction ever done in Ukraine by money actually spent. And handled legal work for the largest agricultural transaction- the sale of farm that I spent 8 years doing the legal work for. We did pre-IPO financing they were sold for 300 million euros. And then I won the largest arbitration, to the best of my knowledge, in the history of Ukraine which was for 150 million dollars for an oil and gas company, at the Primary Court of Arbitration in Hague. I've done a lot of things, but those are highlights.
Nahaylo: You say modestly. Anyway, before we get again to the Chamber, if we look how the legal environment has been changing. So, those were the pioneering days. I guess, the legislation was still being put into place, the practices were set. We had problems with corruption and oligarchs, etc. If you look at that transition, that period, is it easier to do business today or more difficult?
Toms: I have two comments. First, it's never been as difficult as people have said. A lot of problems people have had here was due to sloppiness. If you do your homework, and you do things properly, ever since I have been here, you've been able to do deals. We've never had a deal that could not be done, or property was taken away, or whatever. Secondly, the progress Ukraine has made in the past 26 years nothing short of incredible. When I came here there weren't institutions. The National Bank was a branch of bank in Moscow. The government, the Ministries were all branches. The development of the national currency, the development of an accounting system. These are huge developments. It's easy to get discouraged because it's not perfect. But things are much better than they were and much better than people realise. Especially people in the west. This is better place to do business. You can do business in Ukraine.
Nahaylo: Looking back at those 26 years, when was the peak, the golden days?
Toms: I guess, the period 2006-2007 and through the middle of 2008 did not have much to do with Ukraine, but more with the world economy. People were coming here spending incredible amounts of money even on projects that may be were not so well thought out. And prices went way up. And everybody knows what a great financial crises happened then. It was very difficult period. Not a very good period. 2011-2012 I think was a decent period.
Nahaylo: Looking back, obviously you brought a lot of expertise
Toms: And I think things are picking up now again.
Nahaylo: OK. You brought of external expertise here to help equip the teams here: government, business, with the outside world, to do business. To what extent has new generation emerged that is better equipped to deal with these tasks and challenges?
Toms: There are a lot very good lawyers, bankers, and others in Ukraine, who have capabilities that did not exist 10-20 years ago. That still needs to be developed further, but the progress is extraordinary.
Nahaylo: Now let's turn again to the British–Ukrainian Chamber of Commerce. How did you get involved with this body and when was it set up?
Toms: In 1997. John Burbidge King and I talked about setting up the Chamber. I made several visits to Ambassador Komisarenko, the first Ukrainian Ambassador to Great Britain, suggesting that we should do so. But at that time there was still British–Soviet Chamber. And then one day, in 1997, it was renamed Russo-British Chamber, with other CIS members. And the Ambassador thought it was a right time to have our own Chamber. So I and John Burbidge King did that under the auspices of the Embassy and British government. I was sort of busy at that time. I set it up but after that had John, and a few others, took on the management. It was only about 9 years ago that then Chairman Jim Boun had to travel, and felt it was too much of a burden, and asked if would take over. He resigned. I was Deputy Chairman and took over, and was re-elected.
Nahaylo: It's somehow ironic that you are an American and heading British-Ukrainian Chamber of Commerce. At the same time we have a Brit and a friend of mine Andy Hunder heading the American Chamber of Commerce. Why is that?
Toms: I think it's down to providence. But actually I do have an American accent and I did go to Yale Law School and I grew up in America from English heritage. I spent most of my working life in Great Britain, and now here. I also studied law at Cambridge.
Nahaylo: Impressive for those from Britain like myself. I studied at LSE, and law from Cambridge still means something these days. Tell us a little bit about Chamber itself. The primary aspect is business, but it's not just that. Tell us a little bit about support you were given to all sorts of projects over the years. But first of all, let's focus on the aim of Chamber.
Toms: The Chamber was set up after ACC. We also helped to set EBA. And we try not to reproduce what ACC and EBA do. They have a vast number of committees that do a fine job.
Nahaylo: Tell us what these acronyms mean.
Toms: EBA, European Business Association. ACC, American Chamber of Commerce.
Nahaylo: I will just tell our listeners that we are listening to Bate Toms and we are discussing the British American Chamber of Commerce and many other things.
Toms: What we are trying to do is to identify the number of most important issues in Ukraine that are not being addressed, and we work on those. We also try to give special events in areas that we think benefit the country. I can give you examples of some activities. I think the best event we recently have been giving is the dinner for President Poroshenko in London. We put on a table a great number of our members, CEOs of major companies and others, and had a really detailed discussion about a project of each person there, about what can be realised in Ukraine. It was not just general fuzzy discussion. It was a real project, focused on what can Ukrainian government support, how can they support it, what would they like to see? The president learning about initiatives by a number of our members, two of which I can talk about…
Nahaylo: Please do.
Tomes: One is the private freight rail traffic, especially of containers, is something that Ukraine lacks. It is a natural business for Ukraine and it is a multibillion dollar business. And with the excellent project of Hutchinson Ports to build a container terminal in Southern Ukraine, we think that our Chamber can help to facilitate the railing that would be needed to make that port much larger than the current plans. The current plans are to import containers only into Ukraine. But if you can take those containers to Poland, you can get them to Poland, Scandinavia and the Baltics and Central…
Nahaylo: Which port are you talking about? Odesa?
Tomes: Odesa. It can also be done in Mykolaiv, but it looks like it will be done maybe at Yuzhny, maybe at Illichivsk. Shipping that way cuts two to three weeks on the time of shipping from the factories in Asia to markets in those areas of Europe. That is a huge financial saving. And that translates into a very good business for Ukraine. The other area is irrigation farming. The South of Ukraine is affected by drought. And most climatologists say that this is going to continue, because of climate change. It is going to get much worse. In fact, the biggest desert in Europe is in Kherson oblast and it is getting bigger. And Mykolaiv, southern Odesa could all begin to come more desert-like. And recently yields in southern parts of those oblasts are down to a ton per hectare. And in some years – no yield.
Nahaylo: This is what, global warming, or just poor irrigation?
Tomes: This is global warming. So they needed irrigation. Irrigation was always beneficial. With good irrigation you can get the yields up to even 14 tons per hectare of wheat. Phenomenal yields. And actually farming in very relatively dry areas, where you've got enough water, is the best possible situation, because rain during the harvest can do a lot of damage. So, it's like southern California – you can get incredible yields, but you need the irrigation. And we have come up with techniques, ideas for bringing irrigation into these areas on a localized level, as has been done in the US, Western US, without waiting for an overall scheme, which has been worked on now by the World Bank, and that we all support. But we think we can get projects that are meaningful. Initially we are looking at 3 to 5 projects to go forward with. And we have the world's biggest irrigation company on board. They are very supportive. And they have a long history in this part of the world. In fact, all of the irrigation equipment of the Soviet Union was based on the irrigation equipment of Valley Irrigation.
Nahaylo: Time is short, so let's try and condense last few minutes into some highlights. Looking back over the 26 years what would you say was one of your main achievements, something that gave you personal satisfaction?
Tomes: Well, hard to say. I get some satisfaction about being in Ukraine. I like the country. I think that the developments are really pleasing. I think, on the other side, the most displeasing thing that has happened was the invasion of Crimea, the situation in Donetsk. I used to be there a lot every year. John Hughes founded Donetsk. Same for Luhansk, which was founded by Englishman. We hope to be able to return to those areas. So, I find myself very committed to this country, and we as Chamber try to do our part to get the message out to the rest of the world that the Ukrainian position is just, and that Ukraine should be supported.
Nahaylo: You have also been involved in supporting cultural activities. I was privileged to be part of something you recently did in supporting leading authority on impressionists James Rubin, who came here at your invitation to rediscover the Ukrainian impressionist painter Mykhailo Tkachenko. Thank you on behalf of all of us for that initiative.
Tomes: Well, that's got a way to go still. We want to take those paintings abroad. We believe that Tkachenko, having been so recognized during his lifetime and then forgotten, offers Ukraine and Ukrainian art an opportunity to get the reputation in the west that it deserves. And we hope to do an exhibition in a major museum in London and in Paris. Both for the benefit of Tkachenko, but also for the benefit of Ukrainian art in general, to call attention to Ukrainian artists.
Nahaylo: Now you've been involved again with the Yale alumni. Can you tell us, very briefly, about this last trip. You've just got off the plane, to give this interview.
Tomes: Straight from the airport. We've created a Yale Club of Ukraine. I did that with a couple of friends. We're up to about 65 alumni who spent time at Yale, and that's growing every day. Yale is a wonderful university. And anyone listening who would like to have their children take a look at Yale, we'd be happy to facilitate that.
Nahaylo: Excellent! OK, so, summing up. Last but not least. Looking forward. You've been here 26 years. You remain, it seems, an optimist for the development of this country, its place in Europe and the Euro-Atlantic scheme of things.
Tomes: I guess I'd like to sum up by mentioning four things I haven't mentioned that we're active in. One is the response to Brexit. This offers a huge opportunity for Ukraine. The DCFTA is not as good as it was cranked up to be, and a treaty with Britain should be much better. Because, to begin with, Britain imports half its agriculture, so it needs agriculture, the rest of the EU largely doesn't, so there were limits imposed on Ukrainian imports. Those should be removed. Political conflict and risk insurance could be very important. It could step up Ukrainian investment hugely. And for that, there's a programme that was developed by the World Bank's MIGA, for the West Bank and Gaza. We want the same treatment for Ukraine. And we're working on that. Another is tourism. There should be much more tourism into Ukraine. We have a project for that. We're involving specialists in Britain. And last, we think that the court system is better than people understand. But there are problems. And we have a programme for a legal ombudsman who was used in Sweden, for people who have had a denial of justice, that's a decision where there's no justifiable basis. A remedy. Very quickly. I won the biggest such case in the history of Ukraine, as I mentioned earlier, in The Hague. But those cases take years. That case took seven and a half years before we got a full remedy. The investment was, of course, lost, they didn't give compensation. Much better to have the legal ombudsman address those issues immediately, while the investment can still be recovered. And I can spend an hour talking about that subject, but…
Nahaylo: You can, but I guess what we didn't tell our listeners is how many companies and businesses are represented in the Chamber.
Tomes: We have several hundred companies, and we hope to grow that, especially now. Among other reasons because we've come out with a discount card. Our membership card is now a discount card, which gives you discounts in Britain and in Ukraine.
Nahaylo: So, finally, I repeat my question. You remain an optimist, I gauge from what you've been telling us?
Tomes: I think Ukraine should have a great future. It should be the world's number one exporter of agricultural goods. The IT sector is developing hugely. Yes, I think Ukraine should have a very fine future
Nahaylo: I thank you very much, sir. I've been talking to Bate C. Toms, the Chairman of the British-Ukrainian Chamber of Commerce. It's been a pleasure to have you as our guest this week
Tomes: I enjoyed it!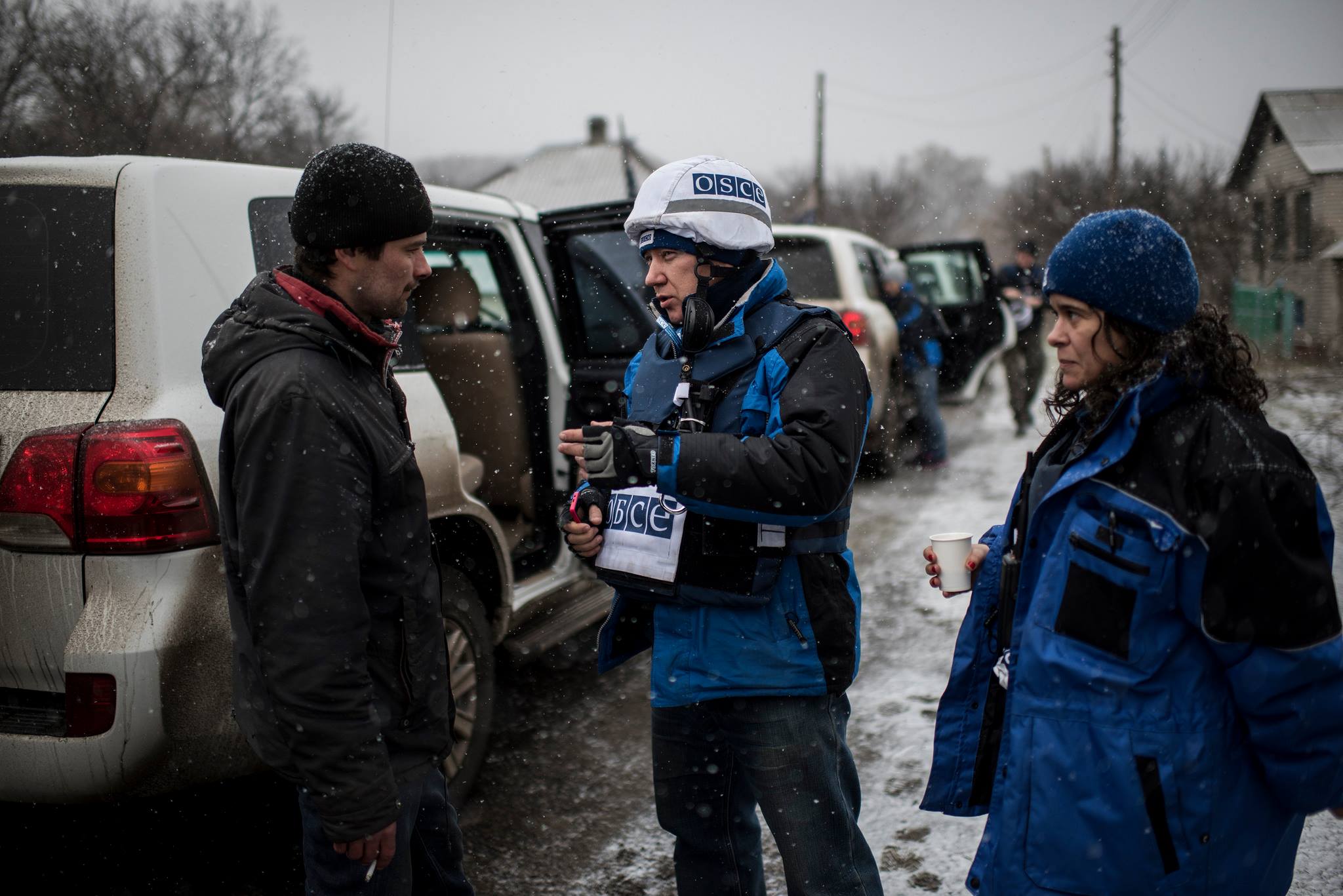 NEWS
Concern over Sanctions and Russia in the Council of Europe
Ukraine is concerned that the European Council might consider lifting sanctions against Russia in December. And potentially restore Moscow's voting rights, which were revoked in 2014 after it annexed Crimea. Russia has been trying to get its seat back for months. It stopped paying dues in June, and has been actively lobbying key members. On Monday 27 November the Council's Secretary General Thorbjorn Jagland spoke in favour of returning Russia to the Parliamentary Assembly. Ukraine strongly protested. Volodymyr Ariev, head of the Ukrainian delegation to PACE said that the return of the Russian delegation would discredit the Council of Europe. Others expressed concern that PACE would cave to Russian pressure and blackmail.
Crimea
Crimean Tatar leader Mustafa Dzemiliev told media this week that Russia is resettling Crimea with people from the occupied territories of Donbas and mainland Russia, while continuing to create conditions where locals are forced to leave. According to Dzhemilev, 2500,000 people from the Donbas and 300,000 from Russia have been moved to Crimea.
Arrests at Meeting of Alleged Crime Bosses
Police detained 60 people at a meeting of alleged crime bosses in a restaurant in Pushcha Vodytsia on 26 November. It's a posh suburb of Kyiv. Ukraine's National Police Force issued a statement that the gathering in the included powerful crime bosses who were able to «influence the criminal situation in Kyiv and other regions» of the country.
Arrests of Protesting War Veterans
Police also arrested three war veterans who have been protesting against president Poroshenko. Kyiv Post reported that Oleksandr Novikov, Anatoly Vynohrodsky and Leonid Lytvynenko, were detained. They were among the organizers of the tent city in front of Parliament that is calling for the president's impeachment. They are also under investigation in two criminal cases. Novikov is a veteran of the Battalion Donbas.
Tensions over Corruption-fighting Techniques
The long-standing tensions between the National Anti-Corruption Bureau (NABU) and the General Prosecutor's Office flared up again this week raising new concerns about the political will to combat corruption and the techniques employed. On 29 November the State Security Service (SBU) arrested an undercover NABU agent during what the latter described as an important sting operation to expose "a massive criminal group" within the State Migration Service. The NABU accused the General Procuracy and the SBU of interfering in its work and sabotaging an important operation. NABU was accused of using the undercover agent to provoke a bribe from the First Deputy Head of the State Migration Service.
The War
Over the last week the situation on the frontline remained tense. There were exchanges of attacks from a large distance, and armed collisions between subversive groups. Ukrainian forces took control of two villages, Travneve and Hladsove, in the Donetsk region and this has allowed the distribution of humanitarian aid among the local population. In the meantime, the Ukrainian military press-service reported that pro-Russian forces have shelled those settlements on November 28th. As a result of shelling and several armed collisions, Ukrainian forces suffered losses. Over the last week 6 Ukrainian servicemen were killed, 11 wounded, and 1 captured by the enemy.
MUSIC
The legendary band Rutenia has released a new album. One of the new songs is called Перекотиполе, which means tumbleweed. See what musical influences you hear as you enjoy!
LOOKING FORWARD
Next week Bohdan Nahaylo will be hosting the show and we'll be back with even more news, culture and music, so tune in again for a new edition of Ukraine Calling. We would be happy to receive any feedback from you. You can write to us at: [email protected]. This is Oksana Smerechuk in Kyiv. Thanks so much for listening.
Interview transcribed by, Larysa Iarovernko, Ilona Sviezhentseva, and Marta Dyczok. News by Marta Dyczok. War by Max Sviezhentsev. Information on Crimea by Elvira Salle. Music by Marta Dyczok. Sound engineer Andriy Izdryk. Web support Kyrylo Loukerenko. E-mail distribution by Ilona Sviezhentseva.