From the International Renaissance Foundation to the latest Lviv Publishers' Forum
Welcome to this week's episode of Ukraine Calling. I'm Oksana Smerechuk for Hromadske Radio in Kyiv and as always we're bringing you our feature interview followed by some new music from Ukraine. This week we're talking to Radoslava Chekmysheva from the International Renaissance Foundation. We'll be hearing about the work of the Foundation in Ukraine…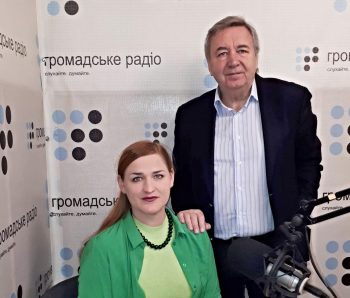 From the International Renaissance Foundation to the latest Lviv Publishers' Forum
Welcome to this week's episode of Ukraine Calling. I'm Oksana Smerechuk for Hromadske Radio in Kyiv and as always we're bringing you our feature interview followed by some new music from Ukraine. This week we're talking to Radoslava Chekmysheva from the International Renaissance Foundation. We'll be hearing about the work of the Foundation in Ukraine and about the latest Lviv Book Forum in which she was actively involved. But first, a round up of the latest news.
INTERVIEW
Nahaylo: My guest this week on Ukraine Calling, for Hromadske Radio here in Kyiv, is Radoslava Chekmysheva. She's a Communications Coordinator of the well-known veteran NGO here in Ukraine, the International Renaissance Foundation, and she was also Curator of the cluster titled "War" at the recent 25th L'viv Book Forum, which took place two weeks ago. We'll talk all about all this with her, but first, welcome Radoslava!
Chekmysheva: Hello everybody.
Nahaylo: OK. Let's begin by reminding our listeners about the International Renaissance Foundation. As I understand, it's one of the very first proper NGOs that were created here in Ukraine. Am I right?
Chekmysheva: Yes, the history of the International Renaissance Foundation goes back more than 25 years. It was founded by philanthropist George Soros. And our mission in Ukraine is [the promotion] of democratic values and open societies.
Nahaylo: So essentially, democratization.
Chekmysheva: Yes.
Nahaylo: Now, as I understand it, quite famous Ukrainians were involved in persuading George Soros to come to Ukraine, like Bohdan Havrylyshyn and Bohdan Krawchenko, friends of mine. Tell me, Soros has a very bad reputation in the eyes of autocratic, non-democratic governments – Russia, even Hungary, for example. Has his image here in Ukraine suffered, do you feel?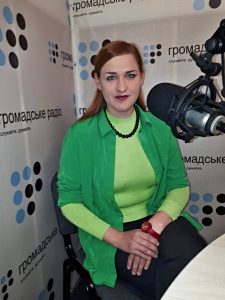 Chekmysheva: I think we should speak about the notion of the "Open Society" [underlying our work – from Karl Popper's seminal "The Open Society and its Enemies"].
Nahaylo: And its enemies of course, and it's the enemies who are speaking out against him.
Chekmysheva: We try to work with leading Ukrainian non-government groups, and engage in a developed, shared, public policy agenda for all of our country to catalyze initiatives that address corruption and democratic reforms in Ukraine. This is very important for Ukraine, after the Revolution of Dignity, and our new course.
Nahaylo: Is it mainly grants you provide? Training? Leadership? What is the niche that you have created for yourself in Ukrainian society over the last 25 years?
Chekmysheva: Every year we get nearly 500 grants, and these grants are in different themes because we have six programmes – a European programme, human rights and justice, public health, a Roma programme, and a civil capacity building programme.
Nahaylo: Well, when I used to work for the UN, I was very closely connected to a person called Arthur Helton, who was a friend of Ukraine; an American lawyer, who, sadly, was killed by a bomb along with UN official Sérgio Vieira de Mello in Iraq. He was very active in what was called, as part of the Open Society's activities, the Forced Migrations aspect, dealing with refugees and others. So I remember the very good work that was done by this particular group. Now tell me, you are the Communications Coordinator, so what is the main message that you deliver on behalf of this organization?
Chekmysheva: We develop our society and try to make it open.
Nahaylo: Right, so just to remind our listeners, Karl Popper who wrote the famous book/treatise on "The Open Society and its Enemies"; he's the founding philosophical father of this "movement" that Soros has supported. And George Soros is still alive. He's what, about 90 now?
Chekmysheva: Near there [88 in fact].
Nahaylo: A remarkable man! OK, give me in a few words, your impression of the state of the NGO scene here in Ukraine? We've had the Maidan, the Revolution of Dignity, we had an upsurge of new interest, new dynamism, new initiatives, and yet in the last year or two, fragmentation and a bit of, shall we say, tiredness has set in. Is it because of disappointment? Disillusionment? Or just running out of steam, running out of energy?
Chekmysheva: I think that before the Revolution of Dignity we had only state policy. But now NGOs and civil society try to shape Ukraine's public policies too. This difference is very important for the understanding of reforms, because when we speak about public policy we understand that all of society tries to be involved in discussing this policy making. And because this, every citizen of Ukraine can influence these state policies and decisions.
Nahaylo: Are you, the Renaissance Foundation, going to be involved in the preparations for the elections? Are you working with others on reforming the electoral system, or on the rule of law aspect? What is your contribution, if any, in this area?
Chekmysheva: I started working at the Foundation after the Revolution of Dignity. I know that the International Renaissance Foundation accrued out the first exit poll in Ukraine. It was organized by Iryna Bekeshkina and the organization Democratic Initiatives.
Nahaylo: OK. I'll remind our listeners that you I'm speaking to Radoslava Chekmysheva, who is the communications coordinator of the International Renaissance Foundation in Ukraine. Radoslava, I saw you recently in Lviv at the 25th L'viv Book Forum – a huge and important event, and I would like you to share your impressions about that. You were the curator of a cluster of events on the theme of war and memory. So first your general impressions of the Lviv Book Forum.
Chekmysheva: It's the main cultural event in Ukraine, a place where all our publishers, writers, curators and cultural managers can network, discuss important themes. A place where all who make Ukrainian culture can be on the same page.
Nahaylo: It's become a platform, a forum not only for literary and cultural activists, but also for politicians, scientists, producers of children books, those who are involved in the development of Ukrainian thought and culture, political life, political and national consciousness.
Chekmysheva: Yes, and critical thinking too.
Nahaylo: That is very important. You invited me to one of your events, which was a very exciting event: a discussion between two leading historians with rather different views on WWII. I was in the middle of it. All about the critical thinking… The audience – 250-300 people probably- seemed to appreciate the discussion. What was your impression?
Chekmysheva: It was very interesting for me because. We had about ten events in our cluster: book presentations, five thematic discussions, an art exhibition by famous Ukrainian artist Andriy Yermolenko, and a literary reading. Our discussion was on Memory and War in Ukraine. The participants were Volodymyr Viatrovych from the Ukrainian Institute of National Memory, Heorhiy Kasyanov, a well-known Ukrainian historian from the Academy of Sciences of Ukraine, Bohdan Nahaylo and Stanislav Fedorchuk, a civic activist from Donetsk…
Nahaylo: … Who knows a lot about manipulation of memory…
Chekmysheva: Yes…
Nahaylo: Let me add for those who are listening. The Lviv Book Forum is not simply a highbrow event. Imagine a beautiful city like Lviv which is taken over by thousands of people who have flown in from not only Ukraine, for there are many foreign visitors. At the same time as there are hundreds of stands with the newest publications, you have events going every half an hour – maybe 10 happening simultaneously in the city in cafes, museums, halls. You can pick and choose what you are interested in. It is probably the main cultural event of Ukraine. There is also the famous book fair held in Kyiv at the Mystetskyi Arsenal National Art and Culture Museum in the spring of each year. They overlap and are synergetic. What other topics did you chair or organize there?
Chekmysheva: We had different themes. For example, we spoke about memory, war, philosophy as well as about book publishing and how the market has changed after the Revolution of Dignity.
Nahaylo: How would you assess the book market as a young intellectual? I see over the last a gear increase in the selling Ukrainian books not only about history, but world literature translated into Ukrainian. All the latest "hot novels" in the West are now available in Ukrainian. I assume this process is happening not just in Kyiv and Lviv and other large cities but also in small towns.
Chekmysheva: There is one big problem in this sphere – our market with Russia is closed now. Because of this many publishers have problems with money for publishing.
Nahaylo: To make it economic and lucrative.
Chekmysheva: In this situation we see that our publishing managers are in a situation where there is a struggle for a potential reader's attention, interest. Books target a person's specific interests, and also reflect state policy and our culture. The situation is difficult, but we should see a positive side too because, in speaking to and about a person, critical thinking and truth are entailed. Because of this our situation will become better.
Nahaylo: We are coming to the end of our interesting discussion. You are a regular like myself at Kupidon, a famous restaurant in the center of Kyiv and a hub of intellectual life. Many leading writers and poets come there. There is reading of poetry of Saturdays. Kupidon on Pushkin Street in Kyiv is very much like a microcosm of Ukrainian life, whereas the Lviv Book Fair is the macro level. What changes, just to summarize, have you seen in the last 4 or 5 years since the Maidan and the Revolution of Dignity? Is the momentum still there, or are we losing steam?
Chekmysheva: In this connection, I want to mention another important place and hub which is situated in Lviv, and it is the art association Dziga. It was the first Ukrainian cultural hub and created by Markian Ivashchyshyn. He was one of the first participants in the Ukrainian student movement before we got independence. Dziga also has a restaurant, and an art gallery. It serves as a platform for all our musicians, artists, writers, and so on.
Nahaylo: Well, I had the honor and the pleasure to take part in an evening in Dziga at the Lviv Book Forum, and it was dedicated to the memory, on the 10th anniversary of his death, of the poet, translator, activist, and writer, Yuriy Pokalchuk. We had had a similar event in Kupidon and it was repeated in Lviv. Okay, final thoughts. I always ask my guests, what message or parting words would you like to say at the end of the programme?
Chekmysheva: I want to say that all of us should think of culture not only in terms of a book, or an exhibition, or a good song. We should understand that culture is about us, and we make our own culture in the here and now.
Nahaylo: In other words, that culture begins from each one of us, from inside us, inside our heads, our hearts, and our sensibilities. And hopefully that though it we can influence society, as well. I thank you very much, Radoslava, for being my guest on this program. You've been listening to a discussion with Radoslava Chekmysheva who has represented the International Renaissance Foundation.
Chekmysheva: Thank you, Bohdan
NEWS
Death of Children in the ATO
Three teenage schoolboys were killed in Eastern Ukraine when they triggered a mine in an area that has seen heavy fighting between pro-Russian separatists and Ukrainian troops. The boys all studied at the same school in Horlivka, a town controlled by pro-Russian separatist forces, and were aged between 13 and 15, said Horlivka Mayor Ivan Prikhodko in a social media post.
Pre-election Fight in Donetsk
Three people were injured in an explosion in Ukraine's pro-Russian separatist Donetsk, including a candidate for the post of the self-proclaimed Republic's leader.
The incident took place just four weeks after the head of the Donetsk People's Republic (DPR) Alexander Zakharchenko was killed in a bombing at a cafe in broad daylight.
The explosion happened near the local Communist Party's offices as the last participants of a Party Congress were leaving the building, a DPR police officer told an AFP correspondent at the scene.
Igor Khakimzyanov, the party's candidate for the post of the DPR leader, was among the wounded.
Pro-Russian separatists are planning to hold a leadership election on November 11.
Military Base in Azov
Ukraine will build a military base on the Azov Sea and has sent more forces to the area to counter a worsening Russian threat, the Head of Ukraine's armed forces told Reuters, referring to an arm of the Black Sea that is a flashpoint of tensions with Moscow.
Viktor Muzhenko, Chief of the General Staff, said Russia had moved beyond covert fighting in the Donbas region, home of a Kremlin-backed separatist insurgency, to building up its military presence on Ukraine's borders and to taking aggressive action against ships sailing to Ukrainian ports.
The Azov Sea, a strategic arm of the Black Sea where Russia and Ukraine share the coastline, has become a flashpoint this year. Ukraine says Russia is preventing scores of vessels from reaching Ukrainian ports through spurious inspections and detentions.
Washington too has called on Russia to stop "harassing" ships, and supplied Ukraine with U.S. patrol boats. Moscow, in turn, says Ukraine might try to blockade Crimea.
Russian Intelligence helped Yanukovych Escape
Anatoly Chepiga, the military intelligence colonel identified as one of the two suspects in the Salisbury poisoning, has received Russia's highest military award, Hero of the Russian Federation, for his role in smuggling former President Viktor Yanukovych out of Ukraine in 2014, it has been claimed.
A new report by the Dossier Center, a group funded by exiled oligarch Mikhail Khodorkovsky, has tracked several addresses where Mr Chepiga is registered. One, a student dormitory in southern Moscow, he shares with a dozen other servicemen with similarly blank public records. The report suggests that these men could also be intelligence officers.
The report says that Mr Chepiga was alongside Mr Yanukovych when he fled from his gilded Mezhyhirya residence outside Kyiv on 22 February, and when he left the country from Crimea a day later.
#FreeSentsov
Ukraine's Foreign Ministry is demanding that Russia allow consular access to imprisoned Ukrainian filmmaker Oleg Sentsov who has been on a hunger strike since mid-May.
Russia's penitentiary service said the day before that an unspecified «correction» in Oleg Sentsov's treatment had been ordered; it published a photo of him being examined with a stethoscope.
The filmmaker is an opponent of Russia's 2014 annexation of Crimea. He was sentenced to 20 years in prison in 2015 for conspiracy to conduct terror attacks.
Welcome to Ukraine
During working visit to the United States, President Petro Poroshenko met with representatives of American business circles already represented in Ukraine or interested in developing business in Ukraine.
The meeting, which took place in New York, was attended by representatives of well-known American and global companies. In particular, the leaders of such companies as Holtec, AT&T, IBM Corporation, Boeing International, XCoal Energy & Resources, Motorola Solutions, GE Transportation, AM General, Bunge Ltd, Cargill, Inc., Coca-cola, Pepsico, Citibank, Greenbrier, as well as representatives of the American-Ukrainian Business Council had a conversation with the President.
WBC in Kyiv
The 56th Annual WBC Convention took place in Kyiv. Boxing legend and now Mayor of Kyiv, Vitali Klitschko, his brother Wladimir Klitschko, former WBC champs Lennox Lewis, and Evander Holyfield, all took turns addressing fans and the media with comments about how happy there were to be in Kyiv and to be part of the WBC.
Wladimir Klitschko welcomed the crowd and told the often heard story of the reason he never became WBC champ – because his brother Vitali already held the title, and they had made a promise to their mother to never fight one another.
In the evening, an auction of signed boxing memorabilia was held, with the proceeds going to the children of war-torn Mariupol. One woman bid $20,000 for a Klitschko, Holyfield and Lewis-signed belt, then bid $55,000 for a Muhammad Ali- signed glove. In total, $197,000 was raised.
MUSIC
There's a lively hip-hop scene among Crimean Tatar musicians. Three bands, Seyran 7'62, Jamdeen, and Red Neks Chatalov recently worked together on a piece. It's called 'Hip-Hop Never Die,' and has lyrics in Crimean Tatar and English. Have a listen!
LOOKING FORWARD
Join us again next week for Ukraine Calling on Hromadske when we'll bring you another topical in depth interview, the news and some music. So tune in. And we would be happy to receive any feedback from you. Write to us at: [email protected] This is Oksana Smerechuk in Kyiv. Thanks so much for listening.
Interview transcribed by Larysa Iarovenko, Caitlin O'Hare, Nykole King and Oksana Smerechuk. News by Iryna Solomko. Music Section by Marta Dyczok. Sound Engineer – Andriy Izdryk. E-mail distribution by Ilona Sviezhentseva. Web support by Dmirty Belobrov and Yaroslava Volvach .