KYIV ART WEEK: culture as the engine of economic development
"Once we open our hands to the world, the world will be much more friendly towards us." Evhen Bereznytsky tells Bohdan Nahaylo about Kyiv Art Week as International Cultural Diplomacy

KYIV ART WEEK: culture as the engine of economic development
Hello and welcome to Ukraine Calling, your weekly review of what's been happening in Ukraine with a focus on a main issue. I'm Oksana Smerechuk for Hromadske Radio in Kyiv, and here's a look at some of the stories that were in the news this week.
HEADLINES
CULTURE and MUSIC
LOOKING FORWARD
Hromadske Radio is independently funded. We are appealing for funds through a crowd funding initiative. Should you feel inclined to donate, you can do so here using Wayforpay.
FOCUS INTERVIEW: "Once we open our hands to the world, the world will be much more friendly towards us." Evhen Bereznytsky tells Bohdan Nahaylo about Kyiv Art Week as International Cultural Diplomacy.
Nahaylo: What is happening in Ukraine this week? Well, we have Eurovison and the finals approaching. Kyiv is full of tourists. But there is also another very important, no less significant on a cultural scene, event for Kyiv and that is, if I am not mistaken, the second Kyiv Art Week. It is a very impressive occasion. I was at the opening last week and it very high scale presentation on the level of Tate Gallery I used to go in my student days in London. Art not only from Ukraine, but from all over the world. I am very fortunate to have with me in this studio today Evhen Bereznytsky who is a founder of this project, concept, this yearly happening. Welcome!
Bereznytsky: Thank you.
Nahaylo: Tell us how this ambitious idea to have Art Weeks in Kyiv came about.
Bereznytsky: First of all, thank you for inviting me here and also for the compliments I barely deserve, but still they are very pleasing. It is not that we have invented the format but at some point we realised we realised that Ukraine requires this and we adopted it sine we do not have …
Nahaylo: When you say "we", is this you and your friends? How many of you?
Bereznytsky: It's quite small team actually. Initially there were only two of us. But then others who shared the ambition and mission of the project joined.
Nahaylo: And your own background? Were you involved in art before?
Bereznytsky: Yes, for twenty years already. It is family business.
Nahaylo: Yes, your mother is very famous collector and had her art gallery, I think, in Germany.
Bereznytsky: Yes, we have different changes in format…
Nahaylo: And now Ludmyla Bereznytsky is a Deputy in Kyiv City Council.
Bereznytsky: Yes, she is in charge of culture.
Nahaylo: Ok, we are very privileged to have you here and judging from your background, you are obviously well placed to tell us what is happening on a cultural scene. Let's stay focused on Art Week.
Bereznytsky: When we adopted the format, we realised we could not implement it as it exists in more developed art scenes. We tried to do it on a low-key profile at the very beginning because there was no public funding, there was only resources from our own pockets. It was at Kyiv Art Week 2016.
Nahaylo: That was for local artists or were you already planning to have people from abroad?
Bereznytsky: This project normally consists of several parts. The leading part is usually an art fair. It also combines institutions. So it is not an exhibition in a common sense, we do not work with artists. We support the institutions, which in their turn support the artists. So we see it as an institutional development project. We are targeting predominantly Ukrainian galleries, but we, nevertheless, understand that we do not want to be homogeneous. We really want to promote Ukrainian art outside of our country and for that we need to let art from outside to come here, so there will be an equal exchange.
Nahaylo: A two way flow…
Bereznytsky: Right. Exactly. Once we open our hands to the world, the world will be much more friendly towards us. Of course, in the first year it was very difficult to involve foreign galleries, because it was kind of a gamble for them. You go to an underdeveloped art scene without certainty that you are going to sell. This is always tricky.
Nahaylo: And probably after Maidan and the Revolution of Dignity there was some fear.
Bereznytsky: Yes. It is still there, but on a much lower level than the last year. Considering that it was only a first experience and nothing was there on the net about the project. This year it was much easier.
Nahaylo: Let's go back. How would you assess the first trial run, which also seemed very impressive from what I saw. I was not there but I looked at the photographs and read about it. So what were the lessons learned?
Bereznytsky: That we need to dedicate more efforts into publicity. We also require more resources, which we have to seek much more actively. We also realised that this kind of project or concept requires the significant support from the city, because it is targeting the city development, its reputation, its image, the public cultural art view.
Nahaylo: Is it a coincidence that you have it more or less the same time as Eurovision?
Bereznytsky: In a way it was done on purpose because there was funding available within the portfolio of preparations for Eurovision. The city has allocated the budget, and since they understood that they could barely give us something out of the budget, they suggested that we take part in this portfolio. We agreed, because it was more important to do a project on a higher level then to try to divide self from popular format.
Nahaylo: And the location is quite amazing. When I turned up there, it's a huge concrete building that seemingly is empty, most of the time. And yet, it was transformed miraculously into this amazing art gallery with its labyrinths and different types of art on show, from huge canvases to sculptures, etcetera. How many exhibits did you have altogether this year?
Bereznytsky: I didn't calculate exact number, but there were more than 1000 exhibits, and 23 galleries are participating. And there were two special projects specially prepared and designed for the premises.
Nahaylo: Galleries from which country? Can you give us a –
Bereznytsky: There were five countries participating: Ukraine, Georgia had a very big presentation, there were galleries from Poland, Germany, and Brazil.
Nahaylo: Not a bad start.
Bereznytsky: Right, thanks.
Nahaylo: And so, even from Brazil. How many people were involved altogether?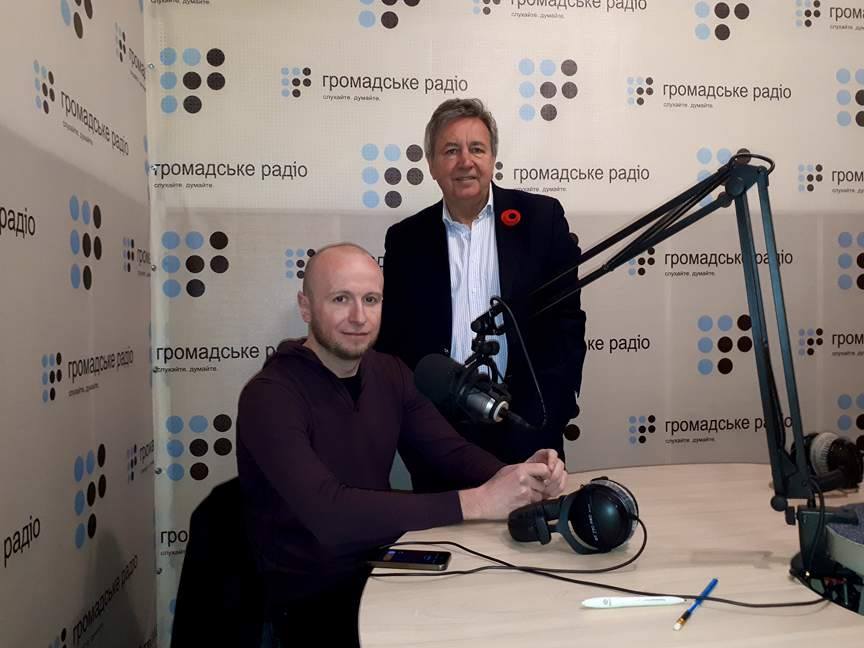 Bereznytsky: You mean the team or…?
Nahaylo: Well, both, the team and how many actually came as contributors and co-organizers, or participants? I don't mean visitors.
Bereznytsky: The team was about eight people, and we had contractors who were involved. Overall, it was logistically –
Nahaylo: A nightmare?
Bereznytsky: Exactly.
Nahaylo: We don't have to be diplomatic. I can just image because the sheer size of it. I'll tell you frankly, as somebody who was born in Britain, I was very proud to be there. I really felt that this was a European event, a European project – not using that term loosely. Because, as I said earlier, it reminded me of my student days, when I was familiarizing myself with the best of modern art, particularly in London, later in Paris, then Barcelona, whatever. And this really seemed to meet the standard, so congratulations.
Bereznytsky: I really appreciate your words.
Nahaylo: What did you personally like from the exhibits? What were your favourite works?
Bereznytsky: That's a very tricky question because I normally try to be very neutral. But I must confess that I really liked a video that was shown by the Polish gallery. It found it very disturbing, but beautiful at the same time.
Nahaylo: What was the theme, can you tell us?
Bereznytsky: It is a beauty of death, in a way. It was about the family and where the wife is dying of cancer, but she is really struggling in a beautiful way. She is beautiful –
Nahaylo: So, it's about dignity? It's not so much beauty, but how much dignity can be there dying gracefully with family support.
Bereznytsky: It was disturbing, but also impressive. It was probably the best artwork for myself has pointed out.
Nahaylo: Do you have an idea how many people came to the opening and subsequently visited the Kyiv Art Week?
Bereznytsky: Yes, we kept statistics. The opening was visited by 2000 people, and the…
Nahaylo: Which was what, which day? The fifth, the fourth?
Bereznytsky: The opening? It was Thursday.
Nahaylo: A week ago, okay.
Bereznytsky: Then we had three working days and about 10,000 people probably.
Nahaylo: So not bad, not bad. Mainly young people or older generations?
Bereznytsky: What I liked is that we reached our goal and we really found a way to involve people who normally do not consume cultural products. We really made our best to show our will to be understood. We specially designed some parts of the exhibition that would be user-friendly, I would say. We allowed people to interact with art, which is normally not acceptable in museums or elsewhere, because there is a border between the observer and the artwork. We allowed to touch in some place. It is sort of like, cannibals eating the heart of the enemy in order to overcome the fear. And for most people, they are afraid of art, and especially contemporary art because it is beyond understanding, and they are reluctant to understand it.
Nahaylo: Well, I think your presentation was very much state of the art. Now tell me from your perspective, Ukrainian art very loosely, but let's say modern art. Are we on the cutting edge? Are we lagging behind? Have we our own identity? Are we modern, are we backward, are we conservative?
Bereznytsky: We are pretty conservative. But we are good learners. I see normal progress on how we get on with really creating a new sense. And actually the Revolution of Dignity gave us a lot of push to do so, to be more brave.
Nahaylo: Are Ukrainian art and works of artists becoming better known? Are they becoming popular?
Bereznytsky: Yes, some of them. But unfortunately, this is mostly due to private initiatives, rather than state support.
Nahaylo: We see, for example, an ethno fashion, Ukrainian products, Ukrainian design that are very fashionable, very popular. Do we have at this stage any artist becoming established in the West as a trendsetter for people to follow?
Bereznytsky: In terms of fashion design – yes…
Nahaylo: But art: painters, sculptors.
Bereznytsky: Unfortunately not as yet.
Nahaylo: Because we also have authors that admitted in literature like Kurkov and others, and Zhadan, and Zabuzhko that have been translated.
Bereznytsky: Yes, in this case art is a little bit behind unfortunately and we put in our efforts in order that change it.
Nahaylo: So, what lessons did you draw after this year experience?
Bereznytsky: That we really need to work even more on the communication between the society and the art, and art scene. We really need to marry them, because nowadays the art scene is very isolated area of social life that we need to change.
Nahaylo: I am talking to Eugene Bereznytsky, the founder of Kyiv Art Week. Is this also a question of the difficult economic conditions that the population faces and, I guess, many artists also face.
Bereznytsky: Yes, but I also think that cultural development is a very important engine of economical development, because in most advanced countries, well-developed countries, cultural industry is one of the most important industry.
Nahaylo: Another question I wanted to ask you is to what extent do we see any kind of national content in the works that are appearing now? I don't mean en masse but is there some reflection in the works of the leading Ukrainian artists? I elude to the 1920s, when Boychuk and other artists were trying to modernize art, but also inject some kind of Ukrainian content in it. Is there any settle Ukrainian element that is brought in? Last week I was talking to a representative from the Dima Borisov chain, and they were explaining how he and his team are trying to make Ukrainian cuisine more sophisticated, more modern in a very settle way.
Bereznytsky: I think that it is more important not to show the visually recognizable signs of your traditional background but to translate (transmit) your mentality. And this is much more important, because in this way you translate not your traditional values but you actualize your culture. And I even think that for Ukraine it is a very important task to change the pace. We used to do a lot in terms of development of traditional culture even in the Soviet Union, to make Ukraine sort of conservative and a little bit disadvantaged country. Because of the slow pace, when you are really thinking only about the history and the past. We really need to look into the future, not forgetting about the past because we all came from the past. But we really need to actualize it.
Nahaylo: Have the events of the last few years and the Revolution of Dignity also found the way into the works?
Bereznytsky: Yes, a lot. And of course artists react to the society's changes, to all the social movements which are going on around them. A lot of them were taking part in the actions of Maidan, but also plenty of them were working with volunteers or with fighters. Of course they react to the reality.
Nahaylo: Eugene, what are plans and ambitions for the next year? What are you aiming for?
Bereznytsky: We are aiming for more visitors, for more galleries participating, and for more foreign galleries to come, and probably to have more foreign content to the show.
Nahaylo: And in a longer term? What is your vision for this project Kyiv Art Week? To become an established feature on European scene, respected etc. What is your personal vision?
Bereznytsky: We really want to make people from outside to come on purpose to this event.
Nahaylo: To attract outsiders…
Bereznytsky: Not to come to Kyiv and by chance find out in the media that something is on. But really to come on purpose.
Nahaylo: So it would become an established international event, the respected one. Okay, thank you very much, Eugene. I have been talking to Eugene Bereznytsky who is the founder and a driving force behind Kyiv Art Week. Thanks so much for joining.
Bereznytsky: Thanks so much for invitation.
HEADLINES
Day of Remembrance or Victory Day
Ukraine's commemoration of the end of World War II, which took place over two days of public holidays this week, went through some moments of turbulence, reflecting the nature of its changing relationship with loyalties and identity.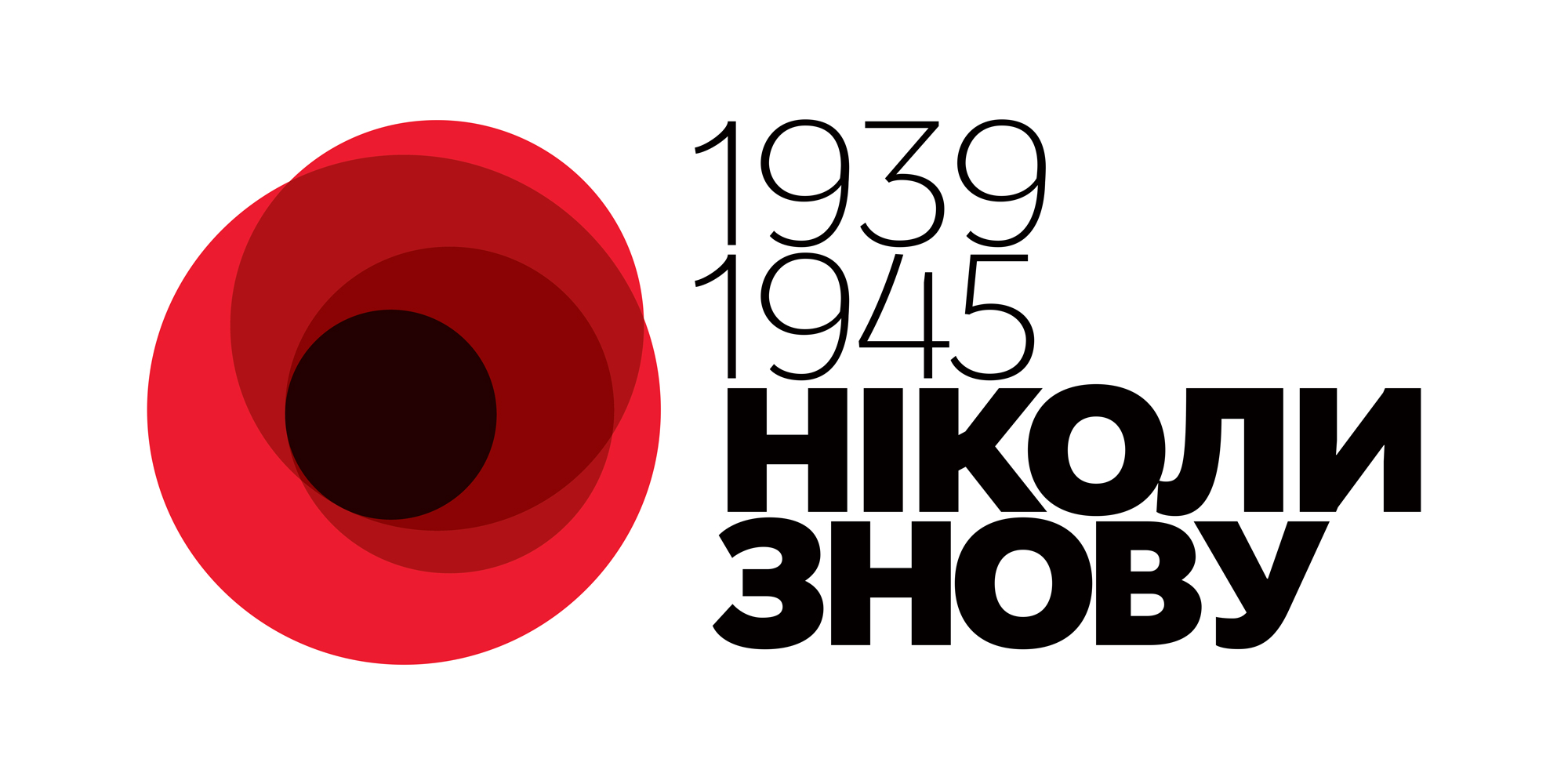 Ukraine commemorated the Day of Remembrance and Reconciliation, with its symbol of a red poppy, on May the 8th. In solemn official ceremonies across the country, wreaths were laid at war monuments to commemorate those who died in war. May the 8th has been a day of Remembrance in Ukraine since 2015.
Then on May 9th further marches and wreath-laying ceremonies were held. May 9th has been the traditional Victory Day in the Soviet Union. According to the Communications Director at the Ministry of Internal Affairs of Ukraine, Artem Shevchenko, there were approximately 1,700 such commemorations of Victory over Nazism held across the country this week. Usually they were wreath-laying ceremonies and marches of veterans, or most likely, their descendants.
In a number of cities, these events led to confrontations between right-wing nationalist organizations, recent war veterans, and participants in the Immortal Regiment Marches. The Immortal Regiment marches began as a grass-roots movement in Russia, where descendants of WW II veterans would carry their photos. More recently, the Immortal Regiment Marches have been used as a vehicle by the Russian government to promote Russian expansionism. In a statement this week, President Poroshenko criticized them as an example of political speculation exploiting people's feelings.
There were clashes and scuffles during the marches in a few cities, most notably in Kyiv and Dnipro. At the march in Kyiv, about 20 activists from opposition groups were detained. They had protested and thrown potatoes, smoke bombs and paint at the Immortal Regiment marchers.
In Dnipro, there were clashes between ATO veterans, who are veterans of the war in the Donbas, and 'titushkas,' which were athletic-looking young men, which the police may have facilitated.
The following day, Minister Avakov announced that he had fired top police officials in Dnipro for the lack of control and management of the situation. There is an ongoing investigation.
Visa-free European travel for Ukrainians
An important step has been made by the EU towards visa-free travel. On May 11, the EU Council voted to endorse visa-free travel to European-Union countries for Ukrainians. The visa-free regime is due to enter into force on June 11. This means that Ukrainian citizens who have biometric passports will be able to enter EU member states for up to 90 days during a 180 day period. As European Commissioner Dimitros Avramopoulos pointed out, the visa-free status is also thanks to Ukraine doing its part and pushing through reforms in areas such as migration, public order, external relations, and fundamental rights. Ukrainians celebrated by raising the EU flag on what is officially the highest flagpole in Ukraine, on Khortytsia hill, in Zaporizhzhia oblast.

Sheremet Case
New information has appeared in the case of Pavel Sheremet, a Belorussian-born journalist, who was assassinated by a car bomb in Kyiv in July 2016. A new documentary film has been made available by a group of journalists slidstvo.info and the OCCRP project. One of the claims is that a former or current Ukrainian security agent was present when the bomb was planted. Ukrainian Interior Minister Arsen Avakov has said that authorities would interview the journalists and the agent in question in light of the new information.
The War
According to the latest information released from the OSCE Special Monitoring Mission, there has been an escalation of heavy weapons use over the last three months on the front lines of the conflict in the Donbas. The US Envoy to the OSCE, Kate Byrnes, stated that the SMM has observed a 750% increase in the use of heavy weapons on separatist-held territory. Last week alone, the SMM observed 44 weapons in violation of the previously agreed withdrawal lines, and 42 of those were on territory not-controlled by the Ukrainian government.
As well, the US Envoy noted that there is a deliberate pattern of behaviour by Russian-led separatist forces aimed at weakening the SMM and preventing the international community from observing separatist activities.
This week the Chief Monitor of the SMM condemned sexual harassment of SMM observers as one of the methods of obstruction. He cited an incident, where an armed man intimidated an unarmed civilian female member of a SMM patrol by making comments of a sexual nature. The Chief Monitor stated that the OSCE monitors should be able to do their job without fear of physical or verbal assault.
In the past week, there were attacks and firing of weapons in all areas along the front lines. The Ministry of Defence reported that in total in Ukraine 2 soldiers were Killed In Action and 31 were wounded.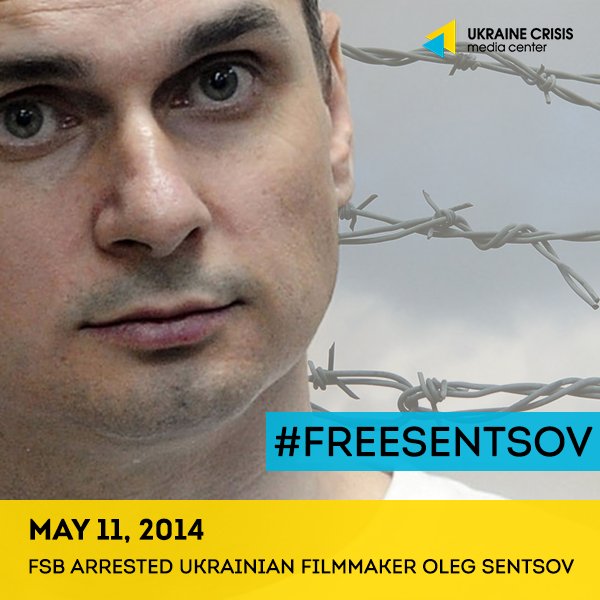 Case of Oleh Sentsov
It is three years since the annexation of Crimea and this week it is three years since the arrest of Ukrainian filmmaker Oleh Sentsov. He was arrested on politically motivated charges for his peaceful protest against the illegal occupation of Crimea by Russian forces. Today, he is still in a Russian prison, having been sentenced in August 2015 to 20 years of hard labour. He has been declared a political prisoner by international human rights organisations and has been the focus of a number of campaigns on his behalf.
The US PEN Centre, which is one of the largest PEN Clubs in the world, has now taken on the case of Sentsov. He was the winner of their Freedom to Write Award this year and a large campaign to free him is being planned.
This week, the Ukrainian World Congress put out a Call to Action for Ukrainians and people worldwide to join the campaign. They urged governments to impose sanctions against those individuals responsible for unlawfully imprisoning Sentsov.
More information and guides to submitting letters of support can be found on: Kharkiv Human Rights Protection Group.
CULTURE
This week Ukraine is hosting the Eurovision Song Contest. There are a number of Eurovision zones to visit and see in Kyiv city, the most active being the concert venue on the left bank in the Exhibition Centre where the competition is taking place. And there is also the Eurovision Village on the main street Khreshchatyk, which has a high-tech stage set up, with a large viewing area, and is generally hopping most times of the day. There are games areas, places to take photos, kiosks where you can try Ukrainian food. Stands selling souvenirs. And not to mention the coloured, singing and dancing water fountains on Maidan Square, an attraction all in themselves. Messages about diversity are on billboards everywhere in the city. But closer towards the evening, people congregate closer to the stages set up on Khreshchatyk and other squares to watch performances of Eurovision singers.
Despite all the excitement that has come to Ukraine's capital, there have been comments in the media, that all this is not in keeping with the fact of an ongoing war and the sacrifices being made in Ukraine's east. However, these soldiers are not forgotten, as there is a billboard-sized photo exhibition on the Khreshchtyk of Ukrainian war veterans, who may have been wounded but are in training for the Invictus games. As commentators have pointed out, it is thanks to those individuals, that Eurovision festivities and events can be enjoyed by the thousands of Europeans visiting Ukraine this week.
MUSIC
And here is a song for you. This one comes from the private collection of one of our co-hosts, Bohdan Nahaylo, who has a lot of Soviet underground amateur recordings from the 60s, 70s and 80s. This song was performed in the late 1980s by Lviv singer Andriy Panchyshyn. We're not usually big fans of satirical songs, but this one is just the thing to celebrate Ukraine's achievements today in foreign relations. It is called "Tovaryshi kasyrky", which means "Comrade-Cashiers!", and it was also known under the name of "Taboo". It tells about how impossible it was to buy a ticket to a destination outside the Soviet Union, if one was a Soviet citizen. Those who lived in the Soviet Union will remember how it was, and probably will rejoice that Ukraine finally made its way out. Andriy Panchyshyn, with "Comrade-Cashiers!" Enjoy!
LOOKING FORWARD
Next week we'll have more stories and current events. Tune in for a new episode. And we'd love to hear from you. Write to us at [email protected] I'm Oksana Smerechuk for Hromadske Radio in Kyiv. Thanks for listening.
Interview transcribed by Larysa Iarovenko, Nykole King, Ilona Szieventseva, Max Sviezhentsev. Headlines and Culture, by Oksana Smerechuk. Music selected by Andriy Izdryk. Sound engineer Andriy Izdryk. Web support Kyrylo Loukerenko.
Comments