The idea of GoCamps is not only about language - Oksana Nechyporenko
Oksana Nechyporenko invites volunteers from all over the world to help young Ukrainians break down language barriers, and to show them that the world is global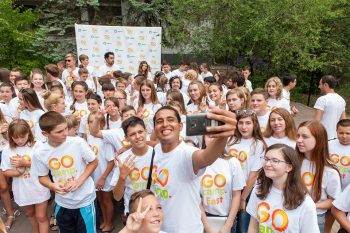 The idea of GoCamps is not only about language - Oksana Nechyporenko
Hello and welcome to this week's episode of Ukraine Calling. I'm Bohdan Nahaylo for Hromadske Radio in Kyiv and we're bringing you our feature interview followed by some new music from Ukraine.
We all know the importance of English these days. In this episode Oksana Smerechuk talks to Oksana Nechyporenko, who wants to get young Ukrainians speaking English. Fast. She is inviting hundreds of international volunteers in to help with this forward-looking project.
FEATURE INTERVIEW:
Smerechuk: Hello, it's Oksana Smerechuk here on Ukraine Calling. If you were a tourist wondering around Kyiv 30 years ago and stopped to ask directions in English, it would have been very rare to come across an English speaker. Today your odds are much better. Not everyone speaks English of course but you are quite likely to find someone who will direct you or would be able to have a little chat with you in English. This is just a little example. The situation with Ukrainians speaking foreign languages is changing and evolving. Ukrainian students studying abroad or Ukrainian businesses doing business abroad. Just last year Ukrainians were granted visa-free travel to the EU making travel that much easier. So there are more incentives to learn foreign languages and communicate with the world. Today with me in a studio is somebody who wants Ukrainian to speak at least one foreign language. Oksana Nechyporenko is Director of Global Office. Welcome to Ukraine Calling!
Nechyporenko: It's great being here.
Smerechuk: Tell me what is this Go Camp initiative all about?
Nechyporenko: In 2015 there were several people who had this crazy idea to promote foreign language learning in Ukraine. Because of several reasons. First, because there is logical and very direct correlation between English language proficiency in the country and country's GDP, economic growth, science, art development. Secondly, at that time Ukraine was in a very severe information war. We thought that if Ukrainians would be able to read the news not only in Russian but also in English, they could compare, and it would be a great opportunity to develop critical thinking. That is how this initiative emerged. The NGO was called GO Global to call Ukrainians to integrate into the global world. We did several things. We analysed the experience of other countries that have shifted the English language situation in their countries just during one generation. I must admit that all these initiatives were state [sponsored] and we are the only country that is run by civil society. We did big informational campaigns like, 'The year of English Language' which was supported by the President of Ukraine, worked with civil servants, with the informational space to offer Ukrainians [the option] to watch films in their original language.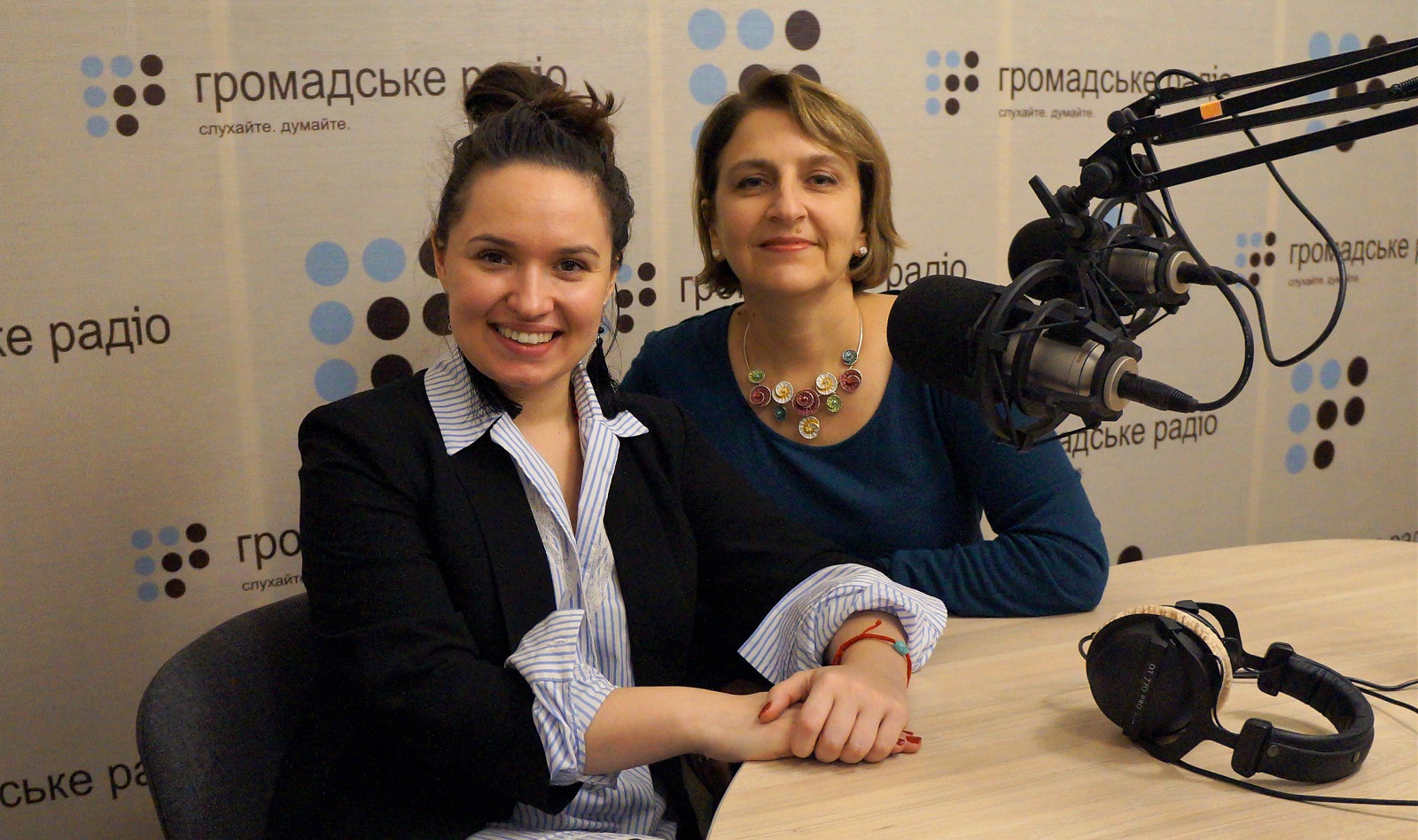 Smerechuk: Let me stop you right there. What is Go Camp about? What is the Go Camp experience?
Nechyporenko: One of the projects we are doing to promote foreign languages we turn school into free for children summer camps. We not only give teachers not only special methodology how to make these camps more interactive with games but also invite international volunteers from all countries of the world to come here to Ukraine and be language and cultural ambassadors, and help Ukrainian children to overcome the language barrier.
Smerechuk: Why do you think Ukraine needs these English summer camps? Surely they are learning foreign languages at school – it's part of the program. I know for example with English you start with one hour per week in the first grade and then to three hours per week in senior high school. So there is that language learning program at schools. Isn't that enough?
Nechyporenko: No. Because Ukrainians learn English, but they do not speak English. The problem is that a lot of programs for our teachers were built in such a way that we know how to translate or read but we have this communicational barrier because our education was build that way, it was less of a communicational approach. And we really do lack experience in listening to English in the language of the region, or listening to native speakers. We also have this cultural approach that we are not allowed to make mistakes. Then if you are not sure that you are not speaking in the right way, Ukrainian people rather be silent than speak with mistakes. It's not only methodological problems that we have to tackle but also psychological ones and values or cultural ones. That's why for me personally I see such value in Go Camp because we offer to teachers these methodological approaches on how to work with children, how to motivate them, how to make it more interactive. Also we bring these amazing people who are talking to children. They tell children they are allowed to make mistakes, like "Please talk to me. I came here from Australia!" Children are so interested to communicate with them that they really start talking.
Smerechuk: Can you bring some statistics for me? How many schools benefited from this program last year and how many students were involved?
Nechyporenko: We started in 2016 and we had only 100 schools, 120 volunteers, and 9 thousand children all over Ukraine. In 2017 we had a "big bang" with 700 schools in 324 locations all over Ukraine with 60 000 children participating in the project, around 1,500 volunteers from 53 countries in the world came to Ukraine. 80% of Go Camps took place in small cities and villages.
Smerechuk: So you are reaching the villages as well. That is a part of population that normally would not have a chance to travel or meet foreigners who come to bigger cities.
Nechyporenko: You are absolutely right. For the majority of school students and teachers it was the first time they saw a foreigner in their life. If we are talking about 53 countries of the world we are talking about all religions and different skin colours. You know Ukraine is a closed country, so for us it's like a small cultural revolution happening.
Smerechuk: What do you feel you've achieved last summer? What were some of reactions from students you talked to and teachers?
Nechyporenko: You are right. We have several audiences that we are working with. First we received reaction from teachers because we work with them before the camps open and invite them for the international gathering where we invite professors from UK, USA, from France, from Germany because we also have French and German speaking camps. So first we give them an amazing international training. We bring them to Kyiv. Last year we trained 600 teachers from all over Ukraine. The Minister of Education was present and gave a special speech. They felt there was a special attitude and were very inspired. One of the major feedback was that we taught them how to motivate and inspire their children.
Smerechuk: Did you talk to Ukrainian students?
Nechyporenko: Of course we talked to them, and they are one of the major audiences. We not only talk to them, we visit them, we check how they are doing. We see that they are inspired. Basically, volunteers from the whole world come to them, because they are not so [open] to all these opportunities of travelling. And the volunteer comes with his or her experiences, with some life stories, with their career choices, and these are lots of new situations for the students. They discover that the world is global and that they also are part of this world. They discover new tools and mechanisms. They do understand now why they learn this strange subject. In Ukraine they have this meme: "London is the capital of Great Britain" This is a phrase that is so typical of how we learn English in schools.
Smerechuk: You learn it by heart?
Nechyporenko: Yes, yes, we learn it by heart, and a lot of stories like that. So now they understand why they are learning – in order to communicate, and in order to reach these new opportunities. They are open to new cultures – that is also very new for them.
And volunteers. They were the ones who were basically afraid to come to Ukraine because 60% are visiting Ukraine for the first time, and 99% of them are coming with huge prejudices, and they break them. They break the stereotypes. They become our biggest fans and ambassadors all over the world.
Smerechuk: Why do the volunteers come to participate in the program? Are they all aspiring teachers, or students having a gap year? What motivates people to come?
Nechyporenko: Their motivation is something that brought back belief in humanity as such to all of our team. We have some volunteers who are diaspora from the 1st to the fifth generation and they want to give back to their community. For them, this is their opportunity. They are going back to the villages their family left 200 years ago, and they want to support it and to get back to their roots. And this is the diaspora, from students to pensioners. Our oldest volunteer last year was 70 years old. This year we'll be having a 75 year-old. But they are so active and they are so passionate!
The second audience – these are students or freshmen, just out of universities. They are studying International Diplomacy, Eastern-European Studies, and for them, volunteering is not only something they are used to, but they also have to have this experience in their CV in order for them to get their new jobs.
And the third audience is probably volunteers from the heart. They are going to the places where they are needed most. And they said that they'd heard a lot about Ukraine and what is happening in Ukraine, but they didn't know how to help. And these are the ones who are asking us "Please send us to eastern parts of Ukraine. We want to go to Donetsk and Luhansk regions. No, no no, we don't want to go to safe locations. Only where nobody else will go." And this is so touching!
Smerechuk: Does that mean that anybody can apply. Volunteers are working with children. Do you do background checks on them?
Nechyporenko: Of course we do. Basically we are encouraging everybody who is from 18 years old and has fluent English, French, and German and a desire to work with kids to apply to us, but of course we check their motivation, the motivation of volunteers to work with children and to work with teachers. We ask for medical certificates, for health. We ask for a criminal records check. Also, not only do we do a series of interviews, which were developed with our partners from the Peace Corps and from the British Council, and our volunteers also do a background check with Interpol.
Smerechuk: That's very wise. Is it only in English that you're doing this. I know that Ukrainian pupils learn a number of foreign languages.
Nechyporenko: In 2017 we conducted camps in English, French and German. So for German we had around 2,000 children that participated, and French was in third place, with several hundred children that participated in French-speaking camps. This year we'll try to raise the number of French-speaking camps, because we do have schools that are studying in several languages and they are ready to host volunteers. We have a bid demand from the schools. Also we have a demand for the Spanish language, and the Polish language. So we are looking forward to developing it.
Our idea is just to promote foreign-language speaking in Ukraine. That's A. And B, the idea of volunteers. ..The idea of GoCamps is not only about language. Language is the instrument, the tool, but it can't be the final goal. The general idea is to inspire the generation, and to show them that the world is global, and to give them new tools and new skills to be equipped for the 21st century. And for this, the volunteers, who come from all of these countries of the world, they are the ones who show us another type of psychology, of attitudes, of values. So this is why we encourage volunteers also from French-speaking countries and German-speaking countries to come to us.
Smerechuk: Part of improving the environment for people being able to speak foreign languages fluently and using those foreign languages, is expanding the type of possibilities they have to use foreign languages. Like English for example. I know in many countries in Europe – alright they speak their own language, but they might have cinemas with "Original language version." I think – would you agree – it helps a lot in giving opportunities to use the language.
Nechyporenko: I do agree with you, totally. This opportunity to watch movies in the language of the original, not dubbed, but with subtitles.
Smerechuk: And being dubbed was the old traditional way of doing things, right? Even from Soviet times.
Nechyporenko: Yes, but it is still. Ukraine is one of not-so-many countries in the world that is dubbing all movies. So we are not doing subtitles. But movies with subtitles are one of the tools on how to change the situation with the language environment. And that was one of the first initiatives that we did in 2016. We spoke to a number of movie distributers in Ukraine and we convinced them that Ukrainians will be watching the movies in the language of the original with no dubbing and only with subtitles or even with no subtitles. So now you can already find blockbusters in a whole number of Ukrainian cinemas and new movies without dubbing. Usually they are fully booked and the most popular for people. They are now in seven cities of Ukraine, the most popular are cartoons. Parents bring their children, even if the parents don't know the English language they still bring their children for them to listen, like, Shrek. So yes, it is working, and also when we started in 2016 some of the TV channels supported us and started to show TV series in the language of the original, like Sherlock. One Plus One TV started this initiative but because all TV channels are private and they have to fight for their customers. So if it is not demanded by the entire population, so that's why they are usually put in after the high-rating time, like at night.
Smerechuk: I see, but another part of it is, do you perhaps try to influence adults and improve their foreign language skills? Okay this is dealing with children specifically the GoCamps, but do you have any programs that would deal with other parts of the population?
Nechyporenko: When we started in 2016, basically what we did was we created this Year of-English Language in order to create the whole coalition of organizations of private schools, of embassies, that would support and give more opportunities to the Ukrainian population, not only to young children. So there were a number of initiatives that gave lots of—thousands and tens of thousands—online courses for free to different ages. But we as NGO are more concentrated on students and schools because according to all of the statistics, this is the audience if we'll have them learn English now, will see the results in the near future. If we were the government we could probably tackle all of the audiences, but unfortunately we have to use our resources very wisely.
Smerechuk: But on the list of your plans, you're thinking really big, you're thinking on a grand scale, and I think you have lots of ambitions. But to carry out all this work you need money, can you explain how this is financed? Because I know your NGO is actually called a "multi-shareholder organization" – which is a bit unusual.
Nechyporenko: Yes, it's true. Basically, in order to implement all of this, we are doing lots of fundraising efforts. Like last year, we managed to fundraise 9.5 million hryvnia which is around a little less than half a million dollars. We did it from different sources. So, 20% of the money comes from grants such as from the U.S. Embassy, British Embassy, French, German, and Canadian Embassies, and they're only usually for the training of teachers. This is something that is embassies understand, that they can support.
Around 25% of money comes from business. We work a lot with business and we offer them support from one school to the entire region. We feel that it's very important for business to understand and to work with them with this issue, it's not only for them but it's an opportunity to have potential new employees who speak the English language, but also they can work a little bit more with them and explain what it is that they are doing, what career is in agriculture, for example.
Also, we do a lot of crowdfunding. We have our ambassadors who do crowdfunding campaigns and fundraise. We have international fundraising and have our volunteers that support us and they all work in different international companies and they start small company fundraising projects and the companies double the money. That's how last year our volunteers from the European Bank of Infrastructure and Development in London raised 10,000 pounds and EBRD doubled it!
Then we are doing some crazy stuff, like auctions. Or we take clothes from Ukie fashionistas, we take different high level – like Chanel, Dior – and then we sell them for very nice prices and again, with all the money that we get from them, we put into GoCamps. So, this is the mix of all the potential – and also, we do social entrepreneurship, so we have some opportunities to sponsor schools, and then for each school that is sponsored, we cover one school in a small village. We do realize that we have to give the opportunity to donate but also work for this money.
Smerechuk: So, I can hear that you are doing innovative things all around, in all areas! If you can sum up briefly, what are you hoping to achieve with this summer's GoCamps?
Nechyporenko: This summer's GoCamps, we want to have 85,000 children participating and we want to make Ukraine the number one destination for volunteering in Eastern Europe. Because we have this idea…
Smerechuk: Why not!
Nechyporenko: Yes, why not? We have to have some very positive messages we are sending to the world. So, this year we want to achieve more schools, not only to pilot but also to be sure that this model is working and it's bringing maximum results and a positive agenda to all of our audiences. We will work more with children this year and, of course, we need support from all potential international audiences that can share our call for volunteers and ask volunteers to support us and come to Ukraine. The name of this program is Ukraine Calling, so basically, Ukraine is calling you as an international volunteer to come to Ukraine and spend your time to help to make our country better and invest in the most important – a new generation — our children, We hope that they won't make the mistakes our previous generation did and finally bring us to this amazing, bright future.
Smerechuk: All that best with all your work! You are listening to Oksana Nechyporenko from Global Office speaking to Ukraine Calling. Thank you, Oksana.
Nechyporenko: Thank you so much.
MUSIC
Chortkiv is a town in Ternopil oblast (region). There's a band there who call themselves Периферія, which means The Periphery. They recently released a song 100% Happiness (100 відсотків щастя). They recorded it with their friends Olexiy Kazantsev (from the band Bram Stoker) Serhiy Prysiazhnyi (from the band Motorola). Enjoy! https://soundcloud.com/perypheriia/100-vdsotkv-shchastya
LOOKING FORWARD
Next week we'll be back with more commentary on events in Ukraine, so tune in again for another edition of Ukraine Calling. We would be happy to receive any feedback from you. Write to us at: [email protected]. This is Bohdan Nahaylo in Kyiv. Thanks so much for listening.
Interview transcribed by Caroline Gawlik, Larysa Iarovenko, Nykole King and Oksana Smerechuk. Music by Marta Dyczok. Sound engineer Andriy Izdryk. Web support Kyrylo Loukerenko.
Comments