The Ukrainian Revolution As Part Of The 1917 Centenary Story In London
Ukrainian Institute Director Marina Pesenti and Project Manager Larysa Iarovenko tell Marta Dyczok about how the Ukrainian dimension of the Revolution has been highlighted in the United Kingdom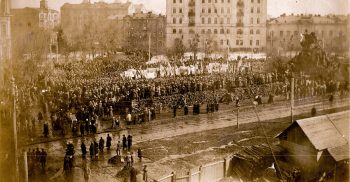 The Ukrainian Revolution As Part Of The 1917 Centenary Story In London
Hello and welcome to this week's Ukraine Calling programme. I'm Oksana Smerechuk for Hromadske Radio in Kyiv. We'll have a roundup of the weekly news for you, some culture, and some music. We're bringing you a feature interview about how the Ukrainian dimension of the Revolution has been highlighted by the Ukrainian Institute in London, England with its Director Marina Pesenti and Project Manager Larysa Iarovenko. But first, as always, the news.
Feature Interview: Ukrainian Institute Director Marina Pesenti and Project Manager Larysa Iarovenko tell Marta Dyczok about how the Ukrainian dimension of the Revolution has been highlighted in London, England.
Marta Kolmayets tells Marta Dyczok about the Successes of the Fulbright Program: 25 Years of Globalizing Ukrainian Scholars and Opening Ukraine for Americans
NEWS
CULTURE and MUSIC
LOOKING FORWARD
Hromadske Radio is independently funded. We are appealing for funds through a crowd funding initiative. Should you feel inclined to donate, you can do so here using Wayforpay.
Feature Interview: Ukrainian Institute Director Marina Pesenti and Project Manager Larysa Iarovenko tell Marta Dyczok about how the Ukrainian dimension of the Revolution has been highlighted in London, England.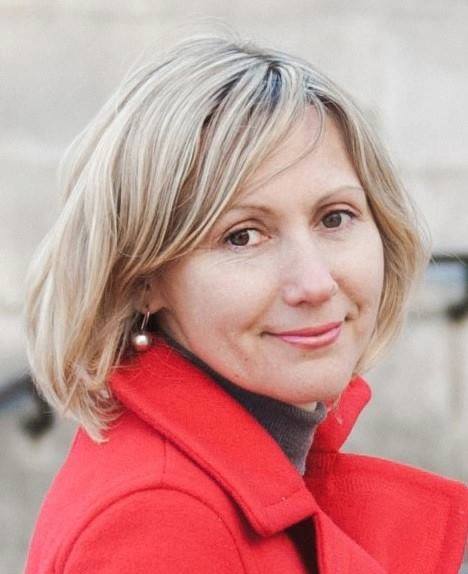 Dyczok: One hundred years ago revolutionary waves swept through the Russian Empire and destroyed it, and exactly this week the Bolsheviks seized power in Petrograd and started the 'Soviet experiment' that changed the course of history. But there was also very unique revolutionary activity happening in Ukraine. A lot of the focus of the centenary has been on the Bolshevik Revolution and the Russian Revolution, but two extraordinary women in London, England have organized a series of events focusing on the revolutionary activities in Ukraine. Today we have them here to tell us about these events. Thank you very much for joining us! Our first guest this week is Marina Pesenti. She got her first degree at the University of the Kyiv-Mohyla Academy in history where she was part of the first graduating class, and one of my students! After that, she went on to the LSE [London School of Economics] where she obtained a Master's degree, and then went on to work for the BBC and she is currently the director of the Ukrainian Institute in London. Our other guest is Larysa Iarovenko, who got her first degree at Taras Shevchenko University in Kyiv, and then went on to Canada to get her Master's degree at the University of Toronto. After which she became the program coordinator at the Petro Jacyk Program for the Study of Contemporary Ukraine at the Munk School of Global Affairs. Currently she is the project manager of the Ukrainian Institute in London. These two women put together a series of events that have been going on all year that look at the revolutionary events and activities in Ukraine 100 years ago. Marina, let's start with you. Where did this idea come from, to organize these events?
Pesenti: Well, the idea originated in the cultural context that London was held at the beginning of the year as we saw a number of very high-profile exhibitions cropping up in major cultural institutions across London. For example, in the Royal Academy of Arts there was a very lavish exhibition of the Russian avant-garde artists. Some of which, as it happens in fact, are artists of Ukrainian origin, such as Kazimir Malevich. The British Library also mounted a major exhibition. And we felt that we cannot just leave the Ukrainian story of the 1917 revolution unanswered; there is so much to tell. We realized that in fact there are quite a few scholars who deal with the subject and who could come to London and tell the story to our audience. And very importantly Ukraine has a very rich cinematic heritage of the period. We were very lucky that our partners in Ukraine—the Dovzhenko National Centre—which restores the old copies of the black and white silent films (and does an amazing job) were willing to collaborate with us, to present these films in London. So we saw all of this coming together and that's how our program came about.
Dyczok: So you saw all of these events that were focusing really on the Russian aspect of the Revolution and you felt like you wanted to also add to that, and make the Ukrainian Revolution part of the story. So tell us a little bit about what the events that you organized were because they've been going on all year. What are some of the highlights? Give us a description of what you did.
Pesenti: For example, a prominent U.S. historian Mark von Hagen came to London and delivered a lecture called "Why the Ukrainian Revolution Matters to the Historians of the Russian Revolution." He talked about a need for an internal recolonization, a process that Western historians should go through in order to understand the importance of events that were taking place in Ukraine, and in other non-Russian parts of the Russian empire, and to understand the importance of a nationalist movement and short-lived independence that many countries—and Ukraine was certainly a case in that regards—underwent in that period. We also had a talk by a German scholar, Dimitri Tolkatsch, whose research focuses on peasant revolts across Ukraine, and the growth of the Ottoman movements. Some of these events, as I said focused, purely on cinema, and we continue doing so next month. We are going to launch a major collaboration between the Ukrainian Institute and the Institute of Contemporary Art in London—
Dyczok: Sorry to interrupt, can I hold you on that because I want to get to the films later. But just to talk a little more about the concept you had: did you reach out to other historians? Russian historians, and invite them to these events that you organized? Did they respond? Did they choose to attend or participate perhaps?
Pesenti: We didn't talk with Russian historians as such. Some of them happen to be my friends. So I invited them to our events, and they were very surprised to hear about some of the details. For example, to hear about the repeated attempts of the Bolsheviks to conquer Ukraine at the time, and the whole narrative looked very much like an imperial war of an imperial center with its colonies. That is in fact how the Bolshevik power spread across the newly established Soviet Union. So for some of them it's been quite a revelation, they didn't quite see it that way.
Dyczok: So expanding their perspective though your events. You had started talking about the film series that will be happening at the Institute for Contemporary Arts in London, England in November. So anybody who is in England by all means go and see these films! They're showing from the 16th-25th of November. I had heard about this and how this came about, I was wondering if maybe Larysa could jump into the conversation and tell us how this project of the "Silent Trilogy of Oleksandr Dovzhenko" came to be screened at the Institute of Contemporary Arts. Larysa?
Iarovenko: Sure, it would be my pleasure. But first I should mention that the screenings of films of that era, the 1920s, the experimental avant-garde films made in Ukraine and produced by VUFKU—the All-Ukrainian Photo-Cinema Directorate—became an integral part of our series and we are lucky that we have a partnership with a great institution in Ukraine. It's the National Dovzhenko Centre and these people do tremendous work in restoring the films and adding new soundtracks. So whatever we offer here in London are newly restored films from that era with new soundtracks produced by modern Ukrainian and British composers. So it's a big cultural event as well. So before the trilogy we already screened two films – Mykola Shpykovky's Shkurnyk (The Profeteer) and Mikhail Kaufman's In Spring, which had tremendous success. For example, we sold all the tickets for the screening In Spring at the Bertha DocHouse,
Dyczok: What was the audience? Was it mainly Ukrainians or was it just people who were interested in documentaries?
Iarovenko: No, it was people of different nationalities who were probably interested in the films. Because Mikhail Kaufman is the brother and cameraman of another famous documentary maker Dziga Vertov.
Dyczok: The Man with the Movie Camera.
Iarovenko: Yes those two brothers became founding fathers of modern documentary film-making. They were able to create all their masterpieces in Ukraine at that time. So that's why it's important to bring Ukraine's experience of that era into the narrative of the revolutions and post-1917 revolution period.
And Back to Dovzhenko…
Dyczok: So you had these very successful screenings of two films, and then you plan to have one more screening?
Iarovenko: Three more! Because the Dovzhenko trilogy is three films. They are Zvenyhora (1928), Arsenal (1929), and The Earth (1930). Again, produced by VUFKU, the All-Ukrainian Photo-Cinema Directorate, in the in 1920s. How it happened, why in Ukraine at that time it was possible to make these films, we will also talk about at these events. We invited people from the Dovzhenko Centre to come and present on this topic and tell the British audience how it became possible that during the 1920s, with the establishment of VUFKU in 1922, New Economic Policy, indigenization policies, that Ukraine in the 1920s became a place where the great minds of the world avant-garde movement could work and experiment and create all of these great films, like the Dovzhenko's trilogy, Dziga Vertiv's trilogy, Mikhail Kaufman, Ivan Kavaleridze, Heorhiy Stabovy, Mykola Shpykovsky…They all worked during a short period of time in Ukraine because VUFKU had a monopoly on the release of films. They could export their own films directly to the United States, Japan, Germany, France, and they had economic and political autonomy from Moscow. So whatever they decided it was going to be produced was decided in Ukraine at that time, there was no influence by the central government until 1929. Again back to Dovzhenko, of course we wanted to show Dovzhenko films…
Dyczok: How did you decide on the venue? I mean the Institute of Contemporary Art. Did you approach them? Did they approach you? How did that relationship evolved? Maryno, maybe you…
Pesenti: We have been exploring several venues in London and we noticed that the Institute of Contemporary Arts is a niche venue that show a lot of old films and they also do not shy away from providing cultural commentary to them to put everything in a context, which was very important in our case. We got in touch with the Head of Film Programming at ICA and to our surprise not only he accepted our idea. In fact, initially we pitched only one Dovzhenko film hoping that he would accept.
Dyczok: Which one?
Pesenti: Earth, because it's such an iconic film. But then he said I want to screen all three of them.
Dyczok: Excellent.
Pesenti: Dovzhenko produced many films but these one are the most well-known. That is how it came about. I would like to point out that for us as the Ukrainian Institute it's been a very interesting experience because we are working with a major cultural institution in this country. And it's something that small community organization in Ukrainian diaspora I do not think they are doing it very much. We have tendency not only in the UK but in other diaspora countries to focus more on the Ukrainian community as such. It was a little bit of unchartered territory. Even now we are looking toward it with a little bit of anxiety. Looking forward to see how well the tickets would sell. But these are very necessary steps that Ukrainian cultural diplomacy should be making and we hope very much that this experience will be an interesting case study for the overall cultural diplomacy efforts of Ukraine.
Dyczok: Do you have an idea of how ticket sales are going?
Iarovenko: Well, we have not advertised it yet fully. We just started to advertise it on our websites.
Dyczok: So it just got announced and we will see how the ticket sales are going.
Iarovenko: I just would like to add that with the Institute of Contemporary Art we had matching interests because this year they have kind of an umbrella theme, as everybody celebrates 1917 Revolution in London. So they were looking for films that would be on the role of an artist in a revolution. How a revolution influences an artist, and how an artist influences revolution. And when we came with this idea they said, "Wow, that's what we need." Let's show the trilogy and not just one film. Because sometime Dovzhenko's trilogy is called Ukraine's trilogy and sometimes Dovzhenkos' Revolution trilogy. So they got excited of showing three films and talking about the role of the artist in a revolution and how all these avangardists embraced the revolution in their films. And we offer not only the screening but we also have an introduction by Philip Cavendish form University College London and in the end, after Earth screening, there will be a panel discussion with Philip Cavendish and Rory Finnin, Director of Ukrainian Studies at Cambridge University.
In addition we are bringing Stas Menzelevskyi from Dovzhenko Centre in Kyiv to talk about these films. So it's not only screening it's like a package we will introduce the British audience to what was going on in Ukraine in that period.
Dyczok: It must be very interesting. I used to show The Earth in my Soviet experiment class and it's often narrated through the Bolshevik revolution and post-revolutionary period. It sounds like you will be bringing very interesting new perspective. Perhaps not new, but bringing it to a large audience.
Dyczok: And for the ending of your series you have something very interesting planned. Can you tell us about that?
Pesenti: In fact, we are planning to wrap up the series with a book launch. The book was published by Osnovy publishing house in Ukraine but it's in English. It's called 'De-communized: Ukrainian Soviet Mosaics. It's a collection of photographs of Soviet mosaics from public buildings from all of Ukraine. It's a very interesting look at Soviet visual legacy and how Ukrainian cultural milieu now looks at this heritage in the context of de-communization. As we know, some de-communization policies actually are resisted quite actively in Ukraine's artistic community. The director of Osnovy Publishing Dana Pavlychko will talk about this project. I think it's very important to demonstrate that there is very vibrant dialogue in Ukraine now between the government institutions and non-state actors- the civil society, the artists, about what the de-communization actually means to us. In this particular case the typical artefacts of the Soviet era – how should we treat it? Should we demolish them? Should we find another cultural layer to them and preserve them? So we think it's very important to demonstrate to the UK audience that such discussion is taking place in Ukraine now.
Dyczok: So the legacy of Lenin and artefacts that were left behind is what you will be ending your series with. Is there anything that either of you would like to add that I have not asked you?
Iarovenko: I just would like to add that is very exciting to show the films of Dovzhenko here in London because 87 years ago in 1930 he was here himself. Dovzhenko himself presented the trilogy in London.
Dyczok: Where? How exciting!
Iarovenko: Yes, Actually, he did like the city much. In his diary he wrote, I think, "it's the ugliest city I have ever seen." Maybe it was bad weather like today, it was cold and gloomy. We are going to show the films on November and the weather could be also cold and gloomy but I hope our viewers would really appreciate this rare viewing of these silent films, which have been recently restored with wonderful music and with kind of intellectual addition in the form of panel discussions and Q&A periods that we offer after the films.
Dyczok: It would be very interesting if you could dig up reviews from 1930 when Dovzhenko first screened his films in London and compare them to reviews you are going to get from your film screenings. That would be an interesting project for the future. Maryno, would you like to add anything?
Pesenti: I just would like to say that I am very excited just like Larysa. I cannot believe that we are actually pulling it off. Because many people do not realise how important it is to be able to play Ukrainian cultural material with western cultural institution. Unfortunately, it does not happen very much. I think the importance of this should not be underestimated. This is what Ukrainian Institute in London will be trying to do more in the future. It's not easy. Again, as I said, Ukraine should do its homework. There a lot of cultural institutions in Ukraine that are not yet ready to promote their collections, their products, to a western audience. For example, when we talk about visual arts, paintings, Ukraine has first class avant garde painters. But the state of Ukrainian art galleries is such that it does not allow international cooperation with major western museums which would help to construct Ukrainian narrative of Ukrainian visual arts. We are very lucky that the Dovzhenko National Centre has done it already, and on a very high level. That is why this cooperation has become possible.
Dyczok: Well, that sounds wonderful. We have been speaking with Ukraine's cultural ambassadors living in London, England-Director of Ukrainian Institute in London Marina Pesenti and Project Coordinator Larysa Iarovenko who are bring a Ukrainian perspective to the centennial of revolution in Ukraine to the western audience. I am Marta Dyczok for Hromadske Radio. Thank you for listening.
Iarovenko: Thank you, Marto!
Pesenti: Thank you!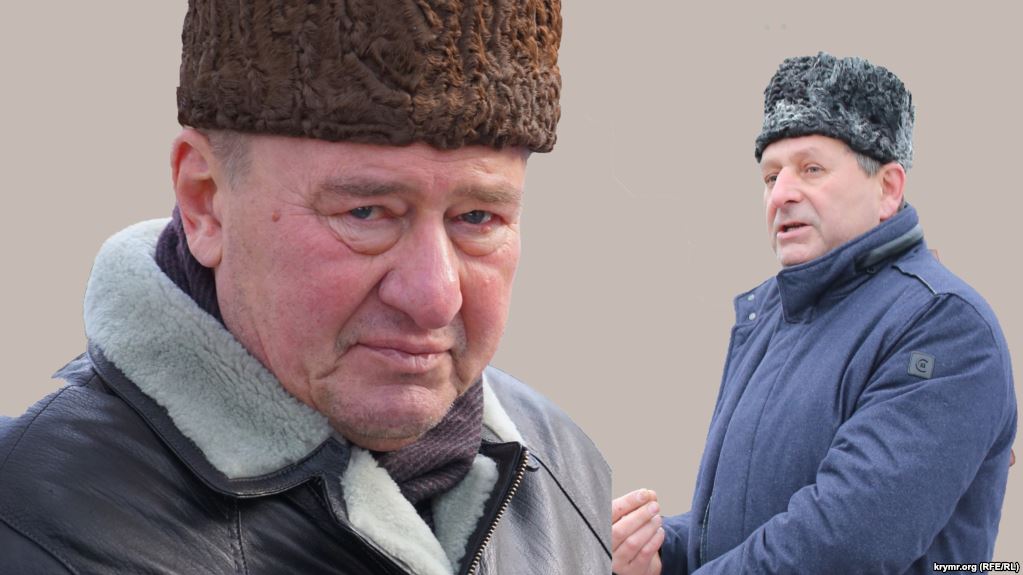 NEWS
Crimea
Two Crimean Tartar leaders have been released from prison in Crimea. Akhtem Chyigoz, and Ilmi Umerov, had their charges dismissed on October the 25th. They were put on a plane and released to Turkey, which means that they are now in exile from Crimea. From Turkey, they intend to travel to Kyiv, where they plan to live and work until they can return to Crimea.
An agreement as to their release was reached after a series of meetings, firstly of Ukraine's President Petro Poroshenko with Turkish President Recep Erdogan and, most recently, of President Erdogan with Russian President Vladimir Putin. But according to the Chair of the Crimean Tartar Medjelis, Refat Chubarov, this release is actually thanks to months of appeals and diplomatic work by Ukrainian and other politicians, international organisations and Ukrainian and Crimean Tartar community groups.
But in another case in Crimea, Ukrainian activist Volodymyr Balukh has had his pre-trial arrest extended until 16 January 2018. He was first detained in December of 2016 and was charged with conducting "unlawful activities". Volodymyr Balukh continues to claim his innocence, and has stated that the only grounds would be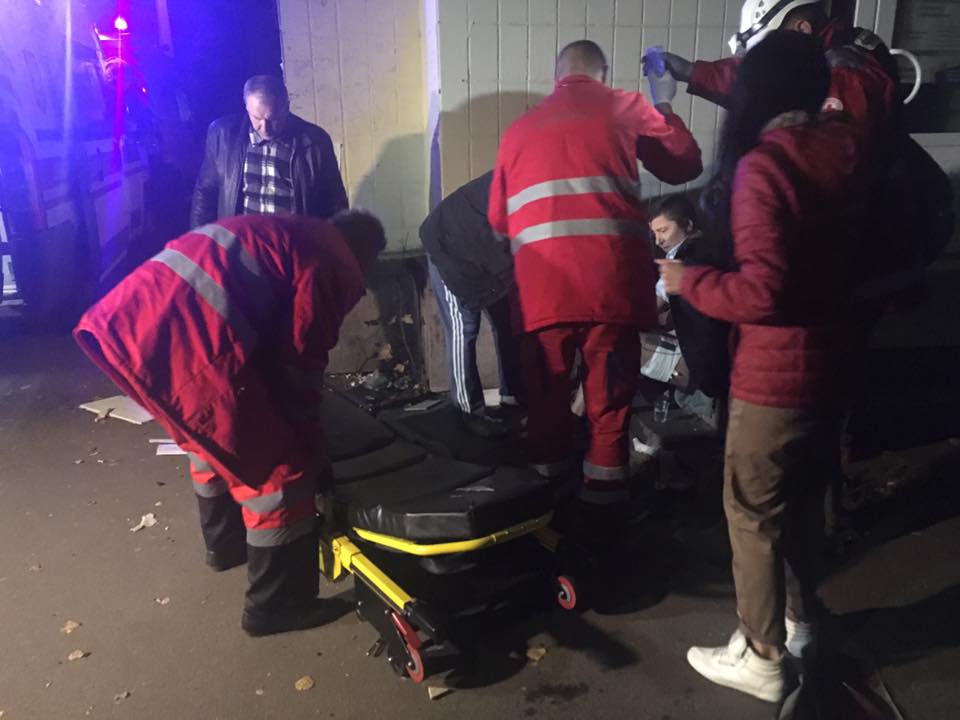 Terrorist act
Kyiv has been the location of another targeted bomb blast. An explosive device attached to a motorbike was detonated late on October the 25th outside the offices of Espresso TV in Kyiv. The attack appeared to be aimed at MP Ihor Mosiychuk of the nationalist opposition Radical Party, who was leaving the premises at the time. Two people, including MP Mosiychuk's bodyguard, died in the explosion. Five people were injured, including Mosiychuk himself, and Vitaly Bala, a political analyst, who was there at the time.
Police investigators stated that the explosive device appeared to be home-made and contained shrapnel intended to inflict damage. They are in the process of looking for the perpetrators and motives. Not waiting for the official results of the investigation, many officials and politicians are pointing the finger of blame on the Kremlin and the Russian Security Services. More: https://www.rferl.org/a/one-dead-three-wounded-kyiv-explosion/28815914.html
Via Carpatia
Мore roads and easier travel to Europe – that was the focus of a Memorandum signed on the 22nd of October in Poland. Ukrainian Minister for Infrastructure, Volodymyr Omelian, and his Polish counterpart, Minister Andrzej Adamczyk, signed a Memorandum to cooperate on building an international highway, Via Carpatia. The Ukrainian Minister noted, that an international transit route through the Carpathian region, will help to integrate transport infrastructure of Eastern Europe and EU countries. 8 other countries in the region are also participating in the Via Carpatia project.
Ukrainians diappeared in Russia
Two Ukrainians have disappeared while hitchhiking in Russia and have been reported missing. Their families lost track of the two men, Serhiy Veliev and Oleksandr Babynets on the 30th September, when they were somewhere in the vicinity of Rostov-on-Don, while returning via Russia from a trip to Georgia.
Meanwhile, the two Ukrainian border guards who were abducted on October the 3rd, have now reportedly been moved to Lefortovo prison in Moscow, according to UNIAN. They have still not been allowed visits by consular officials.
Protest rally
The protest rally which began on October the 17th with thousands of participants gathering outside Ukraine's Parliament, has largely dwindled away after a week. The anti-government protest started with the aims of pressing for greater reforms in three main areas. Protester tents are still standing, but organizers did not manage to sustain the momentum from the crowds, which were made up of rather diverse political groups, to carry through with their demands. Most party leaders have now left the protest, although populist politician Mikhail Sakashvili has vowed to stay on till November the 7th, which is when parliamentary plenary sessions resume. For more: https://www.radiosvoboda.org/a/28806818.html
The War
The tendency to intensify hostilities between pro-Russian forces and the Ukrainian army remained unchanged over the last week. It has been reported by the OSCE monitoring mission that observers are constantly registering an increase in the number of explosions in the conflict area. On October 23, the UN Assistant Secretary-General for Humanitarian Affairs, and Deputy Emergency Relief Coordinator Ursula Mueller has issued a statement saying that Donbas "…is rapidly becoming one of the most mined areas in the world". In the meantime, Ukrainian military officials say that pro-Russian forces are trying to advance into the grey zone near the settlement of Shyrokine, Donetsk region. In total, over the last week 4 Ukrainian servicemen were killed in action, and 7 were wounded.
CULTURE
The Art Project Radio Choir UA had a premier in Kyiv this week. On Thursday October 26, the Public Broadcasting Company (which Hromadske Radio partners with) sponsored a concert that combined classical and jazz compositions with Ukrainian themes. The performance was held in the recording hall of the National Public Broadcasting Company of Ukraine. Oleksandr Klymenko, winner of this year's Holos Ukrainy which is Ukraine's version of the reality talent show The Voice, was among the performers.
MUSIC
Two Crimean Tatar leaders were released from Russian jails in Crimea this week. Here's a song in Crimean Tatar for you, by two Crimean Tatar musicians, who use the pseudonyms Remzik & Ramzik and call their band R2Я. In the original the title is, 'Inanmasa-Inamancanym.' It means something along the lines of, 'Believe it or Not, Honey' Enjoy!
LOOKING FORWARD
Next week Bohdan Nahaylo will be hosting the show and we'll be back with even more news, culture and music, so tune in again for a new edition of Ukraine Calling. We would be happy to receive any feedback from you. Write to us at: [email protected]. This is Oksana Smerechuk in Kyiv. Thanks so much for listening.
Interview transcribed by Caroline Gawlik and Larysa Iarovernko. News by Oksana Smerechuk. War by Max Sviezhentsev. Information about Crimea by Elvira Saale. Culture and Music by Marta Dyczok. Music by Sound engineers Andriy Izdryk and Adam Courts. Web support Kyrylo Loukerenko. E-mail distribution by Ilona Sviezhentseva. Special thanks to CHRW Western Student Radio and Richard Raycraft.