​Ukraine as a Magnet for Cultural Explorers
Vincent Rees tells Bohdan Nahaylo how the Tourism Industry in Ukraine has Just Scratched the Surface of Potential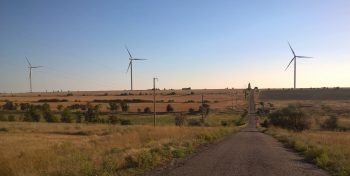 ​Ukraine as a Magnet for Cultural Explorers
Hello and welcome to this week's Ukraine Calling programme. I'm Marta Dyczok for Hromadske Radio. We'll have a roundup of the weekly news for you, and a feature interview with Vincent Rees on Ukrainian tourism.
Feature Interview: Vincent Rees tells Bohdan Nahaylo how the Tourism Industry in Ukraine has Just Scratched the Surface of Potential
NEWS
CULTURE and MUSIC
LOOKING FORWARD
Hromadske Radio is independently funded. We are appealing for funds through a crowd funding initiative. Should you feel inclined to donate, you can do so here using Wayforpay.
Feature Interview: Vincent Rees tells Bohdan Nahaylo how the Tourism Industry in Ukraine has Just Scratched the Surface of Potential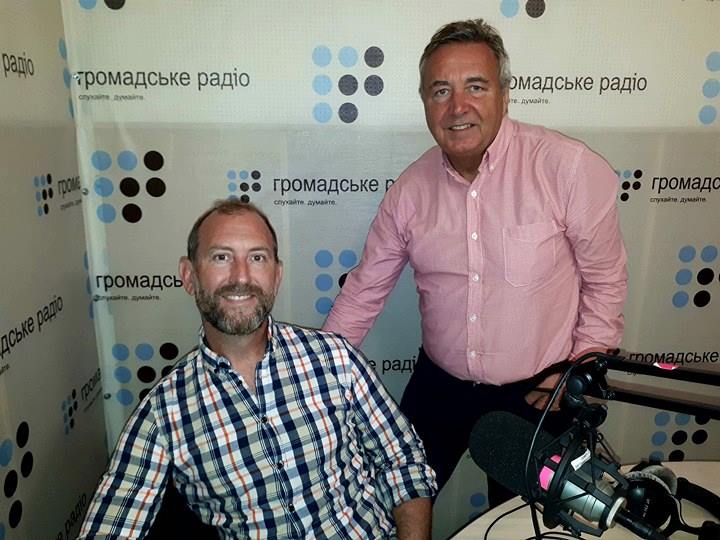 Nahaylo: Welcome to this week's discussion. We will be talking about the state of tourism in Ukraine. My guest is Vincent Rees, a Canadian who organizes tours to Ukraine. He will tell us a little bit more about people who want to come to Ukraine. I will ask him about the state of tourism, facilities, how things are developing, is it just Lviv and Kyiv that have come a long way, and how is the rest of the country doing. Vincent, welcome to the program!
Rees: Hello, thank you for having me.
Nahaylo: Vincent, I see on your business card that you are the founder of Cobblestone Freeway Tours for UA tours. Sounds rather more British to me than Ukrainian. And you describe yourself as a cultural explorer. Perhaps enlighten us, what do you mean by this?
Rees: First of all, Cobblestone. The cobble stones of Lviv inspired me to start the company. I think a lot of people when they think about old roads, old pathways, mediaeval Europe, and imagine journeys to old places and get inspired by them. I got involved in Ukrainian dance as a child. My family is half Ukrainian and is very involved in the Ukrainian community, Ukrainian dance. I got to come to Ukraine in 1991 after the Soviet Union collapsed and studied folk dance. For many years I was traveling here and started to bring groups of students to study folk dance. Through that I ended up creating the company that was bringing to Ukraine not just dancers and choirs and Ukrainian community groups but general tourist that come to see the beautiful country that is Ukraine today.
Nahaylo: Your name Rees suggests a Welsh name.
Rees: Yes. My dad's family is Welsh.
Nahaylo: Great similar nations.
Rees: Yes, two great similar nations. My mom's family is Ukrainian from Halychyna, Western Ukraine. They immigrated to Canada in 1911, so I grew up in Canada, which is very multicultural. The more I am thinking about my own background and experience and what is Canada and what is Ukraine today, the more I see so many similarities in multiculturalism that is evolving in Ukraine now.
Nahaylo: Tell us about your first attempts to bring people not simply involved in the cultural life but people that were anxious to discover their roots, to visit places that their parents or ancestors had grown up in/
Rees: As I said, it all started with folk groups. Their aunts and uncles and their families started to ask if they could come too. In 2011, we started offering people exactly that, tours to see the country for what it is. There were not a lot of companies offering tours at that point. Things started to pick up very fast. They were visiting the sites of Ukraine, the major centres – Kyiv and Lviv. A lot of people wanted to see Chernivtsi, Ternopil and the Carpathian Mountains, because the first and second wave of immigration to North America came from that part [of Ukraine] – Bukovyna and Halychyna. That was the thrust at the beginning of our company. Since then people latched on and have wanted different parts of the country. We have been doing tours to Odesa and Kharkiv and all over the place, plus combining tourism in Ukraine with other countries. Since the conflict in Ukraine [with Russia] started we moved back to the western part of Ukraine. This year it picked up and started to spread to other parts of Ukraine again.
Nahaylo: Have the Revolution of Dignity, Maidan, and everything that came after increased interest in Ukraine? Or has it turned people off?
Rees: Of course initially it scared people off. In 2014 basically all our tours were canceled. In 2015 it started to pick up gently again. Of course the Revolution had its tragic consequences. But an unexpected side effect was increased awareness of Ukraine throughout greater population in general. We brought a group of bloggers from the United States, England and Europe here just last May. They were non-Ukrainians. Since that trip they have written over 20 articles about Ukraine and they have hundreds and hundreds, thousands, of 'likes' and 'clicks' and 'views.' The awareness of Ukraine beyond Kyiv and Lviv is growing enormously.
Nahaylo: I had the good fortune of bumping into you last night at a very nice Ukrainian restaurant, Taras Bulba, here in Kyiv and saw a group that you have just brought over. I was impressed by the fact that they were only meeting [for the first time] here and they had different ethnic backgrounds. They were Jews, Germans, Ukrainians. So these tours are attracting not only Ukrainians, I understand.
Rees: Absolutely. I think, like I said, it started with Ukrainians looking for their roots and their heritage and finding their ancestral homeland, and I think that will continue and grow. But more and more through their neighbors and friends and their community, people are hearing about Ukraine. It's safe, so far it's not very expensive relatively to other place in the world to visit, and it's very comfortable, and the facilities are getting better and improving. I would say the Wi-Fi in Ukraine is better than in Canada in some places, as you know, because I'm Canadian and my company is based in Canada and most of my tourists are coming from Canada. But we've been bringing in people now from England, Australia, Argentina, Brazil. We're getting people calling us from all over the place. So I think we've just scratched the surface of the potential for tourism in Ukraine.
Nahaylo: And are the local authorities that you deal with, or shall we say your local partners, are they up to speed? Are they responsive? Are they timely in their responses? Do they deliver what you want?
Rees: I would say overall "yes." And I would say overall the people that are involved in the different tourism boards — and I'll say the main centers that we visit are Kyiv, Odesa, Chernivtsi, and Lviv, those are our four major centers — they are excited and growing and trying to learn. We've met them at different tourism shows around the world in New York and in Shanghai recently. Especially with Lviv Tourism Board and Kyiv Tourism Board and Odesa. They're very keen. And I think the improved roads, the improved infrastructure overall is just a win-win for Ukraine and for tourism and tourists that are coming to Ukraine.
Nahaylo: So you are seeing change happening?
Rees: Absolutely. I would say every year I see a big increase in the fluidity of the ability for tourists to communicate with young generations of people that speak a little bit more English. The signs in some of the major cities are in both English and Ukrainian. Hotel staff speaks multiple languages and are very much more professional. The old Soviet stereotype of customer service is being washed away. People are blown away by the quality of service in Ukraine.
Nahaylo: And the beauty of the country.
Rees: Oh, and the beauty of the country, and the architecture, and the friendliness, and the warmth of the people. The propaganda that they've been fed… they're realizing is not true. People that are Ukrainian know because they've got family here, they've heard from friends and whatnot. But people that aren't Ukrainian just cannot even believe there is a country this big in the middle of Europe that they didn't know about!
Nahaylo: Right, I've just come back from a few days relaxing on a beach near Odesa in Zatoka. I was very impressed by the quality of the service, the quality of the beaches down there. Again Ukraine has a lot of potential. I think that since the occupation of Crimea by Russia other alternatives are being found which will attract more people.
Rees: I know in the west, Lviv and whatnot, tourism has improved of Ukrainians visiting their own country. I think lots of Ukrainians used to visit Crimea and the Black Sea and are perhaps choosing to see Europe, a little bit of Europe within Ukraine, which is the west.
Nahaylo: Right.
Rees: And not to mention mass busloads of Polish people and Germans and Czechs and Slovaks and Belarusians are coming in as well. So all kinds.
Nahaylo: And on the downside, what needs to be improved still?
Rees: Well, there is still work to be done on the roads, I think, but definitely you do see an improvement. Every year one more road is fixed. One quick anecdotal story is we used to go from Lviv to Kosiv; we really like spending time in the Carpathian Mountains. Our tourists really love the Carpathian Mountains. It used to take us about six hours because the roads were just horrible, but this last summer we could do it in about three hours.
Nahaylo: Excellent. Tell me, a typical group that comes over on your tours, how large is it? What is the sort of gender balance, age balance in it?
Rees: The groups that come as part of their heritage tourism can be anywhere from twenty to sixty people, two or three busloads. Often they will want to visit the sites that their ancestors came from plus see perhaps Kyiv and Odessa. Generic tourism groups come at Christmas. We had a group that wanted to go skiing this year and went to Bukovel and spent Christmas in a village and that was a neat experience for them. There are so many rich living traditions in Ukraine people can experience that have been washed away by modernity in other parts of the world. We get a group that comes at Easter time each year; they want to experience the Easter traditions because that's also a unique thing. But the bulk of our tourists come anywhere between May and September, and a group can be ten or thirty people, somewhere in that range. I would say more women than men tend to travel, and we get a lot of single female travellers in our groups which goes against the stereotype of Ukraine.
Nahaylo: Because they say there is a shortage of men here, constantly we hear from the women here.
Rees: Yeah, that's exactly right. But we get a lot of women, especially from the Ukrainian diaspora. They're interested in finding their family's heritage, and it's the females in the family that often are the ones curious about the history of the family.
Nahaylo: So you must sense the excitement that they feel when they actually get to a place they've heard so much about from their grandmothers and grandfathers.
Rees: Yeah, we have people that will start crying on the first day and people who will make little bags of dirt from the village and take them home with them. I know it's probably not very legal, but that's a sort of nostalgia for a land that they couldn't visit for 100 years or 125 years, whenever their family left. This year we had a group of 70 people from Argentina who celebrated 120 years of immigration. We organized a performance for them. The choir that sang for them told me afterwards, that sometimes people do cry at the end of their concerts with emotion, but they said they had never seen anyone crying at the beginning of a concert, and a journalist caught a picture of people crying at the opening song. They were just so happy to hear that narodniy [authentic popular or folk] voice and that traditional spirit of Ukrainian culture that they've only heard on Youtube.
Nahaylo: To put that into a broader context now as we come to the end of the talk or the discussion: you mentioned there's a lot of tourists coming now from Poland and maybe even from Germany. I see Germans and Austrians also, in Lviv in particular. So do you feel that Ukraine is on the tourist map of Europe finally? I mean, Lviv has been for many years, thanks largely to the modernization, the gentrification, and the football, the Euro football tournament that was held there, and Eurovision, and other football and sports events. Do you think that Ukraine is now fairly well placed on the tourist map, or in the set of priorities?
Rees: I think so. I think you hit the nail on the head there when you said that Lviv has already been on for a number of years, and they said many years ago that Lviv would become the next Krakow, or the next Prague in terms of tourism, or Budapest. So I think that Lviv is gem packed city. But you're starting to see tourists in Poltava, in Kharkiv, in Uzhhorod, in Chernivtsi, in Lutsk, and Ternopil, and other places you didn't hear about, with foreigners walking around. More cafes and infrastructure are popping up throughout the country. Young entrepreneurs in Ukraine are embracing this wave of interest in their new country.
Nahaylo: You mentioned Poltava just now, is there potential also to develop tourism in the east of Ukraine?
Rees: Yeah, Poltava would still be the Central Ukraine. But just before the conflict began, we were already going to Zaporizhia, Poltava, Kirovohrad – which is now Kropyvnytskyi – and we were going to Crimea, Odesa and Kharkiv. That of course was on pause, and now there is a renewed interest, for sure. I think places like Poltava, Zaporizhia, and Kharkiv will lead the charge in that interest in tourism. And the river cruises are up and running again from Kyiv to Odesa, through Chervona Ruta. So all that kind of interest is renewed. The caveat, I think, it is that people are still a little worried and maybe a little bit anxious that the conflict could flare up again. We hope it doesn't happen, but if it doesn't and things find a way to stabilize, there's no stopping tourism in Ukraine. I mean, tourism from the west, which didn't go much past the Iron Curtain, has now expanded far into Ukraine, Georgia, Uzbekistan, Azerbaijan, and other countries, so the interest from the west to travel to these near "eastern" countries has grown exponentially.
Nahaylo: So finally, thank you very much, Vincent. What would you tell listeners who have never been to Ukraine, somewhere in Canada, Australia, or New Zealand, listening to us?
Rees: I would say come sooner rather than later. I really think that what inspired me to come in those years – I've never traveled to France, or example, because I thought 'well, I can go to France anytime' – because I wanted to catch a glimpse of this changing of civilization, this shift in the culture while it's alive and happening now. But I still think will get to France one day.
Nahaylo: Thank you very much. OK, so I am very grateful to Vincent Rees who has a company called Cobblestone Freeway Tours, and he is the founder of it and a cultural explorer, for sharing his impressions and experiences with us and for being so keen and excited about coming to Ukraine and bringing others here.
Rees: Thank you for having me and our unexpected meeting in Taras Bulba last night and the unexpected times.
Nahaylo: Thank you.

NEWS

Anger over Street Graffiti
The removal of Grafitti caused an uproar in downtown Kyiv this week. Angry activists protested and broke a window in an upmarket furniture store. The owner of the store, Emporium, had taken it upon himself to remove some street art from the façade of his shop. The street art had been created during the Maidan protests three and a half years ago. It depicted the iconic Ukrainian writers Taras Shevchenko, Lesia Ukrainka and Ivan Franko. The removal raised the ire of some Maidan activists, and roused indignation among many Maidan supporters. A Kyiv Prosecutor then brought criminal charges against the persons who had removed the graffiti and street art, on the grounds that the art had historical significance and was thus protected by law.
New Education Law Passed
Ukrainian Parliament passed a Law on Education this week, on September the 5th. It will bring about significant changes to the education system in Ukraine. The goal is to move education away from the old Soviet era authoritarian model and methodologies, and towards more contemporary western methods. For schoolchildren, this would mean new curricula, new teaching methods, and inclusive education. For teachers, a system of re-certification would be introduced and linked to salary raises. In general, there would be a greater emphasis on Ukrainian as the language of learning, and fewer hours given to education in minority languages. The law will be introduced gradually, in phases, with some innovation starting in 2018 and the rest to be introduced over the next 13 years.
Another Ukrainian abducted
There are now 144 Ukrainians illegally detained in Russia as prisoners, according Ukraine's Security Service statistics for September. The number grew this past week, as more civilians, who were neither in the conflict zone, nor armed, were abducted by Russia, according to Yuri Tandit, Advisor to the Head of the Security Service.
A case that received a lot of media attention is that of a 19 year old Ukrainian man, Pavlo Hryb. He disappeared while on a trip to neighbouring Belorus. Hryb had been writing pro-Ukrainian messages in social media, and had allegedly become acquainted with a Russian girl via the internet. He went to visit her for a date in Gomel, in Byelorus, where he was detained by Russian Special Services. Upon intervention from lawyers and Ukrainian Consular officials, two weeks later, the FSB admitted that Hryb was charged with a terrorism offence and was being held in Krasnodar, Russia.
Тhis week, another 22 year old man was abducted. At Stanytsia Luhanska check-point crossing, Mykola Petukhov, who worked as a bag-carrier, was detained by pro-Russian militants. All contact with him was lost and his whereabouts are unknown.
The War
Due to the so called "start-of-school ceasefire," the level of tensions between pro-Russian forces and the Ukrainian army has significantly decreased in the Donbas since the beginning of September. Artillery shelling and armed attacks became less systematic and less organized. Over the past week 1 Ukrainian serviceman was killed and another one wounded.
Meanwhile, the international community is debating about a prospect of a peacekeeping mission, which would be organized in the Ukrainian conflict zone under the UN. Russia, Ukraine and United States have already presented their views on the issue. On September the 5th, Russia submitted a draft resolution to the UN Security Council, proposing to deploy an armed mission along the demarcation line in the conflict zone. In response, Ukraine argued that the future mission should be deployed on the territory of the whole conflict zone, and particularly along the Russian-Ukrainian border. According to German Foreign Minister, Germany and France would develop a plan for the future mission, where both conflicting opinions will be taken into account.

Zapad 2017 Exercises
Ukraine has strengthened its control along its borders, according to the President, Petro Poroshenko. This is in anticipation of the Zapad 2017 joint strategic exercises involving Russian and Belorussian troops.
According to official data provided by the participants, the strategic exercises will involve 13,000 troops. However, the Secretary of the National Security and Defence Council of Ukraine, Oleksandr Turchynov, has suggested that the number could be as high as 240,000.
Meanwhile, Ukraine's Minister of Defence, Stepan Poltorak has stated, that he believes that the exercises Zapad 2017 could be used as a cover-up for Russia to launch aggression against Ukraine.
The President stated, that Ukraine will be carefully monitoring, whether all the equipment, brought into Belorussia for the exercises Zapad 2017, will be then brought out of Belorussia.
In House News
Hromadske Radio had a success and a setback the past week. First the bad news. We had applied for a local 24 hour broadcast license in Luts'k, a city in western Ukraine. But the State Broadcasting Council granted the license to a commercial music station instead.
On the good news front, on Monday September the 4th Hromadske Radio resumed two hours of broadcasting on the national airwaves of Ukrainian Radio. The evening show, Hromadske Khvylia, is now heard all over Ukraine from 9:00 – 11:00 PM, like it was from 2014 through 2016.
CULTURE
There's a lively literary scene in Ukraine. Next week the Annual Book fair opens in L'viv. One novel that recently caught my attention is a historical fiction piece by Oleksander Irvanets called Kharkiv 1938. He paints a world where the Ukrainian People's Republic of 1918 succeeded, was not defeated by the Bolsheviks. Where Stalin does not win the power struggle and Kirov is the leader of the Russian Socialist Republic. And Hitler does not win the election in Germany. An excerpt of the novel was published in the literary journal Krytyka. And over the coming weeks we'll be telling you more about new works being published in Ukraine.
MUSIC
This week's song is a contemporary and mystical rendition of a Ukrainian folk song called, 'Розійдися, туманочку' which means, 'Disperse, you fog!' Maria Nikulina, a young singer from Kyiv, who is part of The Fracsos band, had the inspiration for this composition and recorded it in just a few hours. Enjoy.
LOOKING FORWARD
Ukraine Calling will be back next week with a new show for you. To join our mailing list please write to us at: [email protected] Or just write and let us know what you think. I'm Marta Dyczok for Hromadske Radio. Thanks so much for listening.
Interview transcribed by Caroline Gawlik, Larysa Iarovenko, and Nykole King. War by Max Sviezhentsev. News by Oksana Smerechuk and Marta Dyczok. Culture and Music by Marta Dyczok. Sound engineer Andriy Izdryk. Web support Kyrylo Loukerenko.
Comments