What Role does Religion Play in a Hybrid War?
Two orthodox pilgrim marches happened in Kyiv this week. Religion and politics can be a volatile mix. Marta Dyczok gets opinions from a participant of a march, and two experts
What Role does Religion Play in a Hybrid War?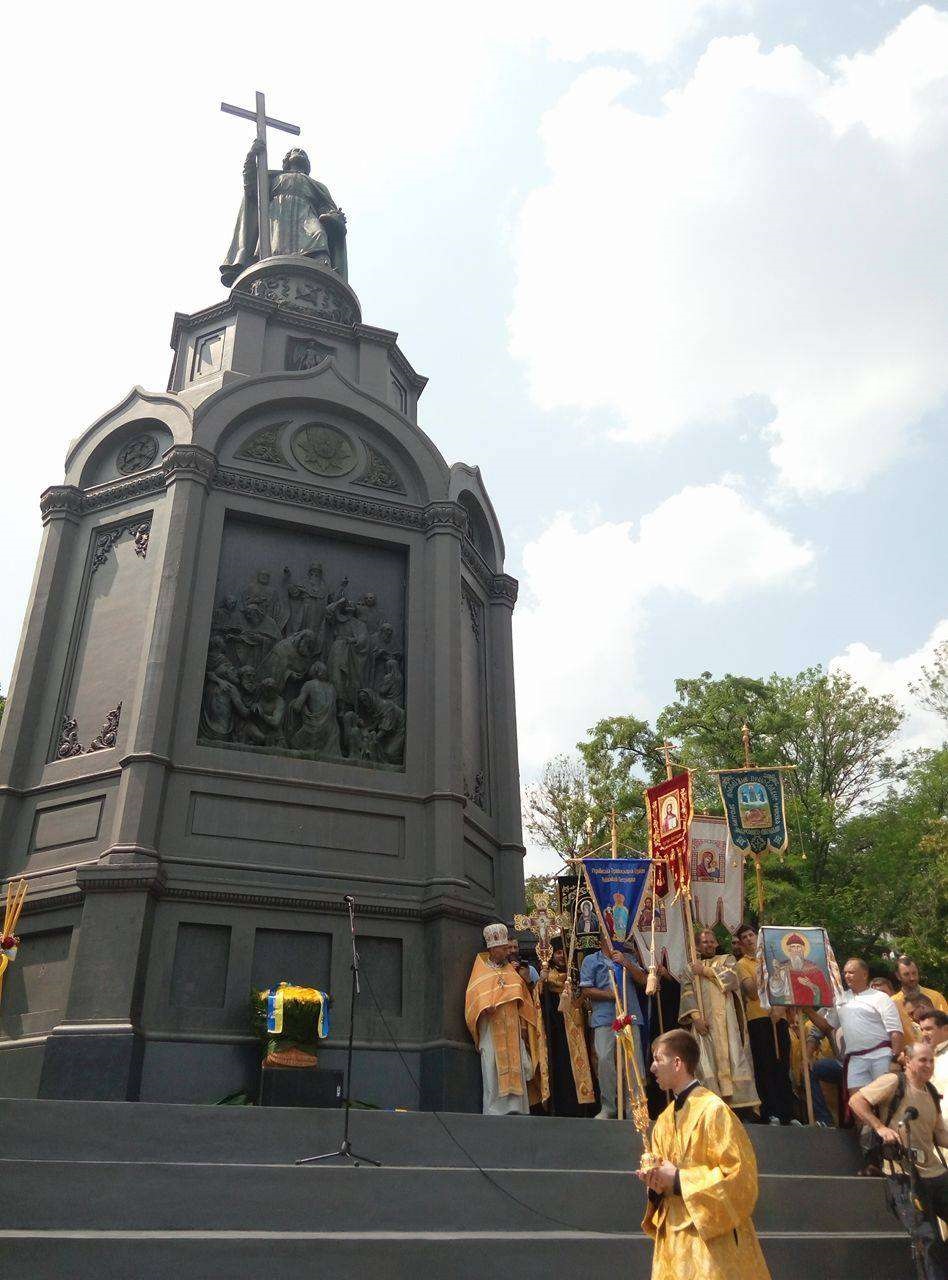 This week Ukraine Calling brings you a statement from Dennis Lozinsky, of the Ukrainian Orthodox Church (Moscow Patriarchate), commentary by lawyer Daniel Bilak, facilitator of dialogue among orthodox churches in Ukraine for 25 years, and Prof. Frank Sysyn, Director of the Petro Jacyk Center for Historical Research at the Canadian Institute of Ukrainian Studies, a leading scholar on religious issues.
Listen for an instrumental piece by Anton Bezsonov, who lives in Horlivka, a town that's suffered heavy shelling this past week.
This Week's Headlines
Orthodox pilgrims filled Kyiv's city center this week. Two separate marches were held. One was organized by the Moscow Patriarchate of the Ukrainian Orthodox Church, the other by the Kyiv Patriarchate Ukrainian Orthodox Church. There were fears that violence would break out, so thousands of police were brought out onto the streets, main avenues were closed to traffic. Metal detectors were installed close to the site where the pilgrims were headed. It was the statue of Prince Volodymyr the Great, which stands in a beautiful park in the city center, overlooking the Dnipro River. Prince Volodymyr brought Christianity to Kyivan Rus' back in 988. This celebrated every year on the 28th of July, the name day for Volodymyr. Despite fears and inconvenience to Kyiv commuters, both pilgrimages were peaceful.
Fighting continues in the Donbas. July has seen an escalation in hostilities unseen since last summer. Over the past week 11 Ukrainian soldiers were killed, and 27 wounded. The deadliest day was Sunday. One soldier also died as a result of an accident at the Shyrokyi Lan military base in Kherson region. On Tuesday Ukraine's President Poroshenko held a phone conversation with German Chancellor Angela Merkel to discuss the continued violation of the Minsk Agreements. http://www.unian.info/politics/1438372-poroshenko-discusses-with-merkel-constant-violations-of-minsk-deal-by-russia.html The next day the Minsk Contact Group met, and once again, was unable to reach agreement on any issues. Nadiya Savchenko, Ukraine's pilot-turned-politician, came up with a radical proposal for seeking peace, and was widely criticized for it. Two months after being released from Russian prison, she was on live television. At one point she looked into the camera and appealed directly to the leaders of the so called Donets'k and Luhans'k People's Republics. Addressing Alexander Zakharchenko and Ihor Plotnitsky by name, she invited them personally to negotiate for a peace settlement, and release prisoners. She also called all sides to apologize to the mothers whose sons had been killed. Putin has been pushing to include the DNR and LNR in negotiations, while Ukraine has refused. Some Ukrainian politicians are calling Savchenko a trojian horse. Two men tried to pelt her with eggs when she addressed a crowd in Odesa. http://uatoday.tv/society/two-men-try-to-pelt-ukraine-s-national-hero-with-eggs-in-odesa-703001.html
Ukraine's government met this week. One of the decisions they made was that all government officials will now be required to report their income electronically. This is viewed as a way of increasing transparency and rooting out corruption. Prime Minister Groysman welcomed the move, but added that the requirement should be extended to politicians as well.
Ukraine's Education Ministry is stepping up the fight against plagiarism using technology. This week Minister Liliya Hrynevych announced that in partnership with Microsoft Ukraine they would be launching a new unified academic data base this September. The goal is to have a national repository of academic texts, so that new work can be checked, to see if it is indeed original. Ukraine, like all post-Soviet countries, continues to suffer from endemic plagiarism that was commonplace in the past. Previous Education Minister Serhiy Kvit began the process of creating an electronic data base. http://www.pravda.com.ua/eng/news/2016/07/26/7115986/
Ukrainians got a new Health Minister this week, American born doctor Ulana Suprun. She came to Ukraine when the Euromaidan protests began in 2013, worked as a medical volunteer. Then war began in the Donbas, so she created and headed up an NGO called Patriot Defence. They began providing individual first aid kits and training for soldiers in first aid medicine at a time when the Ukrainian state wasn't doing enough in that sphere. Ukraine's previous Health Minister Roman Vasilyshyn was recently dismissed for bribery. Suprun was appointed acting Minister, and there are high hopes that she will introduce much needed reforms in the country's health sphere. http://nv.ua/ukr/ukraine/politics/vikonujuchoju-obov-jazki-ministra-ohoroni-zdorov-ja-stala-uljana-suprun-181785.html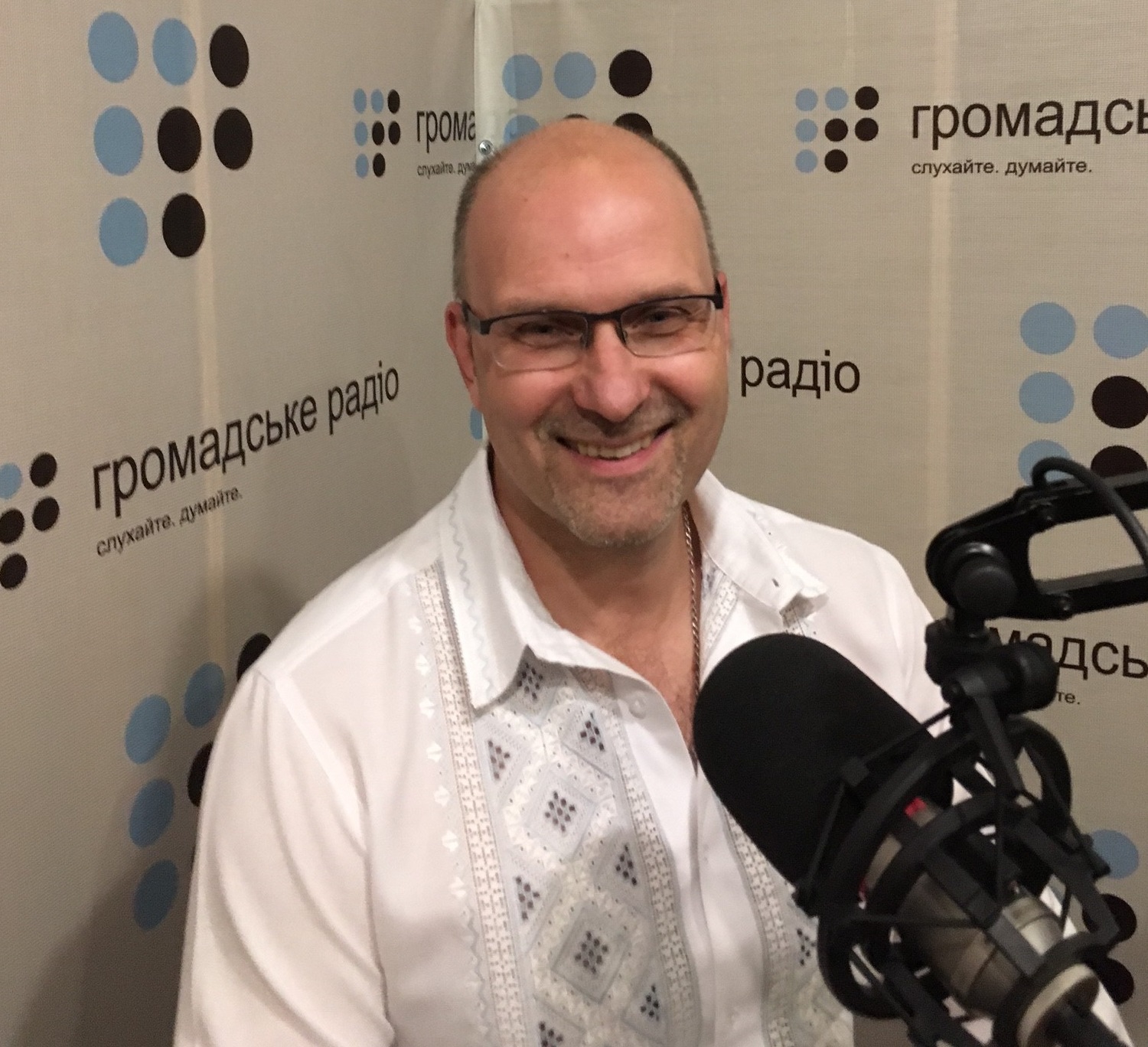 Hromadske Radio was the first in Ukraine to report that renown Canadian historian Orest Subtelny passed away earlier in the week. The story got picked up by many major media outlets, and by mid-day the country's President was issuing a statement of condolences to family and friends. Subtelny is a household name in Ukraine. His textbook, Ukraine. A History shaped a generation. It was the first readable textbook on Ukrainian history in English. It appeared in 1988, published by University of Toronto Press. A few years later Ukraine became independent and threw out old Soviet textbooks that were filled with ideology. The new country chose Subtelny's book to teach Ukraine's history from, translated into Ukrainian and Russian. It continues to be a bestseller decades later.
Focus
Explaining why religion can be seen as a battlefield between Ukraine and Russia, how history has shaped this struggle, and how it's relevant today, we spoke to Dennis Lozinsky, a representative of the Ukrainian Orthodox Church Moscow Partiarchate, Daniel Bilak, a Canadian lawyer who lives in Kyiv and who has acted as a facilitator for Orthodox Churches in Ukraine for 25 years. The conversation was recorded on 28 July, the day of the second pilgrimage march. And Professor Frank Sysyn, who is Director of the Petro Jacyk Center for Historical Research at the Canadian Institute of Ukrainian Studies. We reached Professor Sysyn by phone in Toronto.
Culture and Music
For those of you thinking of travelling to Ukraine, there are many cool restaurants to enjoy. Ostannia Barykada, (The Last Barricade), recently opened in central Kyiv, just under the Maidan. It's a bit hard to find, and one needs to know the password to get in. But it's worth the effort. Inside you'll find a contemporary space with a stylized folk flavour. The food can best be described as fusion – traditional Ukrainian food with a modern twist. For example varenyky with halva topped with pomegranate berries, served on a rolling pin that's been cut in half. https://www.facebook.com/ostannya.barykada.kyiv/?fref=ts
Sofra in Kyiv's Perers'k neighbourhood serves traditional Crimean Tatar food in an elegant space filled with their art and rugs. https://www.facebook.com/kafesofra/?fref=ts
If your travels take you to the Odesa region, restauranteur Dmytro Sikorsky recommends that you visit Shabski Dvoryk in the Shabo village, to sample authentic Bessarabian cuisine. Mariupol, just a few kilometers from the war zone, has a trendy new café. Refugees from Donets'k moved their IZBA hangout to the region's acting capital. They re-opened it on what is now called Prospekt Myru (Peace Boulevard), the main street that until recently had Lenin's name. High ceilings, white walls, mellow music, high speed internet, good coffee, and pleasant service will greet you there. https://www.facebook.com/izba4i/?fref=ts
You don't need to travel to Ukraine to enjoy its contemporary music. This week I'd like to play you something composed and performed by Anton Bezsonnyi. He lives in Horlivka. It's in what Ukraine calls occupied territories of Donets'k. Anton wrote it in 2014, when war was just starting. He called the composition Litnyi Hrad, which means Hail in Summer, but there's a word play. Hrad means hail, but it's also the name of mortar rockets that began attacking Horlivka from the sky, and continue two years later.
Looking forward
Next week the Olympic games begin in Rio. Ukraine's team is already there, so we'll be following their performances. And all the other newsб акщь Marta Dyczok in Kyiv. Let her know what you think at: [email protected]
Comments