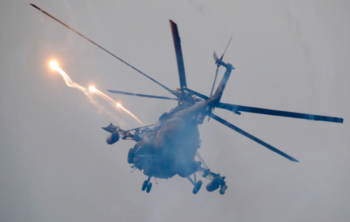 As soon as we started working, we were fired at from helicopters — the director of the agricultural enterprise in Kharkiv region
Director of the agricultural society Volodymyr Reva and I talked about how Russia is destroying agriculture in Ukraine and deliberately hindering the agricultural sector.
Volodymyr Reva: We are from the Kharkiv region. Faced with this phenomenon, I would call it a genocide. Russia is doing everything it can to ensure that we do not carry out any agricultural work. This year we did not cultivate or sow a single hectare of land. They want to provoke a food crisis in our country. We see it in our economy.
We have 3.5 hectares of land. There were 650 cows. They had milk. 1,200 hectares of winter wheat were sown. We planned to sow 850 hectares of sunflower, 800 corn for grain and 140 for silage. We have 90 hectares of perennial grasses. But now we can't do any field work. When we want to do something, we are fired upon. We go to work, we're fired from helicopters. They destroyed 50,000 liters of diesel fuel, 10,000 liters of gasoline, and 2,000 liters of oil. When we tried to put it all out, we were fired upon. So now all our work has stopped. It is too dangerous. Now we are thinking about how to prepare food for the animals so survive next winter.
---
Also read: People who survived World War II say that the Nazis never did what the Russian occupiers are doing – Olga Riznichenko about Kharkiv region
---
Why do the occupiers kill workers?
Volodymyr Reva: One of our employees died. He was an animal farm worker. The Russian occupiers stood 300-500 meters from the farm. No fighting took place there. They killed our worker with a deliberate shot. What for? We do not understand. He was just a farm worker. We couldn't even bury him in the cemetery because everything there was mined, so we buried in the yard. It was after this tragedy that we decided to release some animals so that they would not have to be cared for, because people's lives are more important. Of the 100 workers on our farm, we left 10.
This is not the only case in our community, but a common phenomenon. I know stories of farm owners who were taken prisoner and were kept for two weeks. I know about cases of violence. Life everywhere is very complicated.
I am sure that the Russian occupiers are doing all this intentionally to create impossible working conditions and food insecurity. Not only in Ukraine, but all over the world.
Is there support from the state?
Volodymyr Reva: We cooperate with international organizations. We submitted documents on our losses. But every day we add more and more. We do not have any support from Ukraine yet. First of all, we have no way to communicate with the state. We do not know who to turn to. Two banks denied us loans to rebuild what was destroyed. They say the reason is that we are in the «red zone.»
SES officers do not demine our territories. There are now 5-7 unexploded ordnance on our livestock farms. Many roads and fields are mined. Civilians are dying. Services cannot reach us and demine. We don't even have electricity now, because utility services can't reach us.
We do not lose hope. We aim to restore and rebuild. We will win, because the truth is behind us!
---
Also read: In a week, Russian losses in the Luhansk region reached catastrophic numbers – Snegiryov
---
Also Read
The total losses of Ukraine from russian aggression already reach about 1 trillion dollars
The Ukrainian military liberated another settlement in the Kharkiv region, located 16 kilometers from the border with russia
In Mariupol, the occupiers are extending the school year to de-Ukrainize the surviving children