Eurointegration, confidence in local government and other surprises of public opinion survey in Ukraine
This is Ukraine Calling and our guest today is Michael Druckman — Director of IRI Ukraine (International Republican Institute).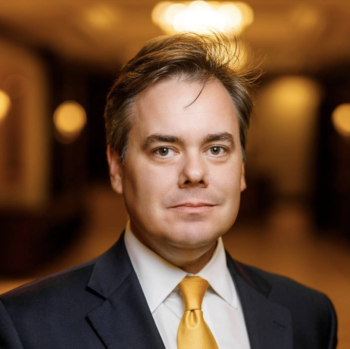 Eurointegration, confidence in local government and other surprises of public opinion survey in Ukraine
How the survey was launched
Andriy Kulykov: Hello and welcome to Ukraine Calling, the English language podcast from Hromadske Radio in Kyiv. I am Andriy Kulykov and our guest this time is, again, Michael Druckman, the resident program director for Ukraine at the International Republican Institute, IRI. Mr. Druckman is an observant person and a lot of what other people get to know from data presented by the traditional IRI surveys of Ukrainian's public opinion. He knows anyway, due to his stay in Ukraine since 2010, which means that he is profoundly in the know of our life. Perhaps, this is why Michael Druckman smiles several times during this interview. It is probably pleasant and encouraging, when your impressions and conclusions are confirmed by a large-scale opinion survey.
Michael Druckman: IRI began looking at the issue of local governance shortly after the Euromaidan revolution, particularly in support of the decentralization reforms that the country was undertaking. And we wanted to have a tool, that could help us measure citizen attitudes. Not just to the reforms, but to understand the reforms in an effort to help the government better communicate so many of the changes, that would be taking place. And this led to an annual survey, initially funded by the Government of Canada, to help us do that. And this is the eighth year we've conducted this survey.
Unfortunately, we were unable to conduct it last year following Russia's full-scale invasion, but we're very happy to be able to have conducted it for the first time since COVID-19 in a face-to-face manner in 21 of Ukraine's oblast centers. We had to wait a little longer than we liked to. Normally, this survey was conducted in February and March each year following the holidays.
When it was the darkest, when people would be the most angry, and we wouldn't have any natural emotions or moods. So we wanted to really capture each year how Ukrainians really felt about a number of indicators. We wanted to wait this year until we were able to conduct it face-to-face. We tried to wait until we could conduct it in Kherson, we really wanted to be able to include Kherson, unfortunately, with the security situation we weren't able to. So that's a very good example of this. The impact the Russian war is still having on sociological research. So the survey this year was conducted better late than never, and we conducted in just 21 of the 22 oblast centers.
Surprising results
Andriy Kulykov: Still, why the opinion poll was conducted at this very moment in time? If we extrapolate Mr. Druckman's line of reasoning, it was worth waiting for longer so that we become even farther removed from the memory of that dangerous winter.
Michael Druckman: With the way things are going today in Ukraine, it's almost every day something new, and I think this feeling of trying to, let's wait until the right moment doesn't exist. There is no such right moment, especially if we look at what happened last Saturday, as we all watched in Russia and thought, that maybe we would be one step closer to victory in this being over. Certainly, with each new development, things do change in Ukraine, but it was important for us to get back out there, at least take the pulse of Ukraine, as it was in May.
Where they were predictable is that we still see Ukrainians in urban centers. These 21 urban centers show the same extremely high levels of support for European Union integration, for NATO membership, for feeling, that Ukraine has strong prospects for a better future, which we see in national public opinion polling. What was surprising? There were several things that were surprising. One was the still very robust level of support for Ukraine's mayors and city councils after the winter we had. Where many of these mayors and city governments were blamed for the blackout schedules, for many of the issues, that we had with municipal services. I think, it's very impressive, that Ukrainian society is still having so much confidence in their local governance processes, despite all of these challenges. Ukrainians are recognizing and appreciating more many of the services they had. For example, in the survey we see on average people feel that trash collection has improved, that electricity has improved. That may not be factually correct, but people's perceptions looking more closely at their city, being more focused on their surroundings, there's a higher level of appreciation for the available services. And how they're provided.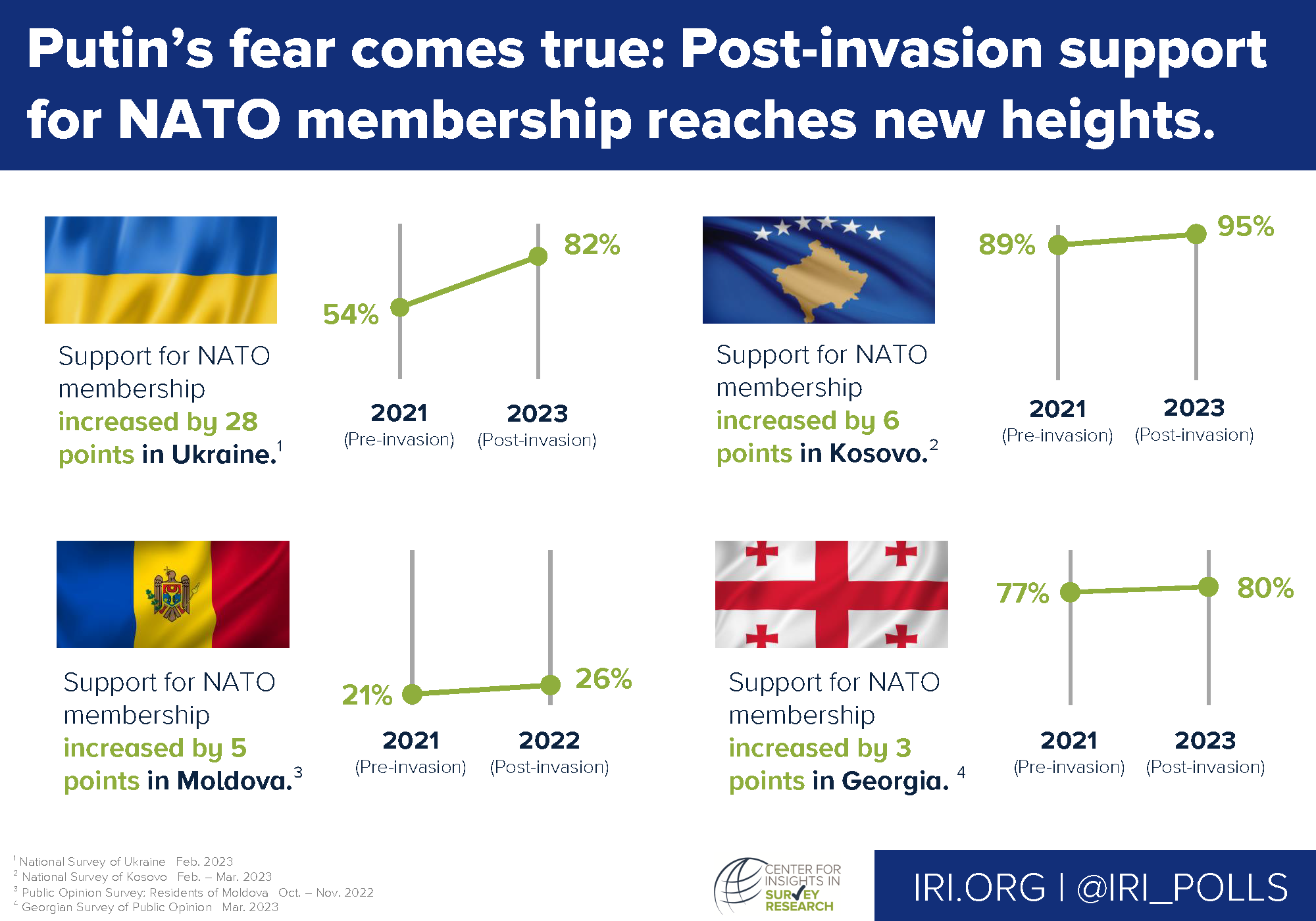 The other thing, that's surprising (maybe not so surprising to those of us, who have been watching Ukraine for many years) is that, with the exception, again, of only a few locations, we see this high level of support for the European Union integration. As a jump from the mid-50 to over 80 percent, except for Odesa.
And Odesa remains an outlier on several key questions in this survey. So while not surprising, I think it is something of quite great interest, that we can measure in this tool. That there are some nuances, when it comes to public opinion still in Ukraine, despite all of this overwhelming support for the national government, for victory, for a better future. There remains a lot of nuance at the local level.
---
You may also listen and read: 2022 helped Ukrainians to overcome the inferiority complex — Volodymyr Yermolenko
---
No potential for another mass wave of migration to Europe
Andriy Kulykov: The Ukrainian's public opinion survey, conducted by the International Republican Institute, does not look at only the current situation. It also concerns Ukrainian's views of the future, says Michael Druckman. It would be irresponsible to forecast, when exactly Ukraine gains victory in the war, but the majority of us are tuned to victory. This is why it seems the survey of the International Republican Institute could use the wording after the victory instead of after the war.
Michael Druckman: So, within this survey, we did ask municipal residents, do they plan to stay after the war? And in aggregate, 92 percent of these 21 cities said they would plan to stay after the war. We also asked in the event of worsening conditions due to the wartime situation, would they leave their communities, and in every city the majority said no, they would stay.
In fact, the second-highest response was to join the armed forces of Ukraine. So, we're not seeing, at least as of now, the potential for another mass wave of migration to Europe. Ukrainians have gone through these horrible 16 months, they've gone through last winter, and at least as of today, they're saying no, they're going to stay. We do know through other public opinion polling that IRI's conducted when asking internally displaced residents within Ukraine that have left their home, that are now predominantly in Western Ukraine, what will it take for them to go home? It's security, number one. So that is victory in the war is the number one condition, and we can assume that also applies to those that have left Ukraine.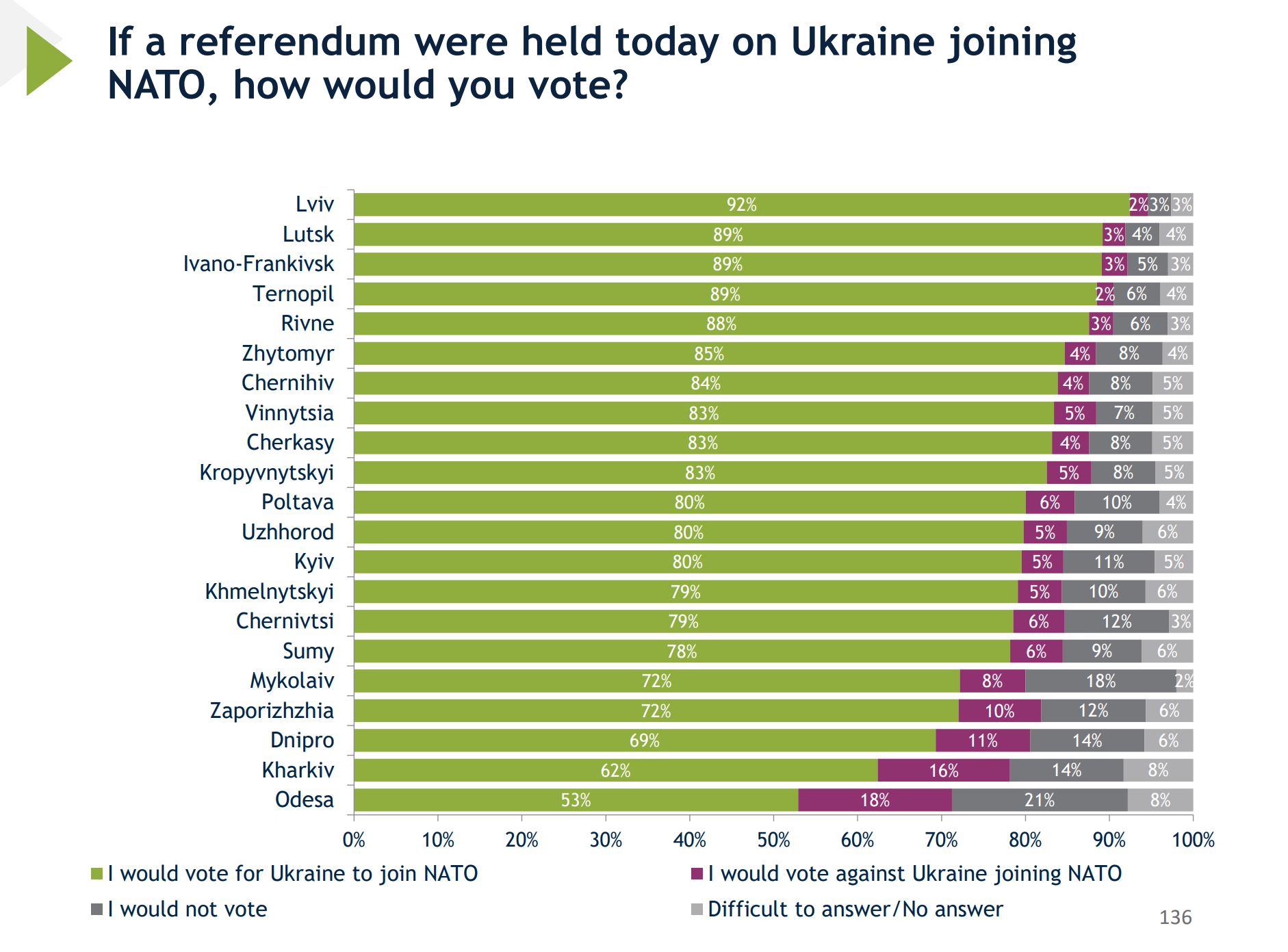 Andriy Kulykov: When talking about life after the war, it seems that Ukrainians are rather exacting about themselves. IRI had this conclusion from their results of the survey conducted and published by the International Republican Institute. Otherwise, why would we want international control over the use of resources needed to rebuild Ukraine? Or does this suggest a lack of trust in our decency and ability to act in a feasible way? In any case, Ukrainians leave the decisive say to territorial communities, and this means to themselves, says Michael Druckman.
Michael Druckman: What we see and can measure is that Ukrainians feel that they should be the ones responsible for deciding on the priorities for what should be rebuilt. For which schools, infrastructure should be rebuilt. They want to have a say, whether that's through some type of public opinion polling or public hearings, and the second-highest response is through their local city councils as well for them to also be involved in setting these priorities.
When we ask who should be responsible for financing Ukraine's reconstruction recovery, this comes from our February survey we conducted this year, Russia is number one. Russian money is the number one answer given. And in terms of who should manage these finances, Ukrainians are quite realistic with the concerns about potential corruption and abuse of resources. And that they want to see international organizations or financial institutions managing the resources that would then be deployed for recovery.
---
You may also read: Even during the all-out war, reforms in Ukraine are continuing — Michael Druckman
---
A belief in victory is strong
Andriy Kulykov: Finally, in order to put the findings of the survey of public opinion in Ukraine against a broader background, Michael Druckman of the International Republican Institute emphasizes, that Ukrainians belief in victory does not fade away. While there are now considerably less of those, who would be prepared for compromises with the Russian aggressors.
Michael Druckman: I think, we can say, looking at some of the data from at least IRI's three wartime surveys, is that the percentage of those Ukrainians, who say that Ukraine will win, has not gone down. So, this belief in victory, even one year on, is still above 90 percent. When we ask about potential options for negotiations to end the war, the return of Ukraine's all of its territory, going back to 1991 borders, that number was over 50 percent in April 2022. That's now over 70 percent as of this spring. So, we're seeing a hardening of Ukraine's position on «they want it all back now». The options for everything but Crimea, everything but the temporarily occupied Donbas, or let's just go back to the line of February 24, those numbers have actually decreased, so Ukrainian public opinion has really hardened on this issue. We don't see any sort of measurements that would allow us to know how long that will last, we just know that 16 months on, that resolve has not diminished at all.
Andriy Kulykov: Michael Druckman, the resident program director for Ukraine at the International Republican Institute was our interviewee in this podcast, Ukraine Calling, from Hromadske Radio in Kyiv. I am Andriy Kulykov, and we'll be meeting again.
Transcribed by Caitilín O'Hare
---
You may also read: Anastasia Stanko: «My only one decision as a journalist was I should go to the front line»
---
This podcast is produced within the project «EU Emergency Support 4 Civil Society», implemented by ISAR Ednannia with the financial support of the European Union. Its contents are the sole responsibility of Hromadske radio and do not necessarily reflect the views of the European Union.