«We Shouldn't Have any Illusions». What the US can learn from Ukraine about Russia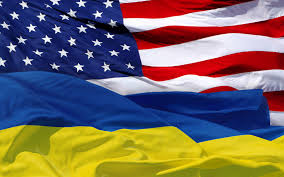 «We Shouldn't Have any Illusions». What the US can learn from Ukraine about Russia
Welcome to Ukraine Calling, your weekly review of what's been happening in Ukraine with a focus on a main story. I'm Andriy Kulykov for Hromadske Radio in Kyiv and here's a look at some of the stories that were in the news this week.
A Sober Year End Assessment of the US and Russia from Ukraine
HEADLINES
FOCUS INTERVIEW: Ukrainian Think Tank Director Sergiy Taran provides a sober year end assessment of the US and Russia
CULTURE and MUSIC
LOOKING FORWARD
Hromadske Radio is independently funded. We are appealing for funds through a initiative. Should you feel inclined to donate, you can do so here using Wayforpay.
FOCUS INTERVIEW: Ukrainian Think Tank Director Sergiy Taran provides a sober year end assessment of the US and Russia
Dyczok: Global tensions are reaching epic proportions. Aleppo. US intelligence reports that Russia interfered with their election. President elect Trump announcing that oil executive, Rex Tillerson, will be the next US State Secretary. Tillerson, and his company Exxon Mobil, reportedly have close ties to Russia. Russia is at the center of many of these tensions. What does all this mean for Ukraine?
Joining us to talk about this is SerhiyTaran. He's a political expert, co-founder and director of the think tank "Sociovymir", specializes in international relations, mass communication, and regionalism. Mr. Taran, thank you for joining us.
US intelligence officials have reported that Russia likely interfered is the US presidential election, using the internet. Ukraine has been on the receiving end of this type of activity for years. What can the US learn from Ukraine about information warfare coming from Russia?
Taran:The United States should not forget that the risk of the Cold War did not disappear. Russia tries to recreate the policies of the Soviet Union, and Russia tries to recreate the Soviet Union in the old boundaries, which means instability in the entire region. To pursue these goals Russia tries to use the mechanism of so-called hybrid war, where the informational part of this war is very important element of it. This is very important in order to understand what is going on in Russia, and how Russia wants to position itself in the world community. So in the United States there should be no place for illusions about Russia and its intentions. It means that we should not perceive Russian mass media as an incarnation of freedom of speech, but as a part of Russian propaganda. That is very important because sometimes we see the situations when two states, one autocratic and another democratic, compete with each other in informational areas. And the democratic state perceives the media of the autocratic state as free media, media that express their own opinion. But this is not the case, because an autocratic regime uses media only as a tool of propaganda. So no standards of freedom of speech should be implied to media in autocratic regime. It is very important to understand now. In Ukraine it took some time to understand this, because we did not realize what hybrid was about. Since independence we have had a lot of Russian media in Ukraine's information space, and we believed it to be freedom of speech, but in fact it was actually propaganda. It is very important to understand this in the United States where freedom of speech always has been the integral part of society.
Dyczok: President elect Trump announced this week that he plans to appoint Exxon Mobil chief Rex Tillerson his Secretary of State. How will this likely affect US-Ukraine relations? Sanctions? What are the other dimensions of this, perhaps Europe?
Taran:I have a feeling that since the end of the Cold War a kind of relaxation happened in the United States about international politics. And it seems that President-elect Trump changed, or may change, the priority of national security to economy.Because it seems that we don't see any understanding of the real danger for international security in the world. If we are talking about the appointment of the director of Exxon Mobile, Rex Tillerson, asSecretary of State, he may have a conflict of interest. He was leading one of the biggest oil company in the world, which had a contract with Russia. Of course, in Ukraine we have a lot of worries about this, because it seems that to secure economic interests they may put in danger the question of national security. And of course it may affect the situation in Ukraine. I do hope that in the United States people will understand that international politics is not only about the economy. Moreover, I believe that if the United States would downplay the question about human rights and freedom of speech, they may lose a part of their own identity.Because the United States was always about human rights, freedom of speech, and the right of self-determination for nations. If the United States will not follow this old tradition it will not be the United States anymore. It's going to be a country that probably follows economic freedoms but not political freedoms. At least in such way we can perceive the appointment of Tillerson as Secretary of State.
Dyczok: What has Ukraine learned about itself and its role in the world over the past few years?
Taran:In the last years in Ukraine we have realized that to be independent means not to rely on anybody in the world. Since independence we believed that peace and security would happen if Ukraine would be in sight of political processes. Moreover, if Ukraine would rely on countries that guarantee its security, it will be enough for Ukraine's security. That is why we signed Budapest memorandum. But now we see that all international memorandums, all international agreements don't work if you have a strong army. So the first lesson that we can see is that Ukraine must create a strong army. We should not rely only on the international agreements. Of course, cooperation with other states is important, but we cannot secure our future by cooperation alone.I think this is a main lesson for Ukraine for now. Another lesson, which is very important, is that actually now Ukraine doesn't have any alternative but to join western institutions. Since independence, we have had discussions about which directions Ukraine should go in. Should be to the west or the east. Should Russia be our big friend or should the EU be our good friend. In the last few years we changed this discourse, and now we are absolutely sure that Ukraine should join the EU and the west. The problem is that Ukraine has to do this on its own, without big help from outside. I think it is a very good lesson for us because it means that we should not have any illusions about foreign assistance in the security area, but at the same time we have no alternative but to join western type democracies, and to implement reforms which will enable us, one day, to join the EU. And I think it is a very important lesson in the last few years.
HEADLINES
EU Zig Zags on Ukraine?
It can be hard to follow EU actions on Ukraine. Last week European Council President, Donald Tusk, announced that the EU was in the final stretch of granting Ukraine and Georgia visa free travel. This week, European Parliament postponed voting on the question until April 3rd 2017. And ahead of this week's one day summit of 15 December, Ukraine was on the top five list of topics to watch. Just behind Syria, and ahead of migration. One issue was how to ratify the EU-Ukraine Association Agreement, since the Netherlands voted against this in April. Another key issue was the sanctions against Russia, which expire at the end of January 2017. This is particularly significant in view of US President Trump's announcement that Exxon Mobil chief, Rex Tillerson, will be the next Secretary of State. The oil mogul reportedly has close ties with Russia. And as Politico reported, Trump can wipe out Russia sanctions with stroke of pen.
Some reports said the latest EU negotiations on Ukraine were filled with a lot of emotions and tensions. Others reported good progress and much good will around the table. There were early (unconfirmed) reports that Russia sanctions have been extended for another 6 months.
Next week, on December 19th, the EU-Ukraine Association Council will be meeting in Brussels. It will be co-chaired by Federica Mogherini, the EU's High Representative for Foreign Affairs and Security Policy, and Ukraine's Prime Minister Volodymyr Groysman. They'll be talking about political dialogue and reform, justice, freedom, and security, and economic cooperation.
War
Over the past week, intensity of shelling against Ukraine in the Donbas varied. On Sunday it intensified, after reports of a new convoy of armaments arrived from Russia. That day, 3 Ukrainian soldiers were killed. Later in the week things calmed down somewhat, and there were two days when no-one was killed. However, civilians continue to suffer. On Thursday one was killed, and another wounded near Mariinka. Nine Ukrainian soldiers were wounded this week, three killed.
Corruption
Ukraine's other battlefront is against corruption. Lithuania's President Dalia Grybauskaite visited Ukraine this week. The Baltic state, and its president, are staunch supporters of Ukraine, and its European vector. However, Grybauskaite's official website described the visit as, Ukraine: stepping up efforts to free itself from aggression and corruption.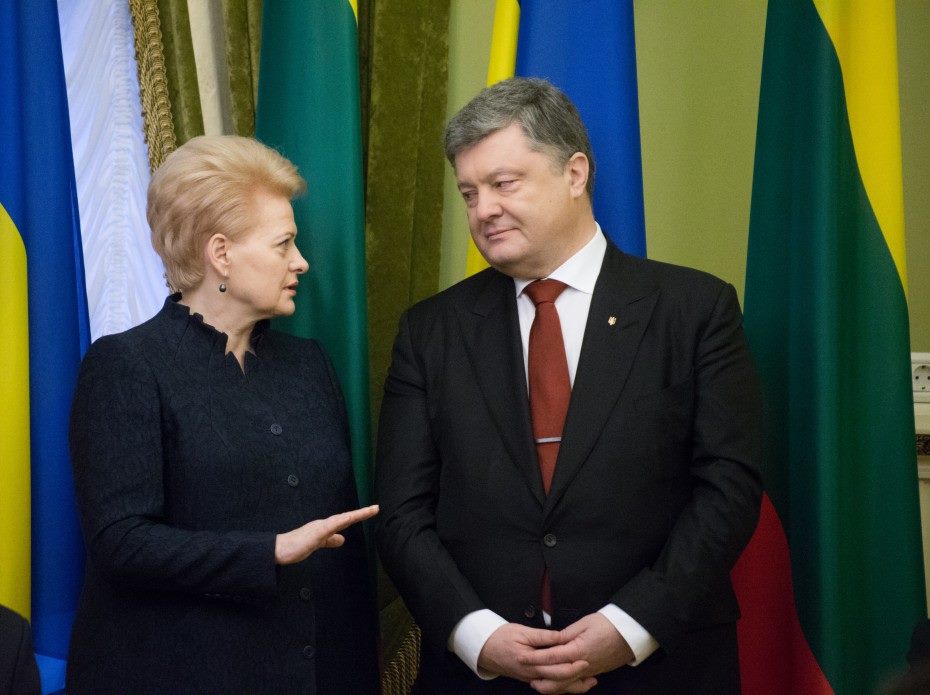 Ukraine's fight against corruption has many international dimensions. Numerous opponents of Ukraine's current president Poroshenko have fled abroad. While Ukraine's Prosecutor General's office charges them with corruption, some counteract by accusing Ukraine's current leadership of the same. A case that recently resurfaced in the news, with flair, is that of Oleksander Onyshchenko. Ukraine Calling listeners may remember we reported on this in the summer. The former MP was stripped of his parliamentary immunity, but managed to flee the country before being arrested on embezzlement charges. He recently gave an interview in which he claims to have evidence of President Poroshenko's corruption. And that he has handed over these materials to the US State Department. Onyshchenko would not disclose his location, saying he feared for his safety.
Poroshenko dismissed the allegations. His office released a statement, 'To avoid punishment Mr. Onyshchenko tries to politicize his criminal case and pretends to be a victim of political repressions.'Kyiv Post newspaper reported that on December 10th they received an e-mail letter from the London law firm Atkins Thomson, claiming to represent Poroshenko, and threatening to sue media organizations that publish Onyshchenko's allegations.
Art as Politics
A Dutch court ruled that Scythian Gold treasures from Crimea must be returned to Ukraine. The decision came on December 14th. Ukraine Calling listeners might remember from last week's show, that an international tug of war had erupted over the treasures. The exhibit went abroad just before Russia annexed Crimea. After a prolonged legal battle, the Amsterdam District Court decided in Ukraine's favour. It chose to follow UNESCO guidelines that artifacts should be returned to a sovereign state, and Crimea did not qualify. Ukrainian President Petro Poroshenko said that the decision "means that not only is the Scythian gold Ukrainian. Crimea is also Ukrainian. Crimea is ours, period. That follows from the decision of the court in the European country."
CULTURE and MUSIC
Films. Prison. Solidarity.
Imprisoned Ukrainian filmmaker Oleg Sentsov was honoured at this year's European Film Awards Ceremony. The Crimean director was arrested in May of 2014, charged with plotting terrorism, tried and sentenced by a Russian court. As European filmmakers gathered in Wroclaw, Poland for this year's gala, a Russian punk rocker reminded them about Oleg. Pussy Riot's Maria Alyokhina took the stage and said, 'I am here to speak about the Ukrainian filmmaker Oleg Sentsov, who is your colleague. Oleg Sentsov got a sentence of 20 years in prison. And now he is in Siberia.' When she said, 'I want to ask you to stand for Oleg and his freedom,' the room rose in applause. We'll post a link to her speech on our website.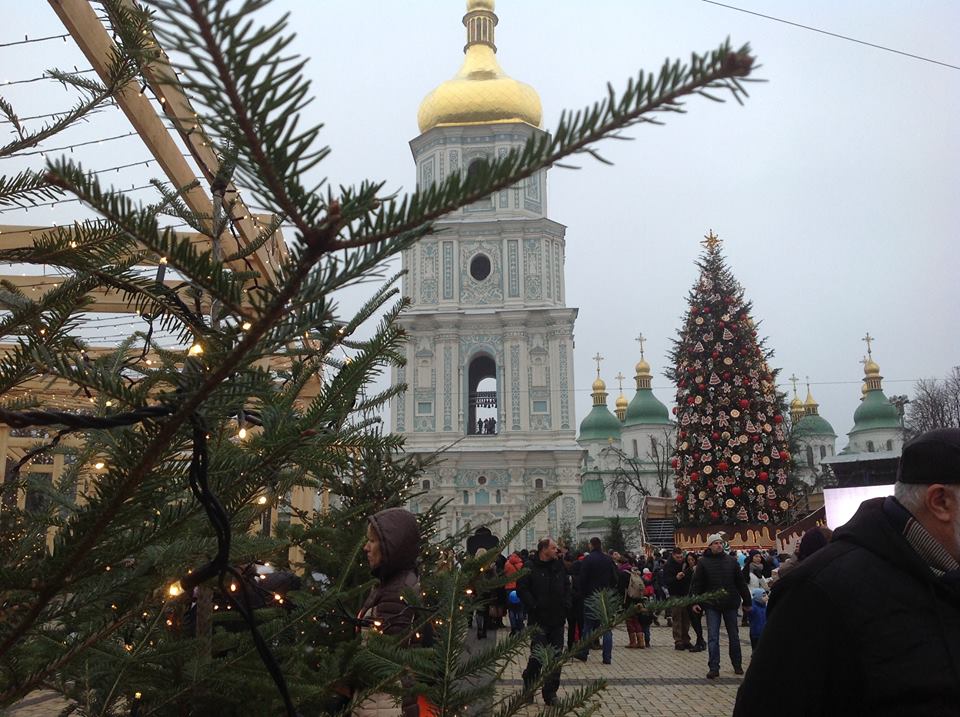 The Holidays are Coming
Many of you will recognize this Christmas carol, known in English as "Carol of the Bells." It was composed by a Ukrainian, Mykola Leontovych. He called it "Shchedryk," since it was based on traditional Ukrainian holiday tunes. The piece was first performed in Kyiv in 1916. Then the Bolshevik revolution happened. Religious music fell out of favour. And in 1921 Leontovych was killed by the Cheka, Lenin's Secret Police. In 1936, an American of Ukrainian descent, Peter Wilhousky produced English language lyrics for the tune and copyrighted them. And he rearranged the melody for orchestra.
Music
A song for you this week is called "Pishov Kozak naviinon'ku," which means A Cossack went to war, except the word war is in the diminutive. It's performed by Iaroslava Rudenko, who gives her own unique spin to folk songs. I played it on my music show, Pora Roku last week. Enjoy.
LOOKING FORWARD
Christmas trees and decorations have appeared all over Kyiv. People are getting ready for the holidays. Next week Ukraine Calling will look at how holiday traditions in Ukraine have changed and evolved over its 25 years of independence. And what holidays mean for a country at war. Tune in next week, and write to us at [email protected]. I'm Andriy Kulykov for Hromadske Radio in Kyiv. Thanks for listening.
Headlines by Marta Dyczok and Andriy Kulykov. Interview idea Larysa Iarovenko, Interview transcribed by Alexander Konovalov. Culture and Music, Looking Forward by Marta Dyczok and Oksana Smerechuk, Sound engineer Andriy Izdryk. Logistical support by Kyrylo Loukerenko, Iryna Novyts'kaya and Tetiana Troshchyns'ka. Web support Natalia Kucheriava.