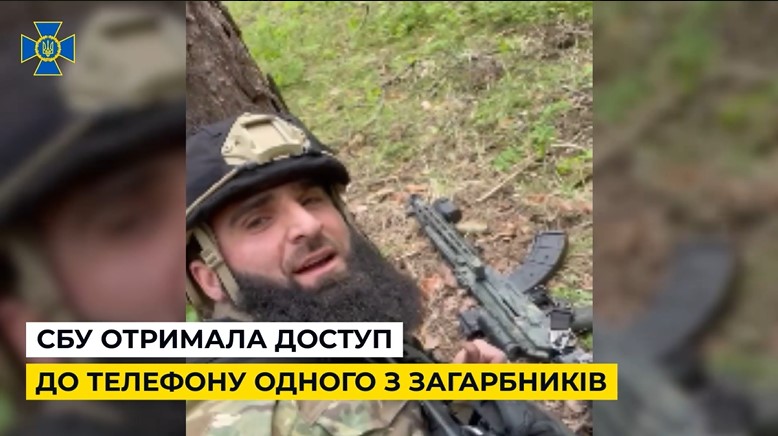 The Security Service of Ukraine published a video from a Kadyrov man, fighting in Ukraine: fighting with swords and shooting into the sky
The Security Service of Ukraine has published a video from the phone of a Kadyrov man who came to fight in Ukraine.
The occupiers are fighting with swords, running among the pines and for some reason shooting at the sky. In the footage, they also dance while shooting upwards.
«Its contents, in particular, have made it even clearer why some Kadyrov units call TikTok troops.» After all, instead of fighting with Ukrainian defenders, these «Putin infantry» are heroically fighting with pine trees in the forests of Luhansk region. And do you know how many takes with RPG shots you need to do to get a «bright» video and a «large-scale» battle? See for yourself,» the SBU wrote in the video.
Currently the Russian occupation forces have concentrated the greatest activity in the Eastern Operational Zone. In the Donetsk direction the Russians are trying to break through the defenses of Ukrainian troops and reach the administrative borders of Luhansk region.
Russian troops completely destroyed Rubizhne in Luhansk region, there are no surviving buildings in the city. Prior to that, the LNR and Kadyrov militants occupied the apartments of local residents in the city. It was reported that «lnrivtsi» took property out of the city «Kamaz».
Russian occupation forces in the Luhansk region are destroying Severodonetsk as they destroyed Mariupol.
On May 18, the region was left without electricity because the occupiers destroyed the substation. In the first month of the war, Luhansk region saw almost everything: mortars of all calibers, artillery, jet systems, missiles, and aircraft. It continues to be bombed to this day: the shelling is increasing day by day.
Also Read
The total losses of Ukraine from russian aggression already reach about 1 trillion dollars
As soon as we started working, we were fired at from helicopters — the director of the agricultural enterprise in Kharkiv region
In Mariupol, the occupiers are extending the school year to de-Ukrainize the surviving children